tunesday – greta stanley premiere + interview
The songstress from far north Queensland tells us why there's no place like home. Plus, we present her latest tune – yay!
We can't lie – we're pretty pleased to be presenting Greta Stanley's latest tune. Called "Spin Around", the song is all about being in a weird headspace, feeling a little bit insane, and then sensing that moment pass (something we can relate to most days, ha!). It comes off Greta's forthcoming debut album, Full Grown (out in October). Scroll down to read our little chinwag with the songstress herself, have a listen to "Spin Around", and check out her east coast tour dates.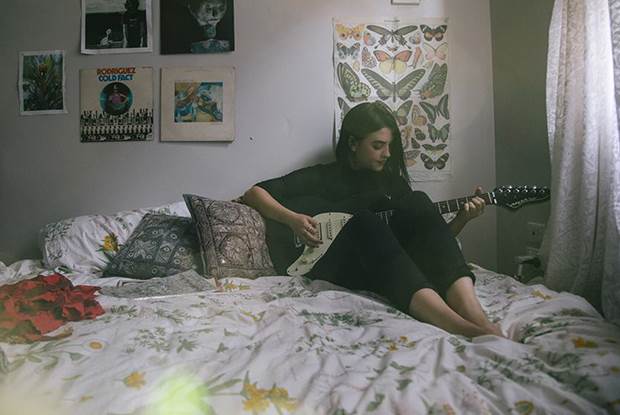 Describe your music in five words, please. Gritty, pretty, honest, tear-jerking, relatable.
Where do you do most of your songwriting? Almost all of my songs I finish writing in my bedroom, but little ideas spark anywhere. My co-workers usually find scribbles about the place. The worst time is when I'm driving on the highway and I can't pull over to write it down, so I just recite it until I can stop.
First time you heard a song of yours on the radio? I was driving from Cairns to my folks' house in Mena Creek I was 19 and my song "Lakes" from my first EP, Bedroom City, came on Triple J's Roots n' All program. I pulled over and felt super-weird listening to myself but also incredibly proud. It was pretty surreal. I still pinch myself when I hear any of my songs on the radio!
If you had us around for dinner, what would you cook us and what should we bring? I'd cook a veggie green curry with tofu and coconut basmati rice. For dessert, I usually just like some kind of fresh fruit – papaya with coconut yoghurt is pretty good. Or, if I've got a sweeter craving, some kind of chocolate/hazelnut combo. Maybe a pot of chai tea, too. You should bring a playlist, because, surprisingly, I'm the worst at organising music for events. Or bring your dogs (please!).
Favourite board game? That's tough. Sadly, it's been a while since I've played any – but I do love Scrabble, and Monopoly was always a family favourite growing up, even though Dad cheated and won every time. There's still some hostility there; that's probably why it's not spoken of anymore.
Where do you feel most at home? Somewhere green with lots of nature around; when I'm with my favourite people or my dogs; or at Rusty's, my favourite markets in Cairns. I always feel at home in far north Queensland. I'll stray sometimes but I think it's always going to be homebase up here – we've got it too good.
Last good book you read? Frida Kahlo's biography. I lost it for three months, then found it in my suitcase last week! You know a book's good when you laugh, cry, can't put it down, and feel incredibly inspired. Go Frida! Before that, Frankenstein.
What do you wish more people knew about you? That I shouldn't be left in the Wholefood stores with my wallet unsupervised.
TOUR DATES:
Sunday September 3rd – Carnival on Collins, Cairns
Thursday September 7th – PS Music Group BIGSOUND Party at Foundry Recs, Brisbane
Thursday September 14th – Baha Tacos, Rye, Victoria
Friday September 15th – Penny Black, Melbourne
Friday September 22nd – Anita's Theatre, Thirroul
Thursday October 5th – Oxford Circus, Sydney
Saturday October 7th – Bloodhound Bar, Brisbane
Saturday October 14th – The Grass Is Greener Festival, Cairns
Saturday October 21st – The Grass Is Greener Festival, Mackay