tunesday – emma russack video premiere and interview
Songstress Emma Russack explains the benefits of serving your guests broccoli, anchovy and chilli.
Exciting news, music lovers: Emma Russack has got a brand new album coming out on August 25th. Called Permanent Vacation, the record is an ode to not having a 'real job' and not feeling the teeniest bit of guilt about it, either. Thanks to a run of well-paying gigs, the Melbourne-based songstress enjoyed three months of doing nothing but going to the beach, reading and lying in her parents' hammock last year – hence the inspiration for the album (which happens to be her fourth). Scroll down to have a read of our chinwag with the talented lass, and to take a peek at her latest video.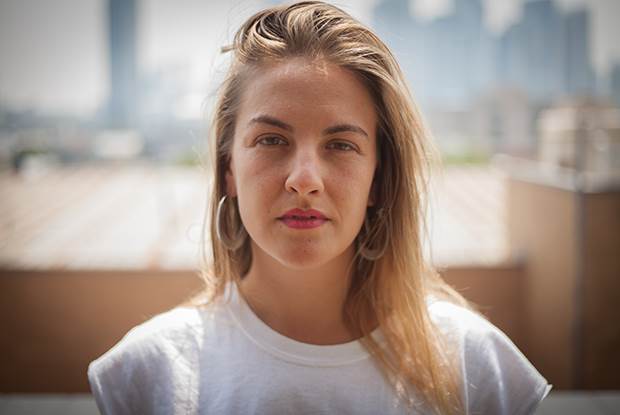 How did you end up on the path labelled 'music'? I was always writing songs as a kid and all through high school. I went to university to become a newsreader, and then, while living on campus, I posted a cover of a Neil Young song to YouTube and it went nuts. Then I was approached by Spunk Records, and it's been a rollercoaster ride ever since.
When are you at your most creative? When I'm feeling like I have the time to dedicate to it. If I'm stressed and have crappy deadlines, I'm not going to write songs. It's when I have the freedom to reflect on things that the songs come. That's the place where I want hide away forever.
What's your secret songwriting recipe? It's a mysterious thing, really. Lately, it's been reading a tonne. Over summer I was reading a book a week and it really helped me with my own writing.
Who was your first best friend? Karina. We became best friends in pre-school. We speak on the phone fairly regularly and she knows everything about me.
When's the last time you gave someone a present? I lent a guy I was seeing a book recently. I made him give it back. I don't give presents lightly.
What do you cook when you want to impress someone? I do this broccoli, anchovy, chilli pasta thing. It's a good way to sort the wheat from the chaff. If they don't do anchovies, or if they don't do chilli, or, god forbid, they don't do broccoli – well, that's a deal breaker.
Where would we typically find you on a Sunday morning? I'm doing post-grad at the moment, so during semester you'll find me in the library. When I'm not studying, and if it's a nice day, I like walking from Brunswick to Carlton on a Sunday morning, getting a coffee, and doing Saturday's crossword.
What's your favourite childhood memory? We had a Norwegian exchange student come to our school for a year. Her and I became really great friends and went to Sydney together for a weekend. We went to all the galleries and sat at cafés in Newtown drinking coffee, pretending we were adults. She also taught me how to smoke, and I'll never forget smoking cigarettes with her on the Manly ferry. I guess I was 16. We were so naughty!
Where do you most feel at home? Probably in my family home in Narooma, NSW. I can be completely myself there.
If you could partake in a beverage with any artist, living or dead, who would it be? I've been reading Stravinsky's Lunch by Drusilla Modjeska; I think sharing a pot of tea with Grace Cossington-Smith would be interesting.
What's next? I'm playing at the National Gallery of Victoria in Melbourne on Friday May 19th for the Van Gogh exhibition. I've also completed another album, Permanent Vacation, due for release later in the year.
For more Emma, head over this way.