tunesday – darts interview
Get to know Ally Campbell Smith from the gloriously unhinged rock outfit Darts.
Darts songs tend to be a little bit angry – in a wonderful, exciting, make-you-want-to-fling-yourself-around-the-room kind of way. They're currently writing their new album at their self-built studio in Bendigo, which is rather exciting news, and about to play a few gigs at BIGSOUND, too. Scroll down to read our chinwag with Darts' singer/songwriter/guitarist Ally Campbell Smith, and to check out the details of their upcoming shows.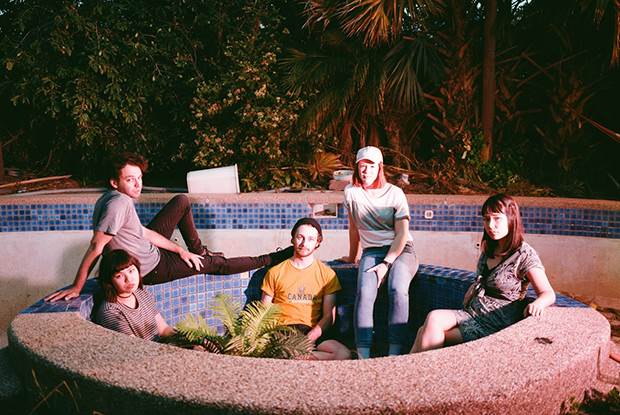 When did you first know that you wanted to make music? Pretty early on. I got my first guitar when I was eight or nine, and started getting lessons after begging my parents for years. I always wrote music, but joined a band when I was 14, and that's when I started writing fully fleshed out songs.
What's your secret songwriting recipe? I really don't have one. Most songs start from an idea I hum into my phone when I'm doing something really mundane, like washing or making my bed. I'll work on marrying parts together either at home or with the band. Usually it's what feels best when we're in a room together.
Who's the best cook in the band? I'd have to say Paige [X Cho], because no one else has cooked for me. She made me this amazing sweet potato with hommus, paprika and garlic. I rave about it all the time. When she dished it up I was dubious, because she's vegetarian and I'm not, but it was super-tasty.
Where's your favourite spot to kick up your heels in Melbourne? Honestly, I prefer home hangouts. Jessie [Fernandez] has a really nice courtyard at her place in Carlton, fire pit and all.
Last time you spontaneously hugged someone? I hugged a dog today. Do doggos count? They should. I rarely instigate hugs. I should give more hugs.
Best hangover breakfast? I do a killer hangover breakfast. It's a big breakfast. Eggs on toast, bacon, mushrooms, tomato, chorizo, the works. I've just mastered the perfect scrambled eggs in the last couple of months. I was always a poached gal, but I'm killing this scrambled thing lately.
How do you know when you've played a killer gig? It's usually a feeling. But the crowd and that reassurance from a handful of close friends who always give honest feedback play into it heavily.
What would be your dream venue or festival to play at? Fuji Rock, Japan. Playing a show with that mountainous backdrop would be epic.
GIG DATES:
Tuesday September 5th – Bloodhound Bar, Brisbane
Tuesday September 5th – Ric's Big Backyard, Brisbane
Thursday September 7th – Barbaras, Brisbane
Friday September 8th – The Foundry, Brisbane
For more Darts, head this way.