tunesday - mourn interview
We have a little chat to Mourn's frontlady, Jazz Rodríguez Bueno, about joy, regrets and taking inspiration from her neighbour's cat.
In a quiet town on the coast of Spain, 19-year-old Jazz Rodríguez Bueno plays guitar and sings in Mourn, a punk rock quartet she started with her mates and younger sister. But theirs is not some bedraggled Nirvana covers act (although "Polly" was the first song Jazz learned to play on the guitar). Mourn has toured Europe and the US, been signed to cult indie label Captured Tracks, and last year released a sophomore album, Ha, Ha, He., which takes its name from a William Blake poem. "It's called 'Laughing Song'," Jazz explains in her small, sweet voice. "It's a poem of joy and hope. When writing these songs, that was what we needed, something to make us keep doing what we do."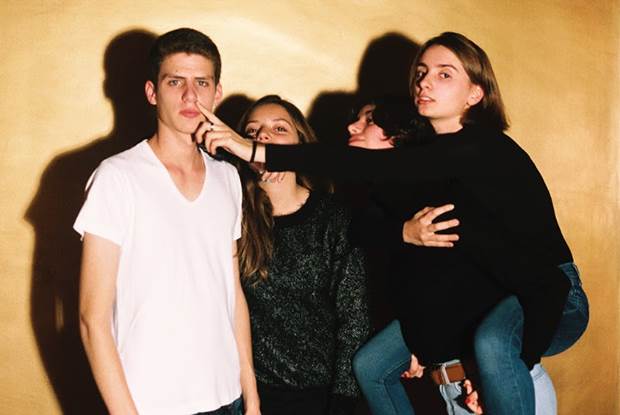 To hear Jazz talk about the band's needs, artistic process and creative states, you'd think she was a veteran twice her age. She's even moved on from the band's first song already – the deliciously riffy "Boys are Cunts". "I don't regret making it," she says. "I just regret recording it. We didn't know why we were making it and we never played it live. Although yesterday I heard it on my iPod and I didn't feel like I hated it like I used to, because it made me nostalgic about the first days of Mourn. But it's still the song of ours that I don't like."
She's been fascinated by music for literally as long as she can remember. "My first memory is of being in the backseat of my dad's car listening to Jeff Buckley," she says. "I asked him to put the same song on again and again and again. He told me about his death and I imagined it like a movie. I didn't know how he looked, but I imagined him very dark." Growing up, Jazz's mum played a lot of Flaming Lips, while her dad, a muso himself, formed a band with her and her sister, Mourn's now bassist, Leia. "The songs were about animals," Jazz explains. "Our neighbour's cat came into our house to eat, and then didn't let us touch him. So we sang about that."
The girls attended a nearby music school, where Jazz met best mate Carla Pérez Fas, Mourn's now vocalist and guitarist (the two share musical duties, but Jazz is the band's appointed frontwoman). They started talking, Jazz says, because they were both wearing band t-shirts, then started playing PJ Harvey covers because, "Why not?" After bringing in Leia on bass and their friend Antonio Postius Echeverría on drums, their next step was to choose a name. "We picked up a dictionary, closed our eyes and pointed at a word," Jazz says. "We had a long list of names, but didn't feel like there was a good one, so we said, 'Oh, let's make it random.'"
Although Ha, Ha, He. is, according to Jazz, less punk than Mourn's self-titled debut album, there's no mistaking the influence of The Clash, a band Jazz listens to a lot these days. "The album is like a diary to me," she says. "Every song tells a different story that's happened in our lives. 'I Am a Chicken', 'Evil Dead' and 'Fry Me' are very personal, because I think they're the ones where I am more honest."
The only thing this ballsy teen is afraid of is "getting tired". "I suppose if one day I get tired of touring or making music, I can do other things," she says. "But it's a thing that I love, and I would be sad if I lost my passion for this." What would get in her way? "I don't know. I don't think anything can. If I get tired of this it would be because of myself, I guess. Because people can make it difficult and people can be mean, but if you really want to do something, nobody can stop you."
Hear more from Mourn over on their Bandcamp page.