tunesday - ann vriend interview
Ann Vriend is the type of lady who'll have your toes tapping and chins wagging all in one night, and the truth is, we're a wee bit smitten.
Ann Vriend is the type of lady who'll have your toes tapping and chins wagging all in one night, and the truth is, we're a wee bit smitten. The Canadian singer makes soulful tunes inspired by catchy, upbeat gospel and blues – and we had a chitchat to find out more before she plays BIGSOUND this week.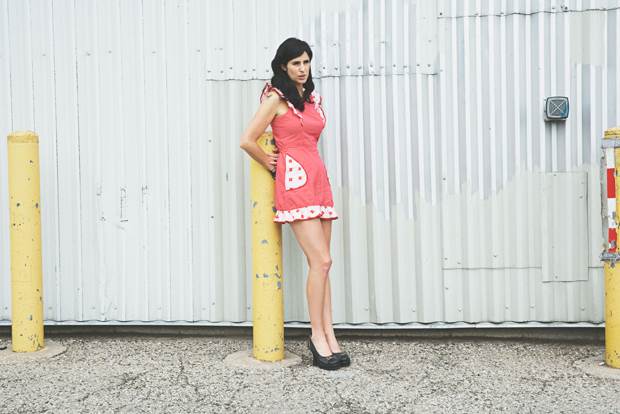 Where are you from, Ann? Edmonton, Alberta, Canada.

What brings you back to Australia? I'm releasing a single from my newest album – the single is called "A Need So Wide (You're The One)." In support of that, my band and I are doing a showcase at BIGSOUND, and a handful of other shows.

When do you feel the most creative? When I'm super down in the dumps, or have just read/watched/heard someone super inspiring, and/or am procrastinating by doing something really bland and overwhelming. Or if I have deadlines – they really do bring out... content, at any rate.

What attracts you to the style of music you play? On a plane ride I just watched a movie about Bessie Smith played by Queen Latifah, and I have to say, the resilience and tell-it-like-it-is style of soul is something that I don't think will ever go away – both musically and lyrically. The joyfulness of it, combined with its sexy groove – take that and add in the stirring conviction of the gospel tradition, and you basically have one undeniably powerful music genre. So the heyday of soul ('60s and '70s) is where it's at for me. I don't think I'll ever stop getting inspiration from it.

Tell us something we should know about you. The very first "pet" I had was an empty glass-canning jar with a lid on it – my "pet germs." I think my parents were on a very strict pet budget.

Who would you most like to be sat next to at a dinner party? Anybody, just ANYBODY whose small talk is of some substance. Or just skipping small talk altogether would be OK, too. The person I think would be the best at that is my biggest lyric hero, Leonard Cohen. I think his small talk would be on a level that any published poet would drool at.

Which is your favourite season and why? Summer, hands down. The only explanation you need: I live in Edmonton. Google the temperature there around January/February and you'll know why.

What's coming up next for Ann Vriend? Firstly there's a mini-tour of Australia, then a mini-tour of Western Canada and then a jaunt out to Toronto, which we all call the Centre of the Universe. In between that, the blues band I'm in, The Rooster Davis Group, is in a competition, the prize of which is going out to Memphis and hanging out down there. So, fingers crossed for that. On the boring side, I have to finish my taxes, so more songs will probably get written.



Take a wander over to Ann's official website to hear more of what she's all about. If your ears are impressed you can nab tickets to her upcoming shows over here or via the BIGSOUND website.