throwback thursday - barham avocados
Back in issue 50 we introduced you to Katrina and Tim Myers, a farming couple living near the tippy top of Victoria who produce a green and delicious crop known as Barham Avocados.
Issue 50 of frankie magazine was special for a whole bunch of reasons, not least the top notch lineup of clever folk we interviewed in its pages. Amongst them were Katrina and Tim Myers, a delightful farming couple living near the tippy top of Victoria, who produce a green and delicious crop known as Barham Avocados.

Their avos are sustainably grown, pesticide-free and grown with crate-loads of love, and they can boast four generations of farming clan who have walked the property's paths. With the 2013/14 avocado season just kicking off, we got back in touch with the rural duo to find out what's new in their fruit-filled world.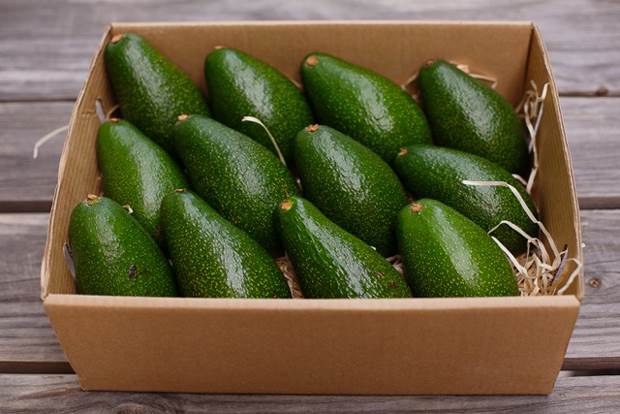 What have you been up to since we featured you in frankie magazine? We've been BUSY! We've started selling our avocados online and delivering them through Australia Post. We now offer one-off order as well as fortnightly and monthly subcriptions. We've built a new packing shed, which is super cool. One of our friends who is a fantastic funky builder designed it for us. When you look at it from the outside it represents an avocado being cut in two. We've also purchased an oil press so we can start making avocado oil later this season. Oh, and we are expecting baby Myers number three at the beginning of October!

What kind of reaction did you get from the article? We had a wonderful response to the article, lots of our friends read frankie and we think it is one of the coolest magazines getting around, so it was so great to be in there and to get so much great feedback. We still get people commenting on it.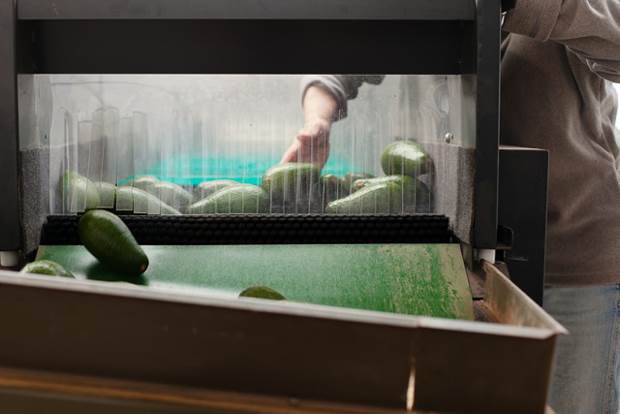 For those who might have missed our coverage, could you tell us a little about who you are and what you do? We are Tim and Katrina Myers of Barham Avocados. We have two beautiful children Daisy and Chester (and one on the way). We grow avocados in a sustainable pesticide-free way at Barham, which is a small town on the Murray River near Echuca. We love living in Barham and we love farming. We are trying to develop our farm and do things a little differently in terms of how we market and sell our beautiful fruit, so we have developed an online shop and use social media to connect with our customers. We believe very strongly in community and Katrina co-founded the local Red Gum Food Group and Koondrook Barham Farmers Market.

What are you currently working on that you'd like to tell us about? We are currently focusing on building up the online sales side of the business. We are going to be releasing a new website next year with a new and improved online shop. We're also working on making avocado oil which should be ready for release in late November and we cannot wait.

How long have you been growing avocados? Avocados have been growing on the farm for around 35 years, but Tim and I took over 2.5 years ago and since then have planted another 1200 trees.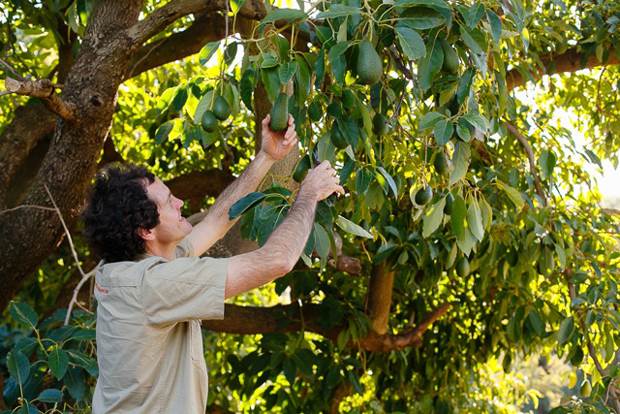 What are the benefits of buying direct from the farmer? Well, we see it as a two-way benefit. For the customer it's super convenient, and dealing directly with the farmer you know exactly where your food is coming from and you can get to know them and ask questions. And for us as the farmer, it's so wonderful to get direct feedback from our customers. We love it when they email us to say thank you or post pictures on facebook and twitter when they receive their orders.

Do you have a favourite recipe featuring your produce? Matt Wilkinson uses our avocados at Pope Joan and he came up with an awesome avocado mousse recipe using our avos last year. But really, our favourite way to eat avocados is just half an avo with some dressing in the centre. The simple things are often the best.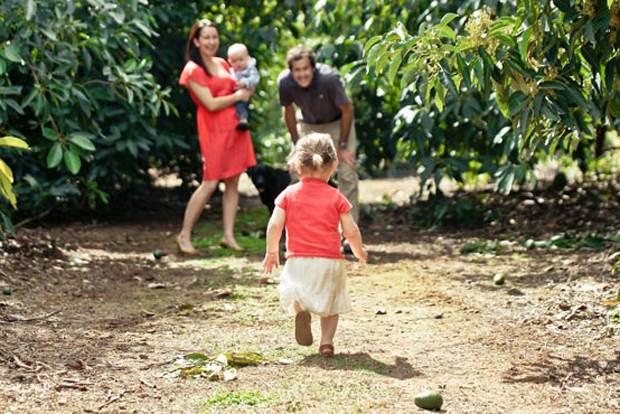 Could you tell us a little about the different varieties available via your online store? We have four main varieties: Bacon, Fuerte, Hass and Reed. The Bacon are a winter variety and are ready July/August. They have a sweet taste with a nutty aftertaste, and a smooth and very thin skin. The Fuerte are what you might remember as the original avocado and were the most common ones years ago. They are very distinctively pear shaped and have a grassy flavour.
The Hass are what are most commonly found in supermarkets and they have a thick rough skin and are more oval shaped. The Reed are our very favourite avocados at Barham Avoados. They're a huge avocado and they are shaped like an emu egg. The Reed are deliciously creamy and rich in flavor. We think a Barham Avocado Reed is really like no other.

What's the best place to get more information? Visit our online shop at barhamavocados.com.au, or contact us via facebook or twitter. You can also keep up-to-date with what we are up to on Instagram – which we are just new to!