the tearjerkers
We count down some of the best snot-running-down-your-chin sad flicks. 
This is exclusive content from our latest issue, aka issue 82. Enjoy!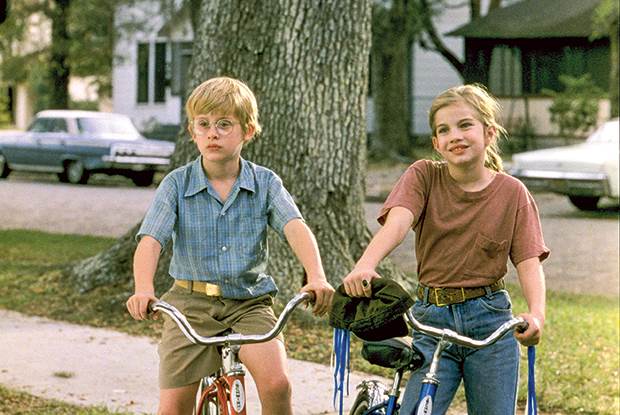 Photo: Columbia Pictures
MY GIRL
Vada is a precocious 11-year-old who lives in a funeral home with her widowed dad and spends most of her free time hanging out with Thomas J, her slightly dorkier friend who is allergic to literally everything. Vada is also a class-A hypochondriac who spends a lot of her time at the doctors getting her throat checked for chicken bones, but that's an aside. Over the course of one summer, everything in Vada's life goes wrong. The super-cool funeral home make-up artist Shelley betrays her by dating her dad, and Vada learns some hard truths about puberty and menstruation. None of that really holds a flame to the summer's blurst tragedy, though. Moments after sharing a very brief kiss, Vada and Thomas J come across a beehive that they idiotically smash, and a few tragic decisions later, Thomas J is dead. The waterworks will start: When Vada leans over Thomas J's casket and cry-screams, "Where are his glasses? He can't see without his glasses!"
UP
Carl is a grumpy widower and helium balloon vendor who was deeply in love with his wife, Ellie. Ellie and Carl had two dreams: to raise a child, and to travel to a place called Paradise Falls. Neither came true, which was kind of fine while they were together, but now that Ellie's passed away, life's really grinding Carl down. When developers try to boot him out of the home he shared with the love of his life, he comes up with a plan to float the house to Paradise Falls with balloons (it's probably a good time to mention that Up is animated). Unbeknownst to Carl, his airborne house is harbouring a slightly annoying, over-enthusiastic, but ultimately good-hearted kid named Russell. Chaos ensues; a Carl-Russell relationship develops; and 90 minutes later we've almost recovered from the trauma of watching Ellie die. The waterworks will start: Two minutes into the montage of Carl and Ellie's childless love story.
HOLDING THE MAN
In 1970s Melbourne, two Catholic schoolboys fall in love. It's a classic teenage romance, full of public groping, secretive hand-holding, and notes that get intercepted by the classroom teacher/priest. "Tim for John forever and also sorry I tried to get weird with you after school." Inevitably, their parents find out and a series of "You'll not be seeing that young man again" lectures ensue. Tim and John ignore their parents; go to university; learn some very first-hand information about car sex and homophobia; and 10 years later they're still together. It's all blissful ups and downs until they discover they're both HIV positive and their worlds fade into hospital visits and awkward conversations about wills. Occasional jokes punctuate the 20-minute stretch where we're basically watching Tim watch John die. If it were entirely bleak, it wouldn't be so sad. The waterworks will start: When Tim shares a slow dance with his dad, a few hours after telling his parents he's HIV positive.
BEACHES
Beaches follows the longstanding friendship of two women who drop in and out of each other's lives over a 35-year period. If you've recently moved to a faraway city and your best friend's now sitting somewhere on the other side of the world, approach this film with caution and tissues. CC (Bette Midler) and Hillary (Barbara Hershey) are kids when they meet by chance under a boardwalk. They're instant friends and, later, because it's the '60s, pen pals. As their lives move in different directions, the pair slides through the five stages of adult friendship: jealousy, resentment, forgiveness, adoration, and eventually, genuine love. Because it's a movie and movies need drama, Hillary has a baby and then immediately develops a heart condition. The prognosis isn't good, so they pack their bags and head to the beach to live out Hillary's final weeks together as a bickering couple. The waterworks will start: When "Wind Beneath My Wings" begins playing in the background.
Want to read our full list of sob-inducing flicks? Then you might like to nab a copy of issue 82. Find your nearest stockist over here, or subscribe from $10.50.