the 2019 good stuff awards are open
We're back to celebrate the rad creative types in our midst.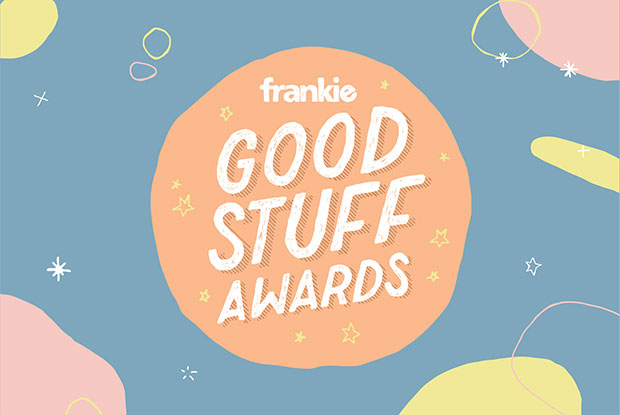 Good news: after two exciting years, the frankie Good Stuff awards are back for round three! We started this initiative to give people making cool things a leg up – so if you're an artist, crafter, designer, photographer, videographer, entrepreneur, writer, musician or socially minded type from Australia or New Zealand, we want to hear from you.

What's up for grabs? Each of the 11 winners (one for each category plus the reader-voted people's choice award) will receive:
- a $1000 cash prize
- a year's subscription to frankie magazine
- a feature in issue 89
- an invite to a special winners' dinner, where you'll get to mingle with the judges and frankie press team

If you need a little extra dose of inspiration, many of our past finalists and winners have gone on to do amazing things: 
- 2018 fashion winner Amanda Farncomb launched her debut collection, Farn
- 2017 art + illustration winner Freya Jobbins held a solo show at judge Jeremy Wortsman's gallery, Lamington Drive
- 2017 photography winner Bri Hammond was signed with Stocksy, the category sponsor.

And that's just a few of the success stories - plenty of folks have also featured in the pages of frankie, on our podcast and in our one-off book, Look What We Made.


Who are the judges? We're so glad you asked. Our wonderful judges are kind of a big deal in their respective fields, and we're very excited to have them on board.

Art + illustration – Jeremy Wortsman, founder and director of The Jacky Winter Group
Community – Grace McQuilten, founder of The Social Studio
Craft – Pip Lincolne, crafter, author, blogger
Design – Beci Orpin, illustrator, designer, creative director
Fashion – Lisa Gorman, fashion designer, founder of Gorman
Music – Myf Warhurst, radio announcer, TV personality
Photography – Luisa Brimble, food and lifestyle photographer
Small business – Tess McCabe, designer, publisher and podcaster
Writing + podcasts – Benjamin Law, screenwriter, journalist, author
Video – Marc Fennell, film critic, journalist, TV presenter

OK, I'm pumped! How do I enter? That's the spirit! Head to our categories page to see what you'll need to submit, read all the important info here, and when you're ready, hit up the entry page to send off your goods. Entries close Monday January 14th, 2019. We can't wait to see what you talented lot come up with.