thai banana pancakes with 'nutella'
Try whipping up this Thai street-food favourite from Ellie Bullen. (This version is vegan, too!)
This street-food delight is cooked on roadsides throughout Thailand and enjoyed by locals
 and hungry tourists alike. Thai pancakes are not vegan, so I endeavoured to make a dairy-free version that I could enjoy for breakfast. You can swap the plain flour for wholemeal if you like, but you won't achieve the smooth texture reminiscent of Thai pancakes. If you do choose to use wholemeal flour, you might need a splash more water or milk as the fibre in wholemeal flour absorbs more liquid.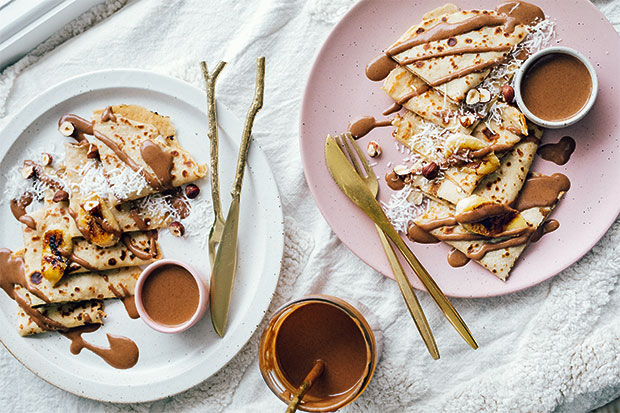 BANANA PANCAKES
SERVES
2
INGREDIENTS
2 tablespoons flaxseed meal

150g (1 cup) plain flour

2 tablespoons glutinous rice flour
pinch of sea salt

435ml (1 3⁄4 cups) soy milk

1 tablespoon olive oil, plus extra for pan-frying

2 tablespoons pure maple syrup
1 teaspoon vanilla extract

2 bananas, sliced
 pinch of coconut sugar
3 tablespoons shredded coconut
handful of chopped hazelnuts 
1/3 cup Homemade 'Nutella' (see recipe below)
METHOD
1. Place the flaxseed meal and 125ml (1/2 cup) of water in a large bowl. Stir well to combine and set aside for 10 minutes.
2. Sift the flours and salt into a large mixing bowl.
3. Add the soy milk, oil, maple syrup and vanilla extract to the flaxseed meal mixture and whisk to combine. Pour this mixture into the dry ingredients and whisk to form a runny batter. Set aside to rest for 30 minutes.
4. Preheat the oven to 100°C fan-forced.
5. Heat a large non-stick frying pan over medium–high heat and drizzle in a little olive oil. Add 80 ml (1/3 cup) of the batter and swirl the pan quickly to form a thin circle. Cook for 1–2 minutes or until bubbles start to form on the surface and the underside of the pancake is golden, then flip over and cook for a further 30 seconds. Transfer to a heatproof plate and place in the oven to keep warm. Repeat with the remaining batter to make six pancakes.
6. Place another frying pan over medium–high heat, then add the banana slices and fry on each side for 30 seconds or until golden and caramelised. Remove from the heat and sprinkle over the coconut sugar.
7. To serve, place three banana slices on one side of each pancake, then fold over the other side and cut in half to make two triangles. Place the triangles on serving plates and top with the remaining banana slices. Drizzle over the homemade 'nutella' and sprinkle with the shredded coconut and chopped hazelnuts.


HOMEMADE 'NUTELLA'

MAKES
500ml (2 cups)

INGREDIENTS
140 g (1 cup) hazelnuts, soaked in cold water overnight 
80 ml (1/3 cup) coconut nectar 
250 ml (1 cup) coconut milk

1/4 teaspoon sea salt

1 teaspoon vanilla extract 
3 tablespoons raw cacao powder 
3 tablespoons cacao butter 
METHOD
1. Preheat the oven to 160°C fan-forced. Line a baking tray with baking paper. 
2. Drain and rinse the hazelnuts. Transfer to the prepared tray and roast for 15 minutes or until they are dry and the skins are peeling off. Set aside to cool. 
3. Place the hazelnuts in a tea towel and gently rub to remove the skins. 
4. Transfer the hazelnuts to a high-speed blender along with the remaining ingredients and blend until smooth. Transfer to an airtight container and store in the fridge for up to two weeks.

This delish recipe is an edited extract from The Global Vegan by Ellie Bullen (aka Elsa's Wholesome Life).