stuff mondays – sticky fingers, green thumb cookbook
Learn how to make treats that taste like nature with this botanically inspired baking book! We've got five copies to give away – plus, a recipe for chocolate pretzels from said book to check out.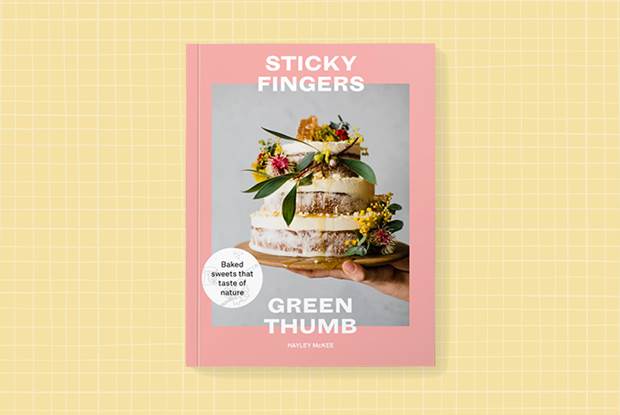 Ahh, Hayley McKee. How we wish we could teleport you to our own kitchens to whip up tray after tray of freshly baked goods infused with herbs and flowers plucked from the garden. Sadly, teleportation technology is not yet sufficiently advanced to bring our favourite cooks to our homes on a whim, but Hayley's sweet new cookbook is out now, so you can have a go at making all the scrummy treats she does – hooray! The book, Sticky Fingers, Green Thumb, is chock-full of basic baking know-how and tips (for the cake-making novices among us), and nearly 60 recipes that taste of nature, from porcini caramel and chestnut cake to miso eggplant brownies. Scroll down to check out Hayley's chocolate pretzels with jasmine sugar, straight from the pages of Sticky Fingers, Green Thumb, then fill in your details to go in the running to win one of the five copies we have up for grabs.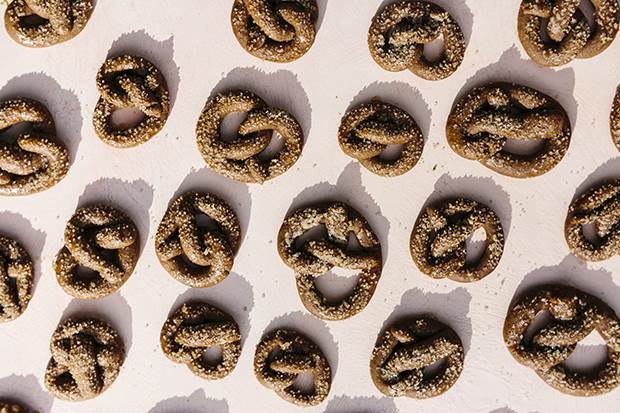 CHOCOLATE PRETZELS WITH JASMINE SUGAR
These pretzels are surprisingly easy to make. It takes little effort to roll and shape the dough, but you'll be rewarded with delicious chocolate biscuits that you'll be whipping up for years.
INGREDIENTS:
Makes 18
125 g unsalted butter
125 g caster sugar
1 egg, separated
60 ml (1/4 cup) milk
250 g (1 cup) plain flour
3 tablespoons Dutch cocoa powder
1/4 teaspoon baking powder
1/2 teaspoon water
Jasmine sugar:
10 g (1/2 cup) jasmine petals
110 g (1/2 cup) raw sugar
METHOD:
1. Cream the butter and sugar together in a bowl using a hand-held mixer, or a stand mixer fitted with the paddle attachment, until light and fluffy. Beat in the egg yolk (not the white!) and milk. With cool hands, gently work the flour, cocoa and baking powder into the mixture to form a dough, then divide it in half. Shape the dough halves into balls, cover with plastic wrap and chill in the refrigerator for one hour.
2. While the dough is chilling, make the jasmine sugar. Using your hands, rub the jasmine petals into the sugar in a bowl until the petals are thoroughly mashed (you want to infuse every grain of sugar here with the jasmine flavour, so don't be afraid to be rough).
3. Preheat the oven to 190°C. Line a baking tray with baking paper.
4. Unwrap the refrigerated dough, pull off a marble-sized piece and roll it out into a thin rope on a lightly floured work surface. Lay it out in a semi-circle, then twist the ends up and over each other to make a pretzel shape. Transfer to the prepared baking tray and repeat until you've used up all the dough.
5. Lightly beat the egg white together with the water to form a glaze. Using a pastry brush, lightly brush the pretzels with the glaze, then sprinkle over the jasmine sugar. Bake for 10 to 15 minutes until firm. Remove from the oven and leave to cool slightly on the tray for five minutes, then transfer to a wire rack and leave to cool completely.
SWEET DREAMS Plant your jasmine near a bedroom window. During the night, the temperature of the jasmine vine will drop, which triggers the opening of the flowers and the strongest release of perfume.
Pop over this way to nab Sticky Fingers, Green Thumb – or enter our competition to go in the running to win a copy!