stuff mondays – grown & gathered
We've got one oat roller to give away, plus a rather delicious porridge recipe – all thanks to the nice types at Grown & Gathered.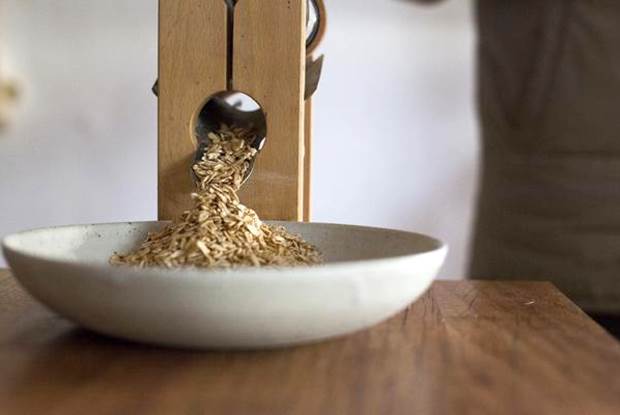 You've got to hand it to Matt and Lentil – they do sure know how to live the good life. You might know these two land-loving types from their super-nice gardening and cookbook Grown & Gathered. They've also started up an online store, so you can nab a variety of goodies to help you in your quest to eat and live well. Among the collection, you'll find this Schnitzer Oat Roller for rolling your very own oats, which comes with 1 kg of Dad's Oats. Handy, huh? Oh, and here's the most exciting news of all: we're giving away one roller (plus oats) to one lucky frankie fan! Simply shoot through your info to go in the draw, then scroll down to check out Matt and Lentil's scrummy five-grain porridge recipe.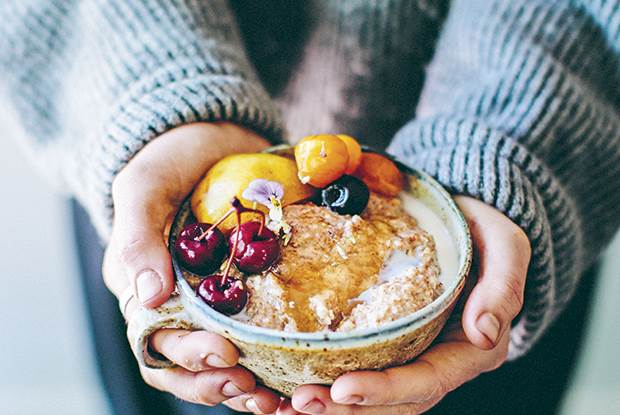 SWEET FIVE-GRAIN PORRIDGE
INGREDIENTS:
100 g (1/2 cup) brown rice
100 g (1/2 cup) millet
100 g (1/2 cup) buckwheat
100 g (1/2 cup) quinoa, washed
100 g (1/2 cup) gluten-free groats (whole oat kernels)
3 tablespoons apple cider vinegar
3 tablespoons chia seeds
2 dried persimmons or pitted dates, finely sliced
2 teaspoons ground cinnamon
1 teaspoon ground ginger
1 teaspoon vanilla extract
1 tablespoon unprocessed honey
We are big on warming foods in winter, and porridge is one of the most fundamental. This porridge is slightly sweet, with a velvety texture and kick of ginger. We roll the grains fresh by hand with our oat roller, then we sour them overnight before cooking. I don't think we'll ever get sick of rolling the grains by hand – there is such a simple joy in it. Porridge is something we have tried so many different combinations for, but this recipe is up there with the best. Freshly rolled oats, brown rice, quinoa, millet and buckwheat cooked down with chia and milk and topped with preserved wild plums, quinces and cherries from freshly opened jars from the past growing season. Then come the edible flowers – there aren't many cut flowers around in winter, but there are actually a large range of edible flowers. This is food as it used to be. This porridge will keep for at least a week in the fridge, so we just make a big batch and heat it on the stove each morning with a bit of extra milk or water.
Day 1. Run the grains through an oat-roller. (If you don't have an oat- roller, simply keep the grains whole and replace the groats with rolled oats.) Place the grains in a large bowl with the vinegar and 1 litre (4 cups) of water. Cover and stand at room temperature for 12 to 24 hours.
Day 2. Transfer the soured grains and soaking liquid to a large heavy-based saucepan along with 500 ml (2 cups) of water. Add the remaining ingredients except for 250 ml (1 cup) of milk and bring to the boil over a high heat, stirring constantly to prevent it from sticking. Reduce the heat to low and cook for about 30 minutes with the lid on, stirring every 10 minutes or so, while gradually adding the remaining milk. If after 30 minutes it's still a bit thick, stir in a little more water or milk. Serve in bowls with whatever toppings your heart desires – we used preserved cherries, quinces, wild plums, violas and unprocessed honey.
Notes. If you are using whole grains (not rolled) expect a longer cooking time. If some of these grains aren't grown locally to you, just replace them with any other whole grains that are. For a vegan version of this recipe, replace the honey with unrefined sugar.
This very yummy recipe originally appeared in Grown & Gathered – pop over this-a-way to nab a copy.