spaces volume five – sass cocker
A warm and welcoming home along the coast.
Sass Cocker, designer and owner of tattoo studio Little Gold, made the move from the big smoke out to the Victorian coast in 2017, and hasn't looked back since. In this extract from SPACES: Volume Five, Sass shows us around her Anglesea home and tells us about why the sea change allowed her to refocus her priorities.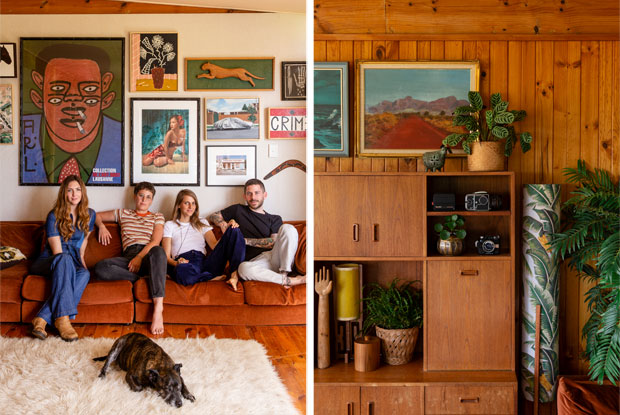 It took Sass Cocker a little while to get used to living on a road without streetlights. Before she moved into her house in Anglesea, a small town on the Victorian coastline, she had spent years living and working in Melbourne. In the city, nightfall meant bright signs, squealing trams and tall buildings dotted with lit windows. Anglesea felt very different. "On my first night, it was dead silent and pitch black," Sass says. "I got a bit creeped out."

Now, after a year on the coast, Sass relishes how peaceful her house feels after dark. 
It's just one of many reasons she's happy she moved away from the big smoke. The decision was a big one, coming on the heels of a fairly significant period of her 
life. In 2017, Sass was running two design businesses and a co-working studio, but felt burnt out. Doubts crept in about whether her life in Melbourne was really fulfilling. 
"I feel like I changed during that time," Sass says. "I kind of lost touch with who I had become and felt I needed to reassess."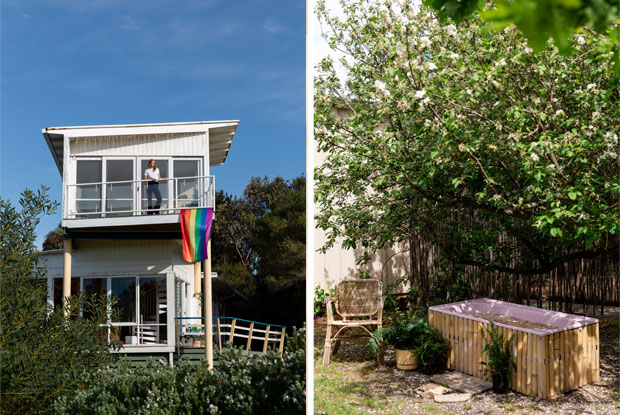 In the midst of these worries, Sass found solace in an unexpected place: one of her friends randomly offered to teach her how to surf. She took him up on it, despite having a lifelong fear of the ocean. "When we went out, I was trying to stay close to my friend and paddle fast," she says. "Then he turned around and caught a wave, so I thought I'd do the same. I flew so fast towards the beach, but it was exhilarating. At the end, I was
 like, 'Wow, I really want to try that again.'"

Sass did try it again. And then a few more times. Eventually, her interest in surfing became so intense that when she decided to take a six-month sabbatical from work, she chose to travel to a spot famous for its waves: Costa Rica. "It just seemed like a good option," she says. "Somewhere far away that I had never been."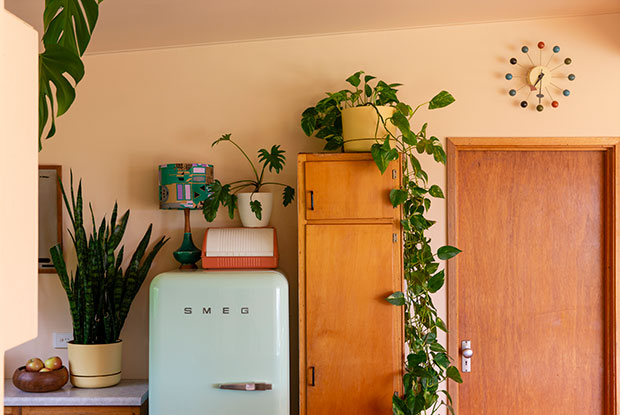 The trip cemented Sass' newfound love for the ocean, with her surfing twice a day. And when she returned to Melbourne, she found herself driving down to the coast so often that it made sense to just move there. She scoured around online for a rental 
and found a three-bedroom beach shack
 on the outskirts of Anglesea, just over 
100 kilometres from Melbourne. The photos in the listing looked dodgy, but when she arrived for the inspection it was love at first sight. "I pulled up and was like, 'I don't care what it looks like on the inside, I need this house,'" Sass says. "It was just so cool."

Built in the '50s, the house sits five minutes from the beach and couldn't be more Australian mid-century design if it tried. The place might have been renovated in the '90s, but its original charm survives, and includes wooden floorboards, walls 
of windows and lots of natural light. The rooms are generously sized, and the ceilings are high enough to allow nine-foot longboards to be stored upright inside.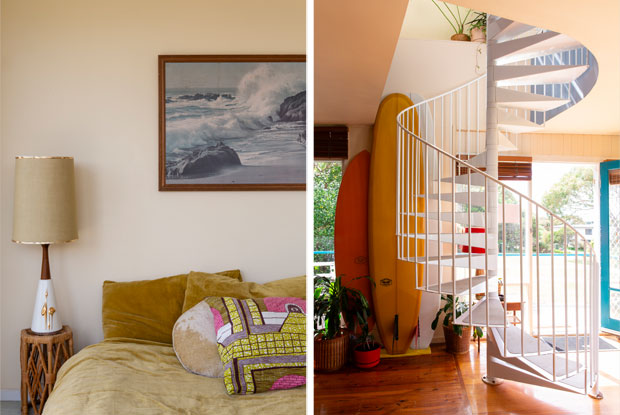 Since moving in, Sass has tried to create a space that feels welcoming to anyone who visits. Most of the furniture is vintage, sourced from Gumtree, markets and Facebook groups. There are also a few key pieces that were rescued at just the right time. "I had some friends come over when I first moved in and I said, 'I'm so sorry we're going to have to sit on the floor because I don't actually have a dining table,'" says Sass. "Then one friend said they had just seen one sitting in some hard rubbish on the street. So I got in the van, grabbed it, and then 10 minutes later we had a table in time for dinner."

Other items in the house have more sentimental value. Sitting next to her toothbrush is an old toy hippo that she
 has had since she was a child. In the 
living room, there's a framed painting by tattooist Charley Gerardin, Sass' closest friend and business partner. She regularly stays at his house in Brunswick during her weekly visits to Melbourne. "I really like the balance of switching between Anglesea and Melbourne," Sass says. "If I spend too much time in Anglesea,
 I can get very quiet because I can go a long time without talking to another person."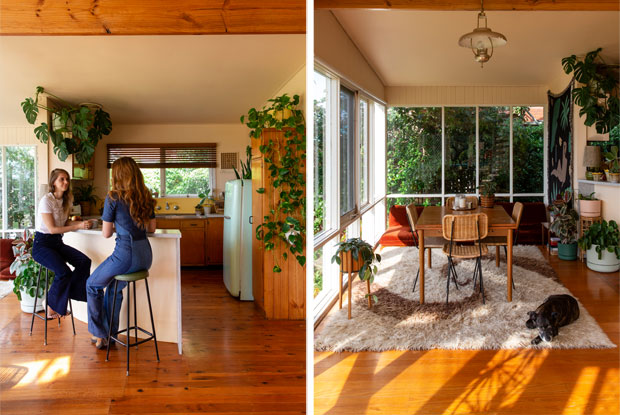 That's not to say the Anglesea house is a lonely place. Friends regularly stay there, especially during the summer months. In addition to their company, Sass can always count on her dog Diesel for a chat. He's usually found bathing in a pool of sunlight or sleeping in the upstairs master bedroom. When it gets cold in the mornings, which it often does in winter, she'll sometimes make a hot water bottle for him and wrap some of her clothes around it. It's a pretty nifty trick; not only does it delight Diesel, it also ensures Sass has something warm to put on when she gets back from surfing.

Sass has also made space for some other people in her life. Not long after she moved in, she signed up to become a respite foster carer. The role involves intermittently taking in children over five years old for a few days. "After my sabbatical I was trying to be aware of the things that I've always said I wanted to do but haven't done," Sass says. "One of those things was doing foster care."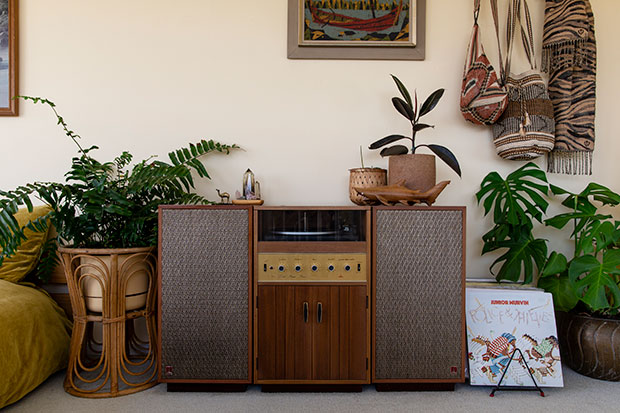 To make it safe for children, the house needed a bit of work, such as tidying up the curtain cords and locking up a few of the drawers. But once those little niggles were overcome, the house has become a perfect sanctuary for foster kids. "There's a lot to look at – heaps of art, old cameras, records," says Sass. "Plus, the garden is huge and there's a beach nearby, so there's always something to do."

Opening her home to kids has allowed Sass to give something back to the community, while also teaching her important lessons about herself. One key moment came during the vetting period when she was asked to write an outline of her own life story. Sass wrote about her childhood in Canberra, her extensive travels and her dad, who used to take her out rock climbing when she was a girl. "That was actually really cool," she says. "It was a reminder of a lot of things that shaped who I am."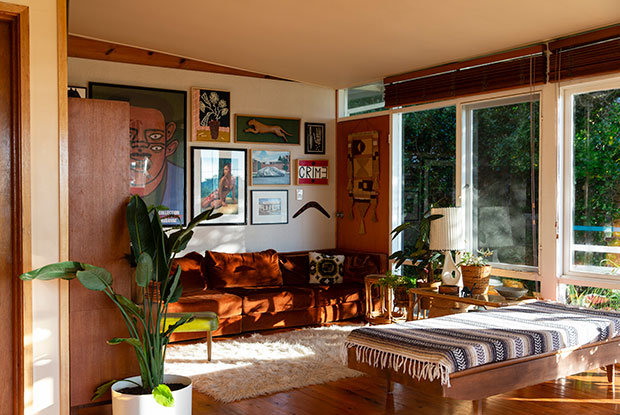 The exercise helped Sass realise she wanted to change her career goals to better align with her values. So, she embarked on a 
new challenge: studying art therapy. She often spends hours in her front room doing assignments, though she still finds time to surf. Some mornings she likes to head down to the water before dawn, at other times she likes to take it easy. She'll stay
 in bed long enough to watch the sun rise from her bedroom and appreciate how lucky she is to live where she does. "The skies are on fire every morning and I never put the blinds down," Sass says. "I have to pinch myself every time I wake up."

This is an edited extract from SPACES Volume Five. For more interiors goodness, pick up a copy online or from one of our lovely stockists.