spaces volume five – emma peel and danny walsh's retro palace
This isn't an ordinary suburban home. Nope, this Mediterranean mansion is a living, breathing gallery for all things retro and vintage.


It's so cool, it doesn't quite seem real. But Emma Peel and Danny Walsh's renovated Mediterranean mansion functions as a living, breathing house – as well as a gallery for all things retro and vintage. Pop your head in the front door and you're greeted with a terrazzo staircase, courtesy of the original Italian owners, who built this double-storey suburban palace back in 1974. Hang a left and you're stepping straight into a psychedelic cubbyhouse: wall-to-wall vintage clothing (arranged according to colour – and there's every colour), musical instruments (including Emma's old-school keyboard) and, up the back, a fully stocked mezzanine bar, set under a timber archway. "Everything's an arch in this place," Emma observes. "There's even an arch over the bath. It's the best."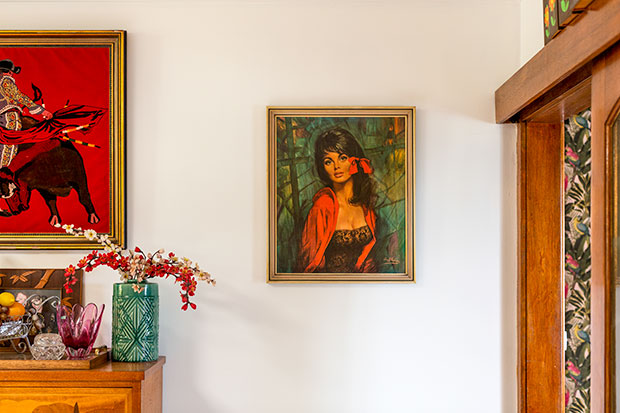 A copywriter at the University of Melbourne by day, and one of the city's best-loved indie DJs the rest of the time, Emma's been collecting retro garments since she was 12. "I'd always been around old, beautiful stuff," she explains, reflecting on her childhood in Tasmania. "My grandparents had this house that had been in their family since the 1830s. We used to dress up in big silk ball gowns and were allowed to hang out in the mud wearing them, jumping around." Later, while flicking through her parents' magazines and record collections, Emma would discover cultural icons of the '60s: Twiggy and Dusty Springfield. "Because I've never really fitted in, I'd always been searching for an aesthetic that matched me – and I felt that aligned with who I was."

Emma got her start spinning vinyl at the Round Midnight club in Hobart's Salamanca Place when she was just 18. "It was all the kooks, the extroverts and the vintage clothes dressers," she remembers. "There seemed to be a magical point in time where there were a lot of very bohemian people living in Tasmania who were a similar age to me. Of course, there's MONA now, so it's fab, but back then there weren't many options – unless you wanted to go to the Irish pub or listen to the top 40. There was one club down the street that would just play top 40 every night. It had a slide that would take you from one level to the next and someone had always vomited on it. So you had that, and then you had this crazy oasis, where I hung out."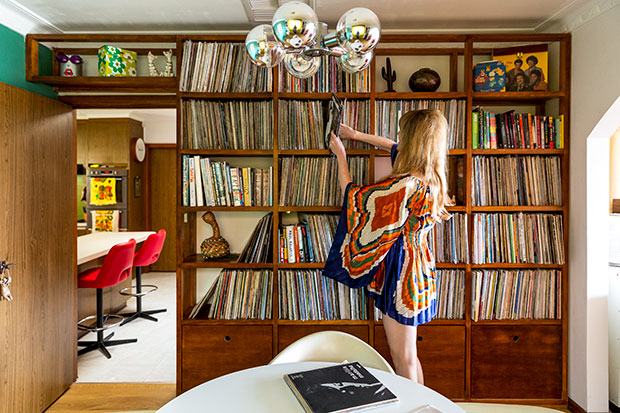 After graduating from the University of Tasmania, Emma hoofed it to Melbourne. She became a local music and style icon, running the monthly go-go club, Blow-Up, for eight years. Since 2008, she has been presenting Switched On, a "vinyl safari" exploring the global sounds of the '60s and '70s, on Melbourne cult community radio station PBS FM. She also met the man of her dreams – a dead ringer for David Crosby. Well, sort of.

"I was mourning my break-up with another guy," Emma remembers. "And my friend invited me around for some commiseration drinks. Over the course of the evening, she asked, 'So, who's the kind of guy you'd like to date next?' This was right in the middle of my Crosby, Stills and Nash period. I said, 'I really want to meet someone who's country-rock – maybe looks a bit like David Crosby.' She was like, 'Oh my god, I know just the person for you.'" Danny Walsh, now Emma's husband (and a muso, too), chuckles as she recounts the experience of meeting him. "He rocked up at the house – it would have been midnight that night – and he had glitter in his pocket. He stepped in the door, tossed the glitter around himself, and went, 'Dun!'"

Danny clarifies: "She'd liked my picture on Facebook; this is a 21st-century romance. And I'd mentioned that to our mutual friend. So she called and said, 'Hey, come around for some drinks. My friend Emma Peel's here.'" Danny wasted no time getting Emma's number, and called her the following Monday, asking her out that night. Emma lied about being busy. "I was like, 'What the hell?' Bit soon," she says. Danny counters with a shrug: "I was just getting organised." That Thursday, Emma biked over to Danny's place for their first official date – or "the hummus date". Using chickpeas from his parents' farm in Donald (a rural Victorian town with a population of around 1500), Danny whipped up a fresh batch of dip. Or attempted to, anyway. "The Bamix broke because I went too hard," he says.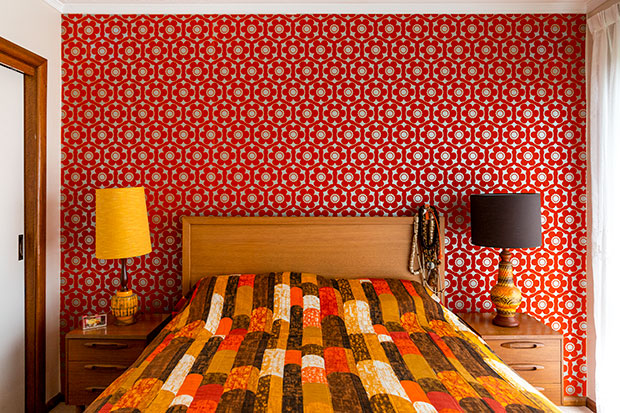 From collaborating over condiments to starting a family (their daughter, Joni, is three, and there's another bub on the way) to launching the wildly successful local music festival, Reservoir Stomp (now in its third year), Emma and Danny are a team – except, perhaps, when it comes to renovating. "I have the artistic vision," Emma insists. She also does a lot of the grunt work – like wallpapering the house, which, according to Danny, involved swearing "so offensive you couldn't put it on the internet". The finished product, however, is nothing short of awe-inspiring. Peek around every corner of the house and something quirky and wonderful will catch your eye. A bit like Reservoir, the outer-northern suburb that Emma and Danny call home.

Although the area has had, in Emma's words, "a stereotype of being a bit shit", astute visitors will clock its many marvels, like the rainbow house ("it's completely covered in rainbows," says Danny), and the llama house. "They've got this massive fibreglass llama in their frontyard that's so intense that, when they get pizza deliveries, the pizza man won't go in there," Emma says. She also appreciates the dagginess of Reservoir. "You go down the main shopping strip and there are old ladies with their shopping jeeps and people in trackie-dacks. It's not super-gentrified."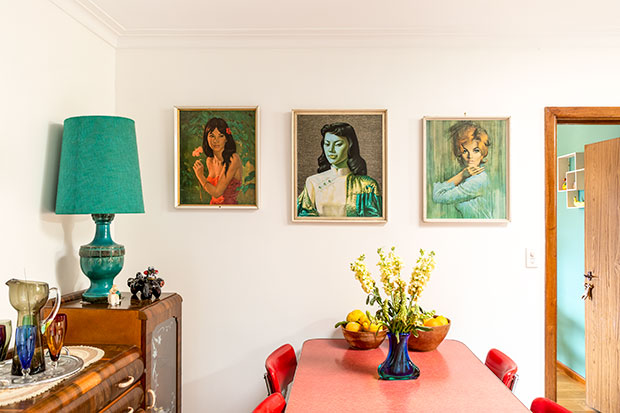 There's still work to be done on Casa Peel-Walsh – most urgently in the bathroom (Emma reckons it's been suffering from around 40 years of dodgy plumbing). But for now, and always, it's a place of colour and life, with golden sunrises glowing through the kitchen's frosted glass door (complete with the silhouette of a sexy mermaid), a view of gumtrees and hills from the balcony, and a backyard dripping with fruits come summer: peaches, nectarines, apricots, plums, even avocados. As for Emma and Danny's collection of vintage gear, expect it to grow – or, at the very least, remain firmly intact.

"When I was 11," says Emma, "My mum came to me and my twin sister and said, 'I'm throwing out all my clothes, girls – do you want them?' It was at that age where you're embarrassed by your mum, so you're like, 'Ugh, no.' So she threw them all out. She was the most stylish woman with the most amazing clothes – and they all went to St Vinnies. I think I was scarred by that. Since then, I've never thrown anything out."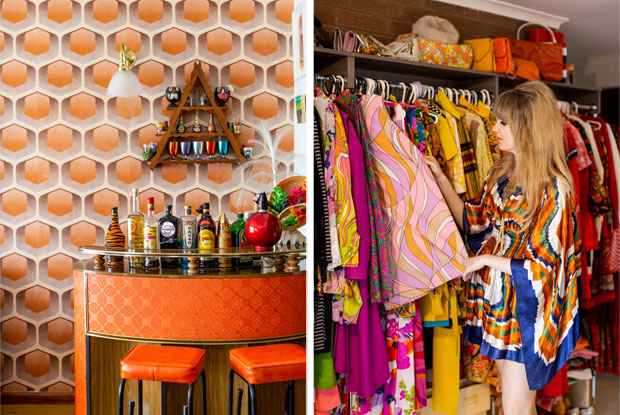 This is an edited extract from SPACES Volume Five. For more interiors goodness, pick up a copy online or from one of our lovely stockists.