spaces volume five – allira jade and jeram's '60s abode
Take a tour of this sweet-as mid-century home in Geelong, Victoria. 
Due to popular demand, our lovely interiors book SPACES Volume Five is back! You can flip through its pretty pages and nab a copy over here. But first, take a tour of Allira Jade and Jeram's mid-century abode (which you'll also find in SPACES) below.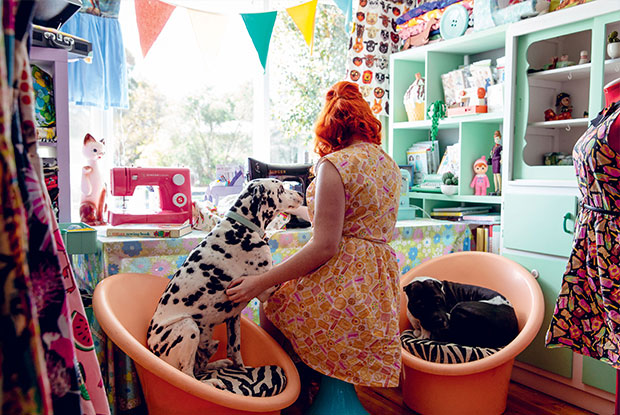 Allira Jade and Jeram
 live in Geelong, Victoria, with their dogs, Freckles and Sassafras. Allira is a seamstress; Jeram is an engineer. Here, Allira tells Taz Liffman how the couple found home sweet home. 
Jeram and I had both expected that our first trip down to Geelong would also be our last. The city doesn't always have the 
best reputation, but a few of our friends had recently moved down there and we made a special effort to get to their housewarming. We ended up staying for a few days and just completely fell in love with the place. For Victoria's second biggest city, Geelong feels more like a coastal holiday town: the op
shops are amazing, cosy new bars and cafés are always popping up, and there are great beaches, wineries and breweries nearby. Plus, it's only an hour's train ride from Melbourne.

On our drive home we decided to take a random detour through the back streets. We were expecting the illusion to end there, but we could hardly stop squealing. Jeram and I are both completely obsessed with '60s design, and it felt as though there were Palm Springs-inspired houses in every street we turned down.
Neither of us had ever thought we'd be able to own a home, but when we looked up Geelong property prices we realised you could get a mid-century house on a big block of land for the price of a tiny unit in outer Melbourne. We saved hard for about a year. Driving down to Geelong every weekend to attend auctions and explore the surrounding towns really helped keep us motivated with our savings.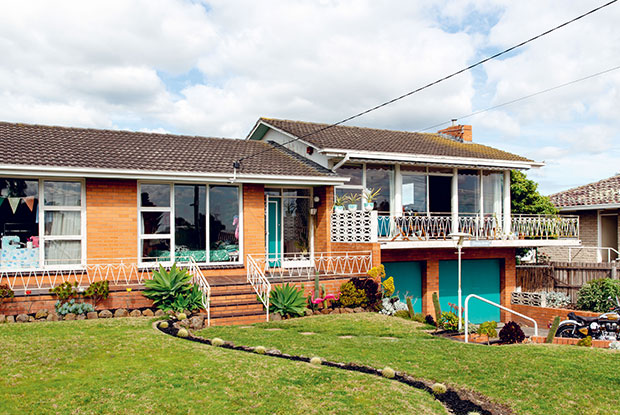 How we discovered our house, though, was
 a fluke. We'd been looking for about three months when Jeram came across a Facebook post on a retro houses group. An old lady was begging for someone to buy her neighbour's house, as she was scared developers were going to buy it and knock the place down. Jeram took a look at the photos and called 
the agent right away. After checking out the house he made a super-low offer, expecting the agent to talk him up. But he simply said, "Yes, sold!" It's a good thing Jeram knows my tastes, as the first time I actually got to inspect it was when we were signing the contract.

Our house was built in 1963 with all the stylings that characterise the period: breeze blocks, wrought-iron balustrades, a slate fireplace feature wall. The suburb only got electricity that year, so the builders and designers went all out. Case in point: the bathroom has pastel pink tiles and a lavender bathtub with blue gemstone taps. My favourite space is the large split-level living area.
The house only has two bedrooms, but because it's built on a hill and has floor-to-ceiling windows it feels spacious. You see Geelong's bay in
 the distance and, at night, the city's lights. We often eat our breakfast out on the balcony, looking across to the You Yangs mountain range. It's a very peaceful way to start the day.


I'm a self-taught seamstress and run my own dressmaking business, Freckles & Ginger. I work from home, sewing vintage-inspired dresses with big, bold, colourful prints, so it's great that my workplace embodies the era that I seek to evoke.
The house features also make taking photos for my Instagram account a cinch. The slate fireplace provides the perfect backdrop to prop my dresses against – especially when Freckles, my Dalmatian, potters in and sits next to it. He's such a little poser.

Along with the clean lines of mid-century style, Jeram and I have a massive soft spot 
for bright colours and cheery patterns – I like to think of our decorating style as Don Draper meets Ms Frizzle. There are plenty of 'colour pops' around our home, especially in our 'kitschen', which we've furnished with vintage-era tea towels, brightly coloured canisters and my novelty teapot collection. Geelong's
 op shops and artisan markets are amazing
– we especially love scouring the Geelong Vintage Market and Mill Markets for finds.

Our standout piece is the 1920s Singer sewing machine I found on Facebook. It's the same model 
that my grandma had in her house when 
I was growing up. It does work – I have sewn dresses on it – but it's extremely fragile, 
so we decided instead to install it in the entryway. Seeing it first thing when I walk through the door always brings me such joy.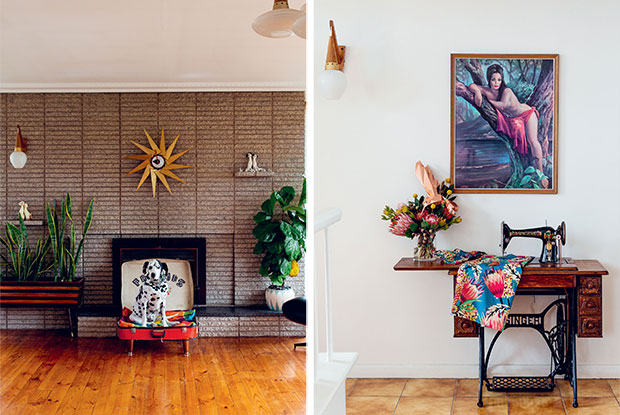 We've been lucky that our house was well cared for by its past owners. We haven't 
had to do anything other than revamp the garden. Jeram researched the type of plants people had in Palm Springs during the '60s and then hunted down a whole lot of cacti and agaves. He dug up the garden beds and replaced them with soil suited to succulents.

We never really got to meet our neighbours when we were renting in Melbourne. It always felt as though people were too busy, but
 the vibe down here is very different. Our neighbours are always popping over for a chat and we've had all sorts of goodies left on our doorstep: lemons, apples, peaches, fresh eggs, cakes. One of our neighbours even introduced us to the original owner of our house.
We heard that he'd planted an apricot tree when he moved in, so we baked an apricot pie and invited him over. He showed us photos of the house over the years and told us that his wife had established a giant rose garden in the '70s that had completely taken over the front yard and the entry stairs. Getting into the house must have been very prickly for a while. He was so happy to see we were taking such good care of the house.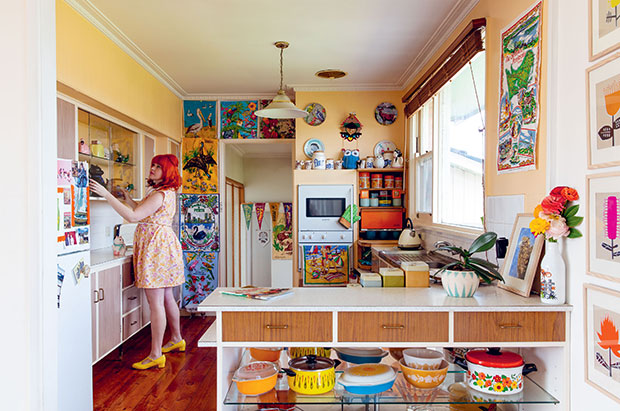 Needless to say, we love our home as 
it is, and are very against renovating it. If anything, we would love to restore the house to how it was originally intended. We've even had an architect who specialises in mid-century design come and brief us 
on the right suppliers to contact should 
we ever have to retile the patio or redo the railings on our balcony. He brought over 
his prized collection of early '60s home magazines for us to flick through. That era really put such pride into their work. It was such a wonderfully creative time – socially and politically as well as artistically.

Visitors are generally really wowed when they come into our house; the building has such clean lines and a great use of space. Don Draper meets Ms Frizzle may not be to everyone's taste, but people always say the style is "very us" – and I like to take that as a compliment.

This is an edited extract from SPACES Volume Five. For more interiors goodness, pick up a copy online or from one of our lovely stockists.