sleater-kinney interview
Sleater-Kinney drummer Janet Weiss has some wise words for her 16-year-old self and anyone who wants to get involved in politics.
Ever wished you could re-live the live Sleater-Kinney experience over and over again? Well, now you can. The seminal riot grrl band recently released their Live in Paris album, featuring a tonne of highlights from their 23 year-long career, plus general sweaty rock goodness. Scroll down to read our little chinwag with drummer Janet Weiss to find out how the record came to be, how she likes to de-stress and how to fight a political regime that well and truly sucks.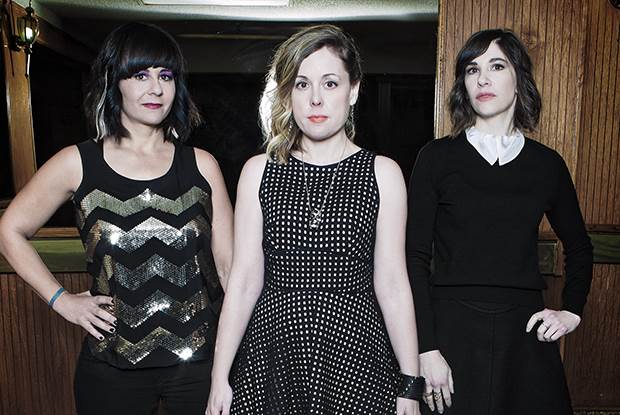 Which Sleater-Kinney songs feel the most relevant to you now? For me, there are definitely a handful of songs that have strongly resonated throughout the years. "One Beat", "Entertain", "Jumpers", "Far Away", "Dig Me Out", these are examples of songs that feel as urgent today as when we recorded them. And in the live setting, these tracks take off – they each have a life of their own beyond the records.
What do you love the most about the Live in Paris album? I love hearing us play together so well. Our stamina and skill level elevate when we are deep in a tour. It's thrilling to have a well recorded version of how it sounds when we are firing on all cylinders.
Tell us a bit about the process of making the album. Our sound engineer made multi-track recordings every night on the entire tour. We thought perhaps we would use something sometime in the future. We hadn't necessarily decided on an entire live album, but after the tour was done and we had especially fond feelings of the European leg, we decided to listen to the shows to see what we had. Corin really spearheaded the process, checking the performances and the mixes and taking special care to be sure, once we decided on one show, that Paris was up to snuff.
How do you like to unwind? I like spending time with my dog. He is a fluffy anti-stress machine.
Where would we find you on a typical Sunday morning? I don't operate in life with many routines. One Sunday I could be home working on music in the basement, maybe running errands, walking the dog. I almost always make coffee when I'm home. But sometimes I'm traveling, touring, there's no telling really.
If you could visit your 16-year-old self, what advice would you give her? Start playing the drums NOW! I didn't pick up my instrument until I was 22. Would have been nice to have six more years of practice.
What music is making you happy right now? Angel Olsen, Courtney Barnett, Wendy Rene, Ex Hex, Big Thief, A Giant Dog.
How do you like to engage (or not engage) with politics? I wish I didn't have to be so engaged in politics, but we have a new administration hell bent on assaulting human rights. My involvement and the involvement of American citizens seems necessary. We have been sleeping for too long. I am trying to learn more about how government functions, especially at a local level, and speak out whenever and however I can. My bandmate Sam Coomes [from my other band, Quasi] and I have worked together on several oppositional music projects. It seems like music is the best way to reach people.
What are you most excited to do in 2017? I am learning [audio production software] Pro Tools (I know, I know I'm a bit late to the party), which hopefully means I record a lot in 2017.
When's the last time you said "I love you"? One minute ago to my dog Mac (he's an Australian cattle dog).
What's your life philosophy? Stick up for yourself and for those who need help at all times.
For more Sleater-Kinney, cruise over this way.