road test: instant coffee
We swap café-brewed cuppas for instant coffee.
For frankie 89, writers Chris Harrigan and Deirdre Fidge swapped café-brewed cuppas for instant coffee.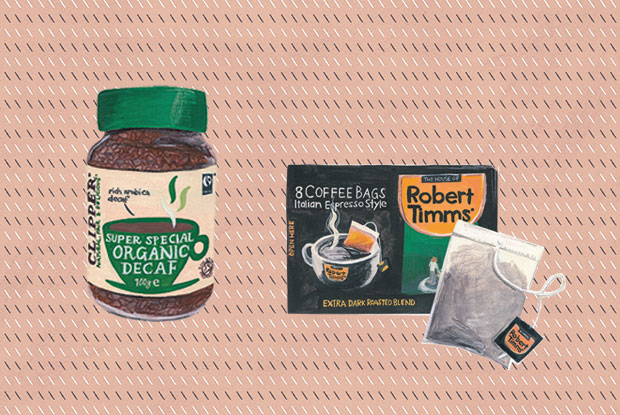 CLIPPER SUPER SPECIAL ORGANIC DECAF – Decaffeinated coffee gets a bad rap, and causes people to say weird things like, "Decaf is like kissing your sister." Well, I've never kissed my sister directly on the mouth, but we certainly hug from time to time, so I can't see any harm in having a buzz-free cup of joe. Admittedly, I tend to overdo it when it comes to instant coffee: several heaped teaspoons per cup, downed twice a day (three times if anyone expects me to leave the house after 6pm). But this afternoon calls for a less jittery version of myself, so I give decaf a try. Clipper coffee prides itself on being organic and fair trade, so it already has a tick of approval. But I wonder what the point of decaf actually is. To further stain our teeth without the bonus energy boost? This tastes just like regular coffee. If kissing your sister is wrong, maybe I don't want to be right. DF
ROBERT TIMMS ITALIAN ESPRESSO STYLE COFFEE BAGS – Robert Timms, who I assume is a real person and not some fictional corporate mascot, must have thought he was onto a winner when he came up with these porous coffee satchels. "Bags work well for tea," he probably exclaimed as he awoke from a fever dream. "By God, they'll be great for coffee!" I wish I had good news for Mr Timms, but his coffee bags are a far cry from the "Italian espresso style" promised on the packet. I steep mine for the recommended four minutes, and while I'm pleasantly surprised by the coffee-like aroma that greets my nose, my mouth fails to register much at all. The best I can say is that it tastes like good coffee that has been homeopathically diluted down to virtual nothingness. On the plus side, it doesn't taste like chemicals. Which, given we're talking about instant coffee here, isn't nothing. CH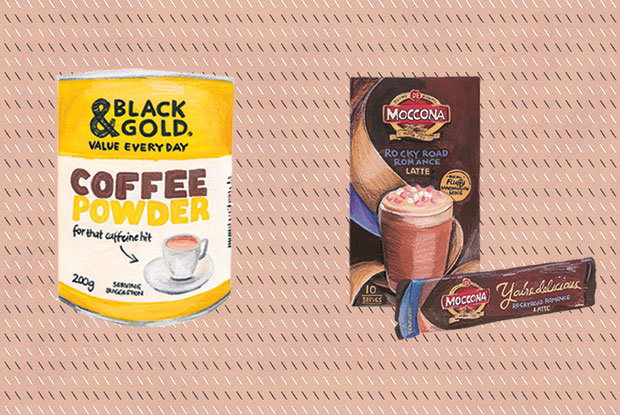 BLACK & GOLD COFFEE POWDER – When I was at school, kids carrying home-brand food items in their lunchboxes were often mocked – because elitism starts early, apparently. But 'no-name' supermarket brands have long been a staple of households that are on a budget, or don't mind a no-nonsense foodstuff (mine included). Admittedly, though, there's something about tasting the most budget-brand instant coffee that gives even me a moment's hesitation. Visually, the powdered blend looks more like MILO than a caffeinated beverage, and the no-frills canister bears a remarkable resemblance to a can of dog food. But when I sip the brew, I immediately feel ashamed about my superficiality – this is truly the tastiest instant coffee I've ever had. Bold yet creamy, it confirms my belief that budget goods are the way of the future. Banish any snobbery you hold towards bottom-shelf grocery staples and embrace the freedom of wallet-friendly flavour! DF
MOCCONA ROCKY ROAD ROMANCE LATTE – The first thing to know about this diabetes-inducing tipple is that, despite its assertions to the contrary, it is not actually a coffee. My reasoning: a coffee – even an instant one – should contain more than 3 per cent coffee. It should also probably not contain cocoa powder and marshmallow minis, or call itself something like "Rocky Road Romance Latte". A hot chocolate, on the other hand, would be free to do all of the above, and so I propose a simple rebrand: let us all try a nice hot cup of "Rocky Road Romance Generic Dessert Drink". (Moccona, let me know who to invoice.) This drink is absurdly sweet, and the marshmallows are a minor choking hazard. On the plus side, the milk powder forms a near-cappuccino-like level of foam, which is both impressive and slightly disconcerting if I start to think about the chemical engineering that probably went into developing that. CH
The rest of this caffeinated column can be found in frankie issue 89, on sale now. Nab a copy here, or subscribe from $10.50.