queer writers to check out in 2018
If you want some fresh reading material, why not give some of these queer writers a shot?
So it's a new year and you want some fresh reading material, but you're not sure where to start. Why not give some of these queer writers a shot? From poetry to TV to music, check out this eclectic bunch of artists – some of whom explore their own queerness and identity in their work, while others get weird and wonderful with their imaginations.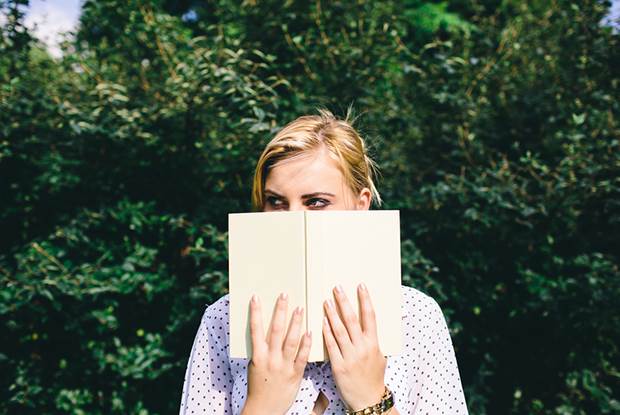 HERA LINDSAY BIRD This Kiwi poet has gained cult status for her musings on everything from Ross Geller to bisexuality. Hera Lindsay Bird's voice is truly original, and her work takes unexpected twists and turns – you'll be laughing hysterically one minute, and clutching your heart the next. She's published an eponymous book of poetry, and her Twitter is a force to be reckoned with. Check out her Leonardo da Vinci fan fic if you're in the mood for something especially zany.
FATIMAH ASGHAR Everyone's dream BFF, this super-talented American writer wears many hats, one of which is co-creator of the web series Brown Girls. The show follows the adventures and friendship of two women of colour and is currently in development with HBO. Fatimah's debut poetry collection, If They Come for Us, is due out this year, containing her soulful, intimate reflections on sexuality, race and existing as a queer person of colour in contemporary America.
BASTIAN FOX PHELAN From poetry to zines to music, Newcastle-based writer Bastian Fox Phelan is a multi-talented queer writer whose work explores gender identity, creative life and the small, beautiful things. Ladybeard is an illuminating look at growing bodily hair as a non-binary person, and Bastian's ongoing zine series, How to be Alone – at seven issues and counting – is a lovely exploration of the interior life of an artist. They were shortlisted for the Scribe Nonfiction Prize in 2017 and make music as Moonsign.
LARISSA PHAM Fantasian is a strange, intoxicating novella following a young Asian woman's personal and sexual transformation when she meets her doppelganger at a party. It's subversive and sexy, and its author, Larissa Pham, is a voice to watch. The 25-year-old Vietnamese-American also writes poetry, zines and critical essays, and has been sending a regular TinyLetter since 2016, if you want a little slice of her brain in your inbox every now and then. Set aside an afternoon to click through her digital writing here – you won't be disappointed.
ALLISON GALLAGHER If you haven't read Allison Gallagher's Parenthetical Bodies, what are you doing? The Sydney-based poet's debut collection brims with feeling around ideas of bodies, the digital age, gender and existing in the modern city. Allison also plays bass in the band Sports Bra and writes brilliant cultural commentary for publications around Australia. Run, don't walk to check out work from this powerful, important new voice.
MADISON GRIFFITHS Madison Griffiths is one of those people who is just so unfairly good at everything she does that every time you see something new of hers, you curse the sky for putting so much talent into one person. The 23-year-old Melburnian is a writer, poet and artist whose work focuses mainly on the millennial experience of womanhood, mental health and race. She posts a bunch of her poetry on Instagram and often illustrates the pieces she writes. Find her work at places like Vice, Kill Your Darlings and Overland, or see her performing spoken word around Melbourne.
PATRICK LENTON In the corner of weird Twitter is this Sydney-based queer writer, who has gone viral with a couple of side-splitting stories on the social media service. Check out Patrick's Skyrim Dog for one of the best examples of Twitter storytelling – and if you like it, you might also dig his book of bizarre short stories, A Man Made Entirely of Bats. Patrick has another collection coming out this year, so keep an eye out for more of his madcap tales in 2018.