pretty please, princess highway
We let frankie's designer go a bit mad and put together a personal wish list of cool stuff to style and admire.



Our frankie designer, Aimee Carruthers, could best be described as a mod-quisitive Kiwi fashion plate who happens to be obsessed with water ballet and Lisa Simpson. She is also quite the Princess Highway aficionado, so to celebrate the launch of her favourite brand's new website, we let her go a bit mad and put together a personal wish list of cool stuff to style and admire. Think of it as 'Princess Highway and pals', curated by New Zealand's answer to Grace Coddington.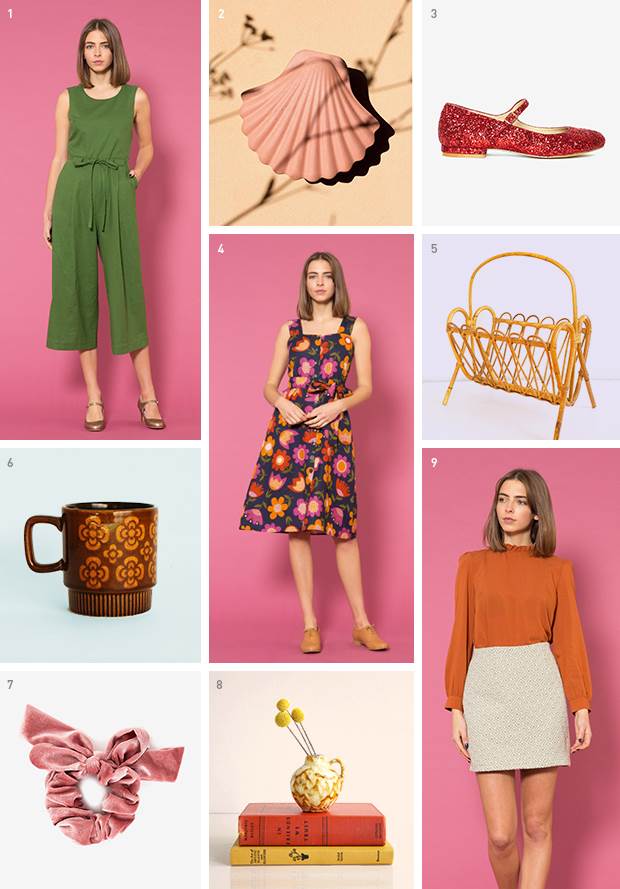 1. I am the office jumpsuit fiend and have been looking high and low for a green one to complete my collection. Clearly this Milan jumpsuit from Princess Highway is the answer to my prayers. I can't think of a question where 'jumpsuit' isn't the answer, to be honest.
2. I'm a sucker for trend revivals, so this '80s regency seashell box in dusky pink has got me, well, tickled pink.
3. A friend once told me she was feeling bad so she bought sparkly shoes. That has to be the best self-care advice I've ever heard, so I'm gonna chase the blues away with these red glitter mary janes.
4. This frock is called 'Elsa', but it's not very Nordic ice princess - more mod Moana. You could pop a turtleneck under it for cold weather, then chuck some sandals on for spring.
5. Naturally, the frankie designer has to display her mags in style!
6. Crown Lynn is the pottery of my people, and I'm digging this peppy brown and orange mug.
7. There's a lot of scrunchie action at the frankie office, and this sweet velvet bow scrunchie has definitely got game.
8. My name is Aimee Carruthers and I am addicted to retro knick-knacks.
9. Is there an outfit that isn't 1000% better with this Sweet Like Honey top? Didn't think so. I love the subtle billowed sleeves and there's a very swish surprise tie at the back!
This excellently styled wish list is brought to you by Princess Highway. Have a gander at these styles and more at their brand spanking new website.