penny 'min pin' ferguson makes weird things for happy people
Illustrator Penny Ferguson talks us through her practice, how she got started, and what she's working on now with her MSI laptop.

Illustrator Penny Ferguson moved to the Dandenong Ranges with her partner because they thought it looked a bit like the town in Twin Peaks. Happily, Penny's mountain life is less dramatic than your average David Lynch character, though her output shows a mind that loves oddities and the great outdoors. Here, she talks us through her practice, how she got started, and what she's working on now.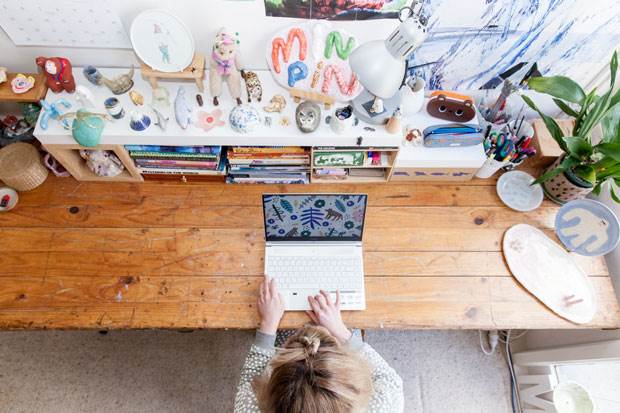 Hi, Penny! Tell us a bit about yourself please. I'm an illustration- and craft-based designer. I majored in illustration at uni, but I guess I always wanted to challenge myself and do more. Making ceramics is a bit like 3D illustration, and that bleeds into doing textile design as well. I always say my work is like a mystery animal disco. I love all the weirdness of the world and the unknowns.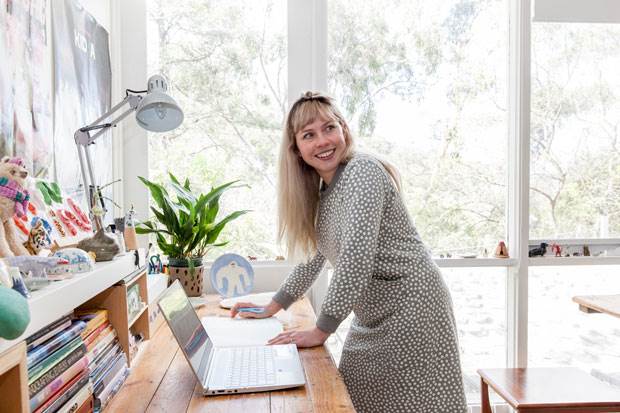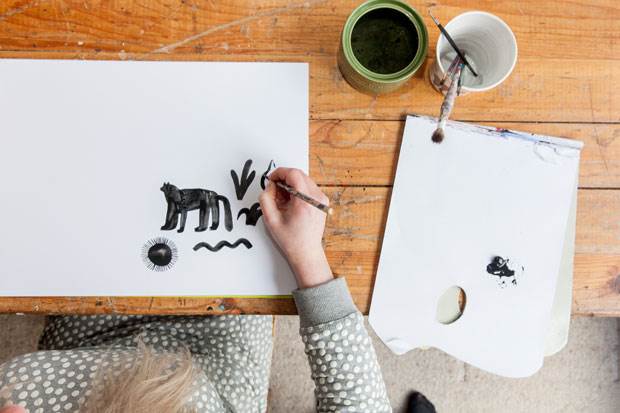 Once uni was over, how did you make the leap to being like, 'I am now a professional illustrator, and I shall illustrate things!'? In my last year at uni they really encouraged you to brand yourself as a designer, as a freelancer, but after uni I didn't really know what I wanted to do. So I did a whole bunch of things: I put on little exhibitions. I did an internship at a design school that was based out of this lady's house. Anyway, I got to see how she ran a creative business, and it really made me feel like I needed to get my shit together. I didn't want to work in coffee anymore.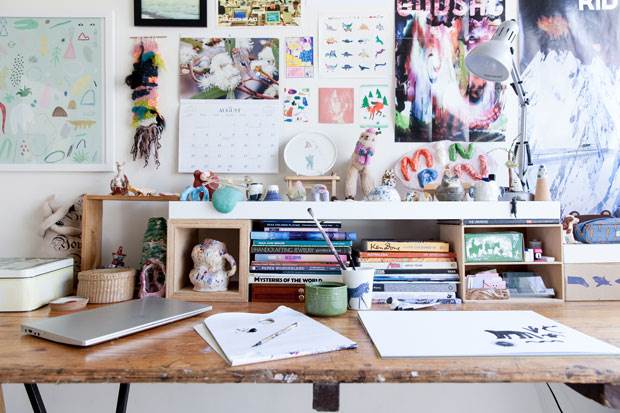 Was that the beginning of Min Pin? Yeah. I'd just moved cities from Perth to Melbourne. I put stuff on Etsy and started getting websites together, and I made a whole bunch of shrink plastic! Little badges and things – I had a lot of fun with that – and I was also doing illustrations and making jewellery and selling prints. Oh, I did the NEIS program as well. I found that really got the business side of my head more on track.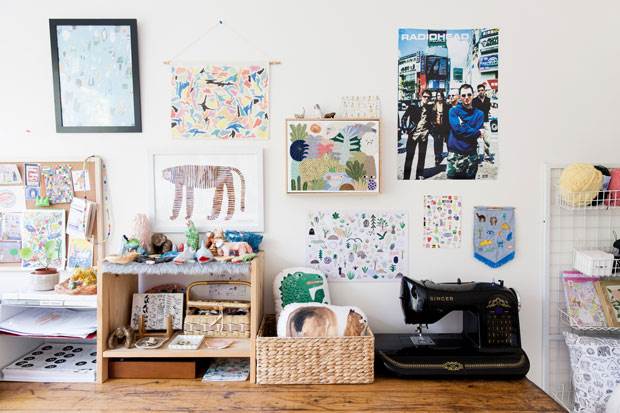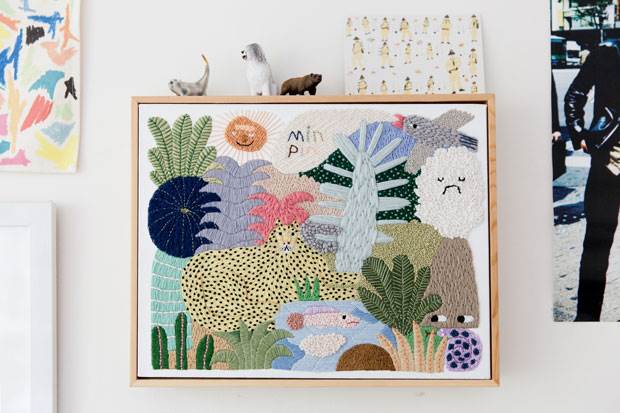 Talk us through a typical day of Min Pin – what's your studio time like? I start at 10, and it's always coffee and then emails, and checking the internet. Then I'll go upstairs and start whatever it is, or a lot of the time I go into the city to buy things or go to Northcote Pottery to fire ceramics. It's always different. But I always make sure to stop around 6 o'clock, otherwise I'll keep working forever. I used to work every day all the time, and could feel burn-out coming on. So now I just try to do regular workdays and have breaks on the weekends.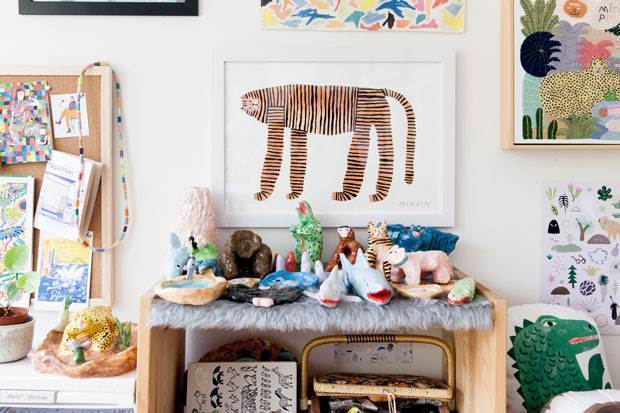 What's your illustration process like? I usually paint first or draw something. I paint everything freehand, but usually in black, and then scan them in, and then work with them on Photoshop. So, using those shapes, then cutting and pasting things and layering.
What is this doggy-themed work we can see you've been doing? Dog Park Adventures is a new textile print that I've been working on. I was going to call it Dog Park Smells, but I was advised not to! So: "Dog Park Adventures". I wanted to create a playful, fun, summery print. I enjoyed painting the plants, and putting some florals in. Then I wanted the dogs to be in there. I painted all of those motifs first, then scanned them in, and put them onto the MSI modern laptop. I've been using Photoshop to play around with the composition and colours and things like that.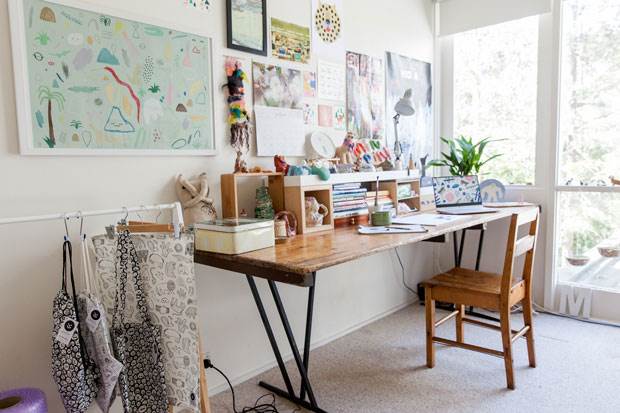 How did you find working on the MSI PS42 modern laptop? Well, I travel quite a bit. A couple of times a week I catch the train to town, about 45 minutes each way, and that's a big chunk of time that I like to utilise. I'm always working on a laptop, and I find the MSI really lightweight – it just feels like I'm carrying a book around in my bag. Also the battery lasts a really long time. There's nothing more annoying than when a computer dies halfway through something! I am safe from that. Also: the screen quality is really good. It makes editing and working with the design very easy; very bright and clean.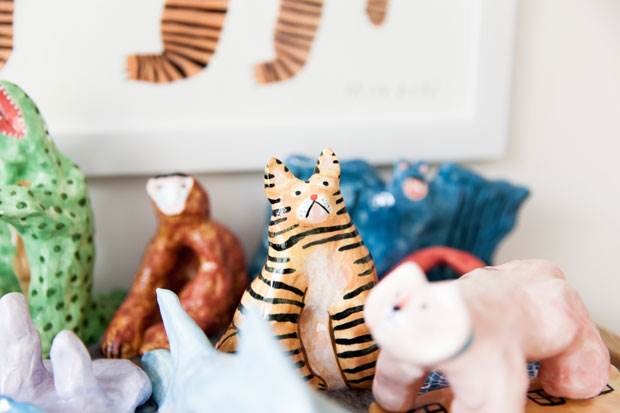 What do you love about what you do? I love the amount of love that I get to experience! So, I really love illustration and design. I love colour and I love cute things. When you have a Pinterest board or whatever, and you love everything on that Pinterest board. I'm so glad that I get to, for my job, get that Pinterest board and smoosh it together, and create things that spread that love. I feel like it's a very positive thing. Although there's a lot of stress and deadlines and uncertainty sometimes, I feel like the base of it is really exciting and positive.
This lovely illustrator chat was brought to you by our friends at MSI. Their new PS42 modern laptop features a thin bezel with 80% screen-to-body ratio, fingerprint one-touch accessibility, a true-colour screen with close to 100% SRGB standard, and up to 10 hours battery life. Head here to see more from MSI, and catch up with Min Pin on her website or Insta.