one false click
Mia Timpano's biggest fear involves a crush, social media and slippery fingers.
This chortle-inducing rant comes straight from the pages of frankie issue 85, on sale now.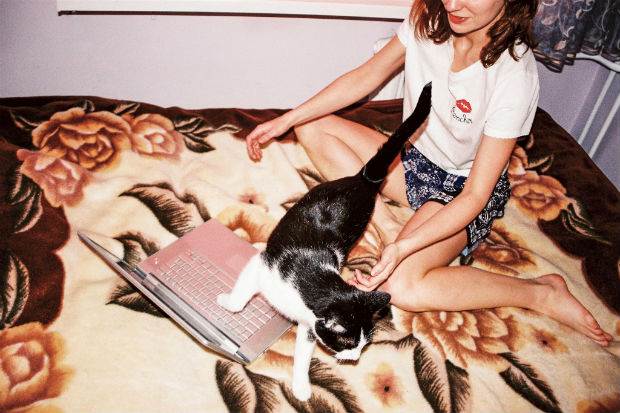 I have crushes on several people right now – but I've barely spent any time with them in reality. No, they aren't Ryan Reynolds or other celebs that I'm sure would find me enchanting if we happened to meet on holiday. They're people in my social circle. But these days, when you have a crush on someone, you don't ask for their number – you add them on social media; scrutinise every photo they've uploaded and been tagged in; then, eventually, when the moment is just right, you like something they post. A listicle about everything they're grateful for; a photo of them eating pie. That is fine, that is normal, that is sane. What is terrible, however – what is excruciating, and will lead to me destroying all signs of life around me – is if I accidentally like a photo they posted in 2005. Because then they will know that I like them.
Now, I know that at least half of these crushes like me back. And when I've accepted their friendship request, or they've accepted mine, or we've followed each other via whatever, I fully expect them to stalk me back in time. Because, why wouldn't you? I'm literally an open book. And I posted that shit for people to see. (Especially people who might want to sleep with me in the future.) That is stuff TO BE LIKED. That is its function, as per the design of social media. If I didn't want people to see something in particular, I could delete it. I've deleted stuff I don't want to be connected with anymore. I trashed an entire Facebook account because it was riddled with posts about my ex (and, side note, I'm very glad that I did).
So, if someone I have a crush on were to like my profile photo from years ago, I would be flattered – thrilled, even – that they had gone to the effort of fossicking through my online trail. It would also be a very effective way of saying, "Hello, I like you. Let's have a physical, IRL relationship, if we can possibly get over our collective emotional bullshit." (Which gets harder as you get older, sadly.) Perhaps it's because of this very emotional bullshit that I feel so afraid to expose the fact I fancy someone with one false click, hitting 'like' rather than the cross to exit Facebook's photo-viewing theatre mode. Technically, I don't have anything to lose, but revealing the fact I'm into someone 'like that' feels like putting myself in a position of irreversible vulnerability. Because, what if they don't like me back? What if they think I'm a lame stalker who needs to stop obsessing over them? What if they don't like my hair?
Look, it's unlikely. Firstly, everyone likes my hair – it's a talking point and it brings people together. Secondly, even if they don't want to fuck me from here to eternity, that doesn't mean they wouldn't be flattered by my attention – because it's always flattering when someone's into you, even if you're not into them. And as for being a stalker, well, it's just so common now to peruse people's super-old posts (even when you don't want to bed them), that surely it can't be construed as stalker-ish. The goal posts have moved, and I, ancient one that I am, need to move with them. In fact, fuck it – the next person I crush on will get a notification that I've liked their very first profile photo (wait, no – LOVE REACT!), and added a comment: "Amazing feed. I've read/seen everything now. I accept you. The future is ours. Let's mate immediately. Sincerely, your ultimate partner." Yes. That's much better.

Pick up a copy of frankie issue 85 to read even more rant-y goodness. Nab a copy here, or subscribe from $10.50.
Rad pic by Lukasz Wierzbowski.