my favourite frock: sarah tidey
As part of our month-long Frocktober celebration, supported by the Ovarian Cancer Research Foundation, we spoke to advocate Sarah Tidey about her favourite frock. 

You don't have to wait for a designer to come up with the perfect dress to suit your vibe. Custom outfits are pretty nifty, and not too hard to create, either. Sarah Tidey, a lawyer and freelance writer, went to a seamstress to bring her favourite frock to life.
We chatted to Sarah for Frocktober, a campaign supported by the Ovarian Cancer Research Foundation that encourages everyone to wear dresses in October and raise funds for ovarian cancer research. We'd love if you could join Sarah – and the team at frankie mag – in rocking your best frock this month to support women's health.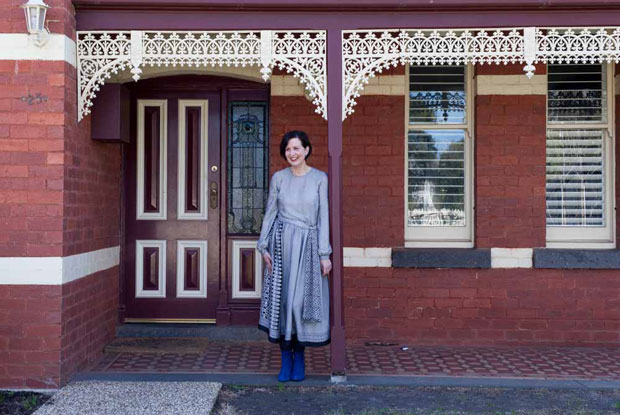 Hi Sarah! Tell us a bit about yourself. I'm 51 and I live with my husband and three teenage children. I'm also a lawyer-turned-freelance writer.
Why are you involved in Frocktober? I was diagnosed with ovarian cancer in 2015, so over the past four years, I've had surgery and several rounds of chemotherapy. But being involved in Frocktober has been a really positive thing for me. It's a fun event, I love dressing up in a frock, and it's been a great way to get the local community involved in supporting me in some fundraising, as well.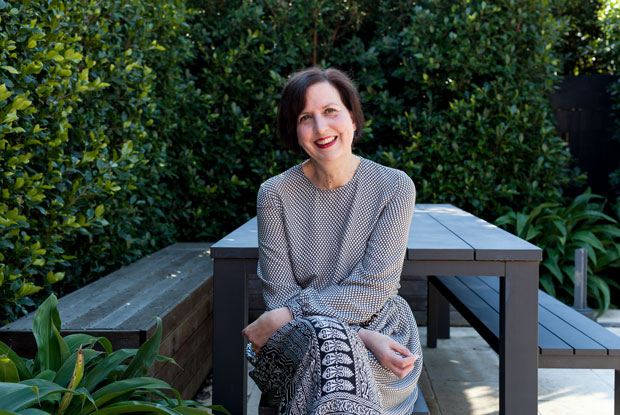 How did you come by this lovely little number? I went to India in 2017 with my mother. It had been a long-held dream of ours to travel to India together, so when I was diagnosed, it seemed more important than ever to get there.
When I was there, I was really keen to buy something that would remind me of the trip, so I got some beautiful silk fabric. It was a sari, and though traditional saris are in really bright colours, this was black and white, with several different patterns throughout the fabric.
I had it made into a dress when I got home. It's a winter dress, with a round neck and long sleeves, contrast cuffs on the sleeves, and a contrast band on the bottom and down the side. I had some spare fabric, so they made a matching scarf for my mother. We've both got this piece of clothing that reminds us of our trip together.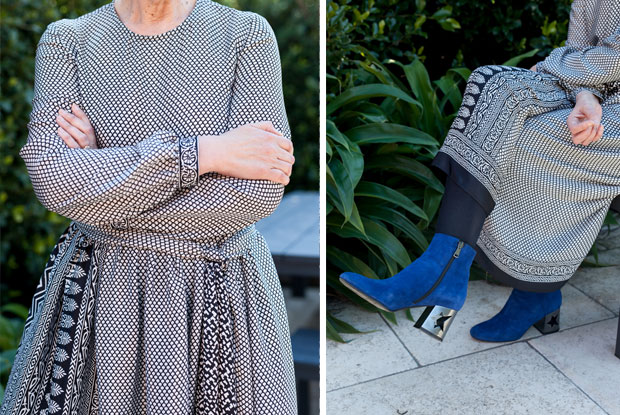 Where have you worn the frock? As soon as I had it made, my girlfriend said, "You've got to find an excuse to wear it somewhere." A couple of my friends took the day off work and we went to a fancy restaurant and had a special lunch, just so I could wear it, which was very nice. 
How do you celebrate Frocktober? We've tried to be really creative with it over the past couple of years. One year, we had a Facebook page called Rock Your Frock. People posted photos of themselves wearing their favourite dress and made a donation at the same time. We had a lot of guys and kids doing it, as well. Last year, we took the 'biggest Frocking photo ever' with about 400 of us. That was a lot of fun.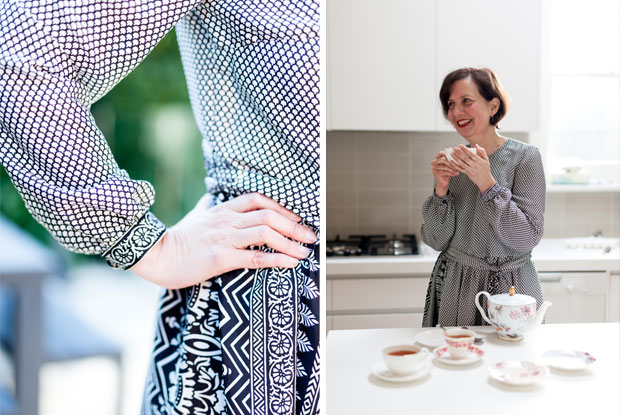 Why is it important for you to be involved in this campaign? Ovarian cancer is a serious disease, and one that hasn't had a very good prognosis, so research is really important to get that early detection test. And we also need to do further research to find some better treatments for those of us actually living with it.
Campaigns like Frocktober are a really important part of giving hope to people who are living with the disease, and hope is a really important part of the story when you have cancer. It's what enables you to keep going.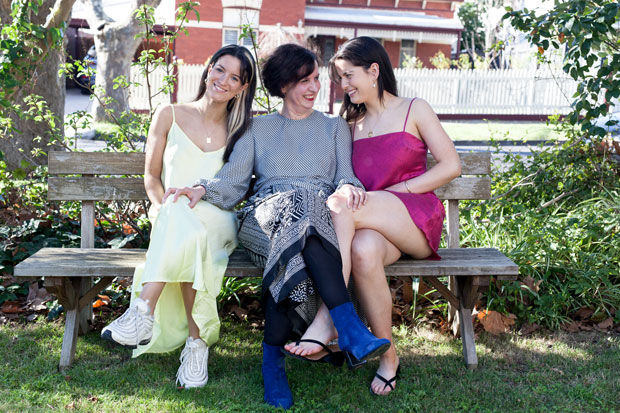 This chat was created in partnership with the Ovarian Cancer Research Foundation. They're calling on people to frock up throughout October to raise funds for the development of an early detection test. Right now, there's no way to diagnose ovarian cancer without invasive surgery. But you can help change that! Pop over to frocktober.org.au to learn more.