melina marchetta interview and giveaway
Fancy catching up with the Looking for Alibrandi author? (Oh, and by the way, she gave us the low-down on her Tomato Day sauce.)
Some authors you feel like you know, because you love their work so damn much. Melina Marchetta, who penned Looking for Alibrandi, aka the "most stolen library book", is one such author. If you'd really like to get to know her (or at least know her slightly better than you already do), you're in luck. You can a) pop past "25 Years of Looking For Alibrandi: Have a Say Day" at the Sydney Writers Festival on Sunday May 28th (in which Melina will lovingly recreate the novel's central plot point along with an all-star panel, including actress Pia Miranda); b) shoot us your info and nab one of the four double passes we have to the event (wahoo!); and/or c) scroll down and have a read of our little chinwag with the inspiring Ms Marchetta just below.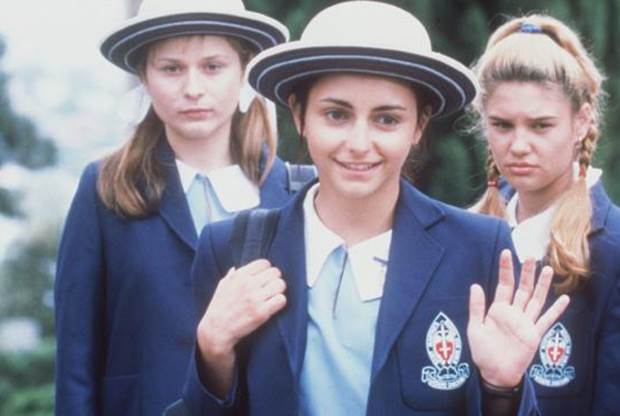 What inspired you to become a writer? A love of reading and film.
Who were your favourite authors when you were growing up, and how do you think they influenced your writing style? Definitely L.M. Montgomery. I think there's a bit of Anne Shirley or her circumstances in many of my novels. She's outspoken and big-hearted, and she's also lost so much at a young age. What I loved about Anne of Green Gables was the focus on the communities we create.
Could you please tell us a bit about the process of writing Looking for Alibrandi? I first started writing it at about 20 and it was published when I was 27. By the time Penguin received the manuscript, it was double the size it is now. My publisher encouraged me to limit the story to one year in Josie's life, and also to work out whether I wanted it to be written in the first-person or the third-person (in earlier drafts, it was both). I wrote most of it in the family home I grew up in, which makes all the sense in the world. I don't know what my parents thought of their middle daughter claiming she was writing a novel in her bedroom, but I remember one day my mum came home from work and gave me a whole lot of paper for printing and said, "This is for your novel."
Were there any times when you struggled with the process? Rejection was difficult and it happened about six times or seven times. It was back in the day when we used to have incinerators in the backyard, and I'd very dramatically watch some of those rejection letters burn. Sometimes I'd find out that more than one person in the publishing company had read the manuscript, so that gave me hope. And more than once I received a rejection letter telling me that I had a unique voice and not to give up.
What was the most exciting aspect of writing the story, and what was the most exciting aspect of sharing it? I left school when I was 15, so finishing something meant the world to me. It gave me the confidence to get a degree when I was 25. I remember thinking that if I was smart enough to write a novel, I was smart enough to go to university. More than anything, I remember the pride my family and friends felt, and still do. I'd get phone calls from people I loved and respected who had read the manuscript or novel and thought it was great.
It took you three years to write the screenplay (wow!). Did you ever tire of the story or the characters? No, because I was working with two very committed women: Kate Woods, the director, and Robyn Kershaw, the producer. The three of us truly believed in this story, and if I experienced any moments of wanting to give up, they wouldn't let me.
Which Looking for Alibrandi character do you think you would be friends with in real life? Apart from Josie, of course, it would be Lee (who didn't end up in the film). She's cool and smart and a great friend to Josie. For me, she has the best speech in the novel when she talks about the social division in Sydney. I've been lucky enough to meet many different versions of her in my life.
Where do you think Josie ended up, career-wise? Definitely a barrister.
How has your writing evolved over the years? I never imagined my career would go from writing about a young Italian girl from the inner-west of Sydney to Tell the Truth, Shame the Devil's Bish Ortley in London. I'd like to think I've taken chances with my writing, but I've still stayed true to what people loved about Alibrandi. I write about people and their relationships and identity and communities.
What's the best piece of writing advice you ever received? Write what you know, and less is more.
What do you like to read for pleasure? Depends on what I'm writing myself. At the moment it's crime because I'm not writing crime. Much like my writing, I'm not faithful to one genre.
What would you cook us, if you had us round for dinner one night? It's a cliché, but it would definitely be rigatoni with my slow-cooked "Tomato Day" sauce. Then I would place it in the oven with buffalo mozzarella and bake it. My goddaughters have turned me into a one-trick pony because it's their favourite dish.
What can folks expect to hear from you on "Have a Say Day" at the Sydney Writers Festival? I've written two Have a Say speeches in the past, one for the novel and one for the film, so I don't know what direction I'll go. For me, the fun will be listening to the others and angsting like Josie about the speakers sitting beside her.