meet the artists behind our 2020 diary – part one
Say hello to some of the wonderful artists whose work you'll find in the frankie 2020 diary.
You may have already glimpsed the frankie 2020 diary and heard about our collaboration with social enterprise Magpie Goose. We've been banging on about it a bit, but only because we love it so much!
Inside its pages you'll find an array of bold and beautiful prints, created by seven Indigenous artists from remote communities across Australia. With every brush stroke and line, these talented folks share a part of their culture and Australia's lengthy history. Get to know a bit more about them and their wonderful designs below, and keep your eyes peeled for more artist profiles coming soon.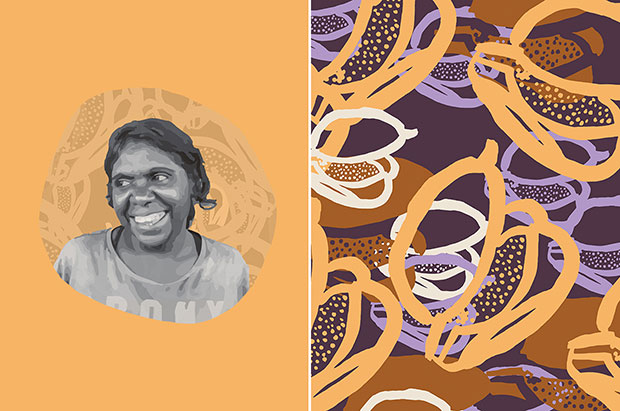 CECILIA UNGHANGO – MISSION FRUITS

Cecilia, aka Cissy, is a Kwini woman living in Kalumburu in the Kimberley region of Western Australia. She's a mum to three kids, has a wicked sense of humour, and spends time at the Kalumburu Women's Centre making art.

"I drew the fruit we used to have back in the old days, when Kalumburu was a Catholic mission. The mission people planted all the fruit – bananas, watermelons, cashew nuts, tomatoes, pineapples, mangoes, dates – it was our Garden of Eden! The kids used to help after school, and with peanut harvesting."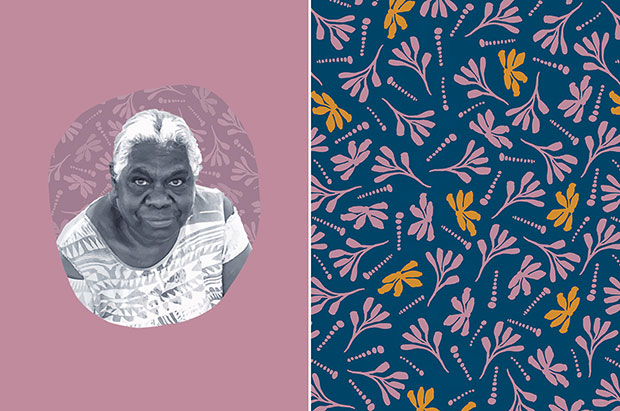 MARGARET DUNCAN – BILLABONG

Margaret – or Bowngyii – grew up in Urapunga within a family of artists. When her third child was diagnosed with cerebral palsy, Margaret became her full-time carer, using art as an escape – a way to keep strong and remember country. In 2013, with the help of Enterprise Learning Projects, Margaret set up her own artistic business.
"In my design, I show the food in the billabong. The billabong reminds me of a big shop. There are so many things you can get: lily roots, mussels, fish, water beetles and other bush tucker. There's yarlbun with lots of seeds inside. We dry the seeds in the sun, then crush it up and make it into a damper."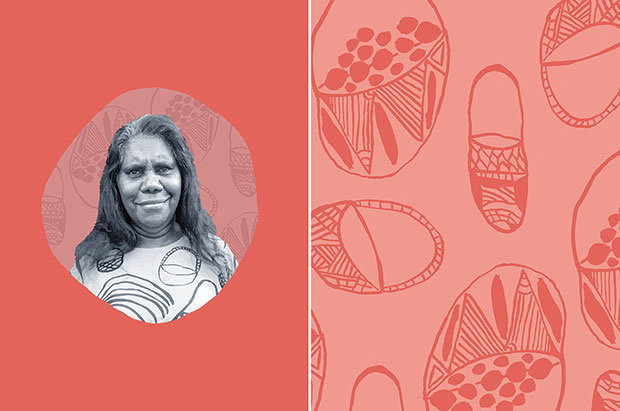 RHONDA DUNCAN – PANDANUS

Rhonda was born in Ngukurr in 1966, and now lives in Katherine, Northern Territory. Her Aboriginal name is Brongin. She became a painter, carver and weaver after watching her brothers and sisters and begging them to teach her. Rhonda says painting "makes you feel good inside your heart and mind."
"The pandanus is a very unique plant. We use part of it for colouring/dying or to make a basket or dilly bag. You have to find the tree, take the leaves down, take the spikes out, strip it, dry it, then do all the colouring. It takes three or four weeks – it's a long process! My design tells that story."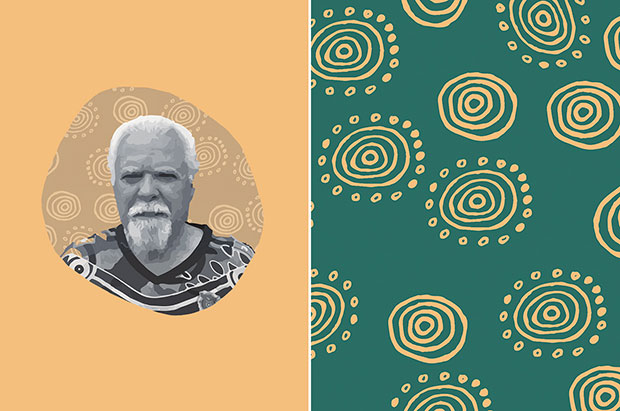 UNCLE NOEL BLAIR – CLAPSTICKS

Uncle Noel Blair is a Jinibara artist based out of Brisbane's West End. His practice focuses on burning traditional and contemporary designs onto hand-carved wooden artifacts, such as walking sticks, clapsticks and boomerangs. "I've always tried to keep my culture. Doing art is part of that," he says. Uncle Noel is a Traditional Custodian of Jinibara country.

"My grandmother looked after me – we went everywhere together. Hunting, fishing, camping. She used to tell me stories and I'd draw the things she talked about. There are four particular symbols I remember: the women's meeting place, the men's meeting place, and images of the sun. That's where these designs come from. They're really special to me."

To pre-order your copy of the frankie 2020 diary, head here.