meet the 2019 good stuff awards judges
These 10 rad creatives have a few tips for staying inspired.
The secret's out – we are extremely chuffed to have 10 excellent humans judging the 2019 Good Stuff Awards. Not only are these creatives making some rad work in their respective fields, they're also pretty generous when it comes to giving advice. Keep reading to soak in the knowledge, and don't forget to grab a copy of our bumper issue, where you can find even more tips for staying inspired and making your best work.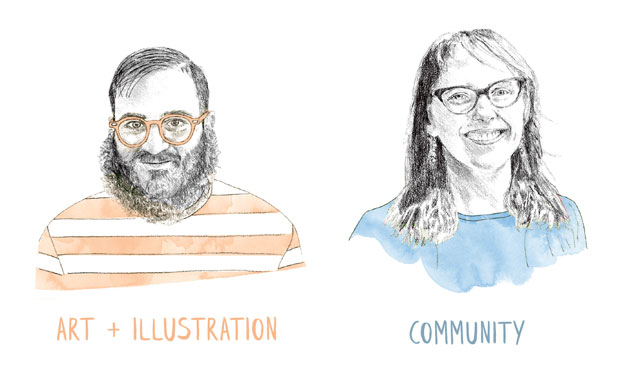 Jeremy Wortsman – founder of Jacky Winter Group
Look after your head. Being a creative is like being a mental athlete. Just like elite athletes get regular physio and massages to keep their body in check, creatives need to prioritise their emotional and mental wellbeing. You don't need to have something wrong with you to benefit from regular therapy!
Get accountable. Working in isolation as a freelancer in any industry can be tough! Co-working spaces and shared studios are a great way to bring an element of accountability to your practice, making sure you actually show up and do the work.
Grace McQuilten – founder of The Social Studio
Look, and look again. Look closely at everything, great and small – it can be a constant source of surprise, revelation, dismay, and often inspiration. The same can be said for the other senses: sound, smell, taste and touch.
Find your moral compass. Be mindful of the impact of your own work on others, and the world. Be self-critical and open to feedback.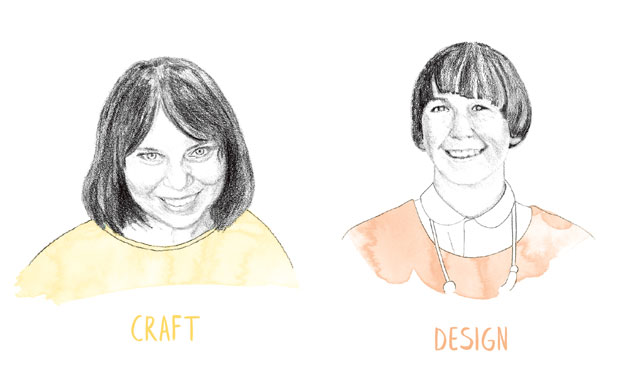 Pip Lincolne – crafter and author
Embrace your weirdness. It's tempting to think commercially or conservatively, and tag along with popular creative trends, but interpreting ideas in your own unique way results in better work – and much more splendid feels. So, try not to follow the pack.
Keep things loose. Goofing off is a really important part of coming up with bright ideas and boosting creative energy, so make sure you don't fill every hour of your day with very important structured tasks, binge-watching and endless scrolling. Let your mind wander as often as possible.
Beci Orpin – designer and illustrator
Get personal. Personal projects require the most motivation, but they give you creative freedom and a chance to experiment with mediums and ideas you wouldn't otherwise get to work with. Plus, they can become part of your folio and lead to commercial work, too.

Experience the world. The best inspiration comes from actual experiences, not looking at images on screens. If you can, make a decisive effort to go to exhibitions and museums, travel, see live music, and eat delicious food. Those things hit all your senses, and that's where good inspiration comes from.


Lisa Gorman – fashion designer
Be prolific. Don't get stuck being stuck. Keep creating, even when you don't know what you're really doing, because creating anything, good, bad or indifferent, makes for development of ideas, and that's a good thing.
Put it out there. Getting your creative ideas out to your team, mates, or anyone who will listen can help clear up the concept in your own head. Say it out loud and don't be afraid – no idea can ever be too terrible, right? You'll soon find out if it is, anyway, when you ask enough people about it.
Myf Warhurst – radio announcer and TV personality
Forget the finish line. Success and satisfaction are ever-changing ideas, depending where you're at in your life, so don't put too much emphasis on them. Think about the process and know there's not one pinnacle, but many different pinnacles at many different points. That makes the journey easier to deal with.
Just dive in. No matter how terrifying it feels, if you stop worrying about what might happen and focus on the task at hand, it's likely you'll just do it and find out you survived.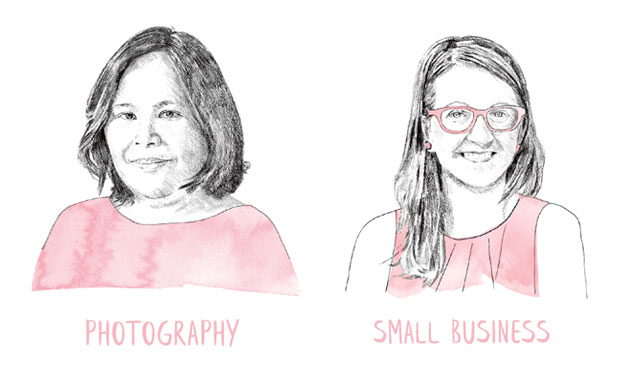 Luisa Brimble – food and lifestyle photographer
Don't ponder the future. The answer will always be, "I don't know what I want to do." Instead, be guided by what you love right in this moment – that will lead you to do what you'll love down the line.
Step outside your medium. If you want to be better at photography, you need to study art. Photography books don't teach you how to structure your frame based on classical teachings.
Tess McCabe – designer, publisher and podcaster
Listen, read, talk. Take any opportunity to listen to, read about, or talk with others about creativity. Other people's stories can unlock realisations and solutions in your mind that have been lying in wait.
Find pockets of time. If you're a parent, carer, working full-time or studying, it can be difficult to find long stretches of time to dig into or even start a creative project. Find pockets of time in your schedule where you can chip away, taking little steps toward your big goal.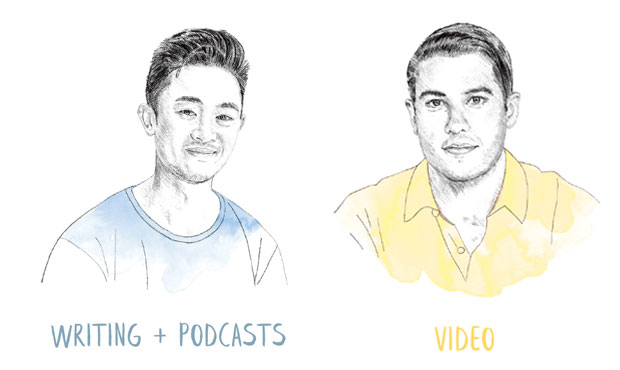 Benjamin Law – screenwriter, journalist and author
Treat emails like tooth-brushing. Check them once in the morning, then again at the end of the day. And get every last email out of the way – plaque has a habit of building up.
Make realistic daily goals. You might be writing a book or screenplay for a feature film, but you've got to break that enormous goal into monthly and weekly goals, then break those into daily goals, then break those into hourly goals. Make goals achievable and reward yourself proportionately.
Marc Fennell – video film critic, journalist and TV presenter
Just say no. Once you work out what you're good at, be open to saying no to other things that pop up. Do fewer things and do them better.
Work with what you've got. The best opportunity is the one that's right in front of you. If you're not doing the job or poject you're most excited about right now, that's OK. Treat whateer you're currently working on as a chance to do the best you can, be seen and build upon your skills.

All illustrations by Cass Urquhart.

There's plenty more wisdom from the judges to be found in the pages of frankie issue 87, on sale now. Nab a copy here, or subscribe from $10.50.