look what we made – a glass act
Leadlighting duo Sam Seary and Nick Caris make modern glass art the old-school way.
Have you checked out our book Look What We Made? It's a pretty little thing for your coffee table, filled with profiles of rad makers, just like the couple you're about to meet below.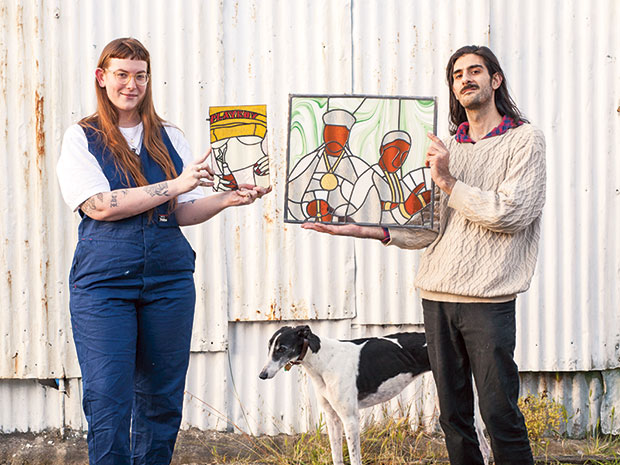 Leadlighting duo Sam Seary and Nick Caris from Vivrant Things know that art is pain. In fact, they have little cuts all over their hands to prove it.
NICK: My fixation with hip-hop records began when I was very young. I loved the way they mixed samples and sound fragments and made them into something brand new. An artist might take a drumbeat from one record, a horn sample from another and put it all together. It was like a mosaic of sounds. For me, making leadlight windows is a little similar: it's a collage. You assemble little pieces of glass together to create a whole.
Our practice, Vivrant Things, started when my partner Sam and I moved to Melbourne from Queensland a few years ago. One of the things we liked about the suburb we lived in was how there were stained-glass windows in nearly every second house. Walking the dog as the sun was going down, we'd just see the light shining through all these coloured bits of glass.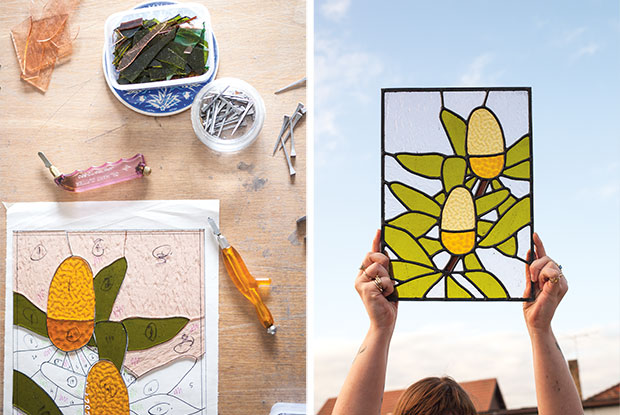 At the time, we were on the lookout for a new hobby to do together. So we thought maybe we could learn how to make leadlight windows and present some images that reflected our interests. Our first step was finding a lady named Deb who did day courses in the outer suburbs. At first, I was kind of nervous – I saw broken glass as something dangerous. As the day progressed, though, I got more confident. I started to understand that when you cut 
a piece of glass, you can hear when you're doing it right. It's hard to describe the sound, but you know it when you have it.
My first project was inspired by the cover of one of my favourite records growing up: Eric B. & Rakim's Paid in Full. Since then, I've done other album covers, including Pink Floyd's The Division Bell, the Beatles' Rubber Soul and Minnie Riperton's Perfect Angel. I don't do too much detail. If you can see a piece with blurred eyes and get the gist of what you're looking at, that's a success.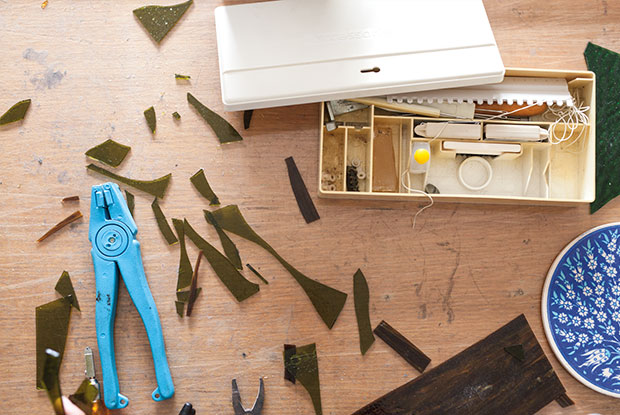 The making process definitely involves a bit
 of wear and tear on your body. We're very conscious about the risk of lead poisoning. Cuts are also pretty common. A few months ago, for example, I finished up a whole day of preparing glass and I went over to my turntable to have a scratch and I realised that my fingers were covered in tiny nicks. I could barely scratch a record. I felt like I had little baby fingers. Everything hurt.
Still, it's worth it. I find it cool to think that if our pieces are looked after, they could outlast us. Who knows? They could even be dug up hundreds of years from now. Imagine what people in the future will think when they find a window with Eric B. & Rakim on it.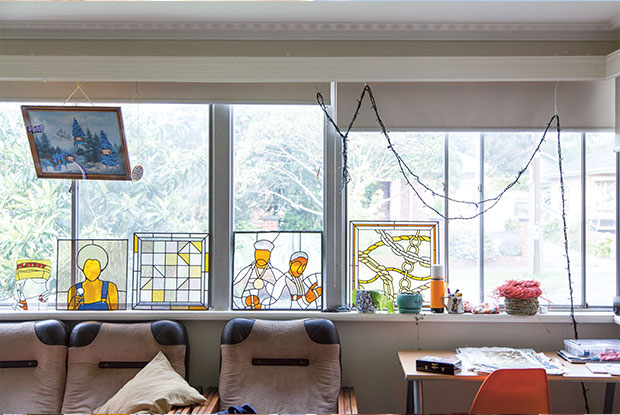 SAM SAYS: Sometimes when I tell people that 
I make leadlight panels they make a strange face and just go, "Oh OK, cool." But after I show them a few examples you can see a change. There's one panel in particular that usually gets a very strong response: it's based on a vintage Playboy magazine cover, and features a woman showing a bit of underboob. I'll never sell it, though. I love it too much.
I totally understand why people might see that kind of work as slightly rebellious – there's obviously a lot of religious baggage that comes with stained-glass windows. I have to say, though, that I never intended to be subversive. Maybe it's my subconscious, but it's not really deliberate. Nick and I are just trying to funnel things we like into a different artform.
For me, textile design is a big inspiration. I've done pieces that are inspired by quilting and Hermès chain scarfs. But I've also done stuff that draws on old jewellery adverts and beauty product posters. You know those photos where a lady with two-inch nails is holding
a piece of honeycomb or something and 
there's honey dripping everywhere? I love
 stuff like that.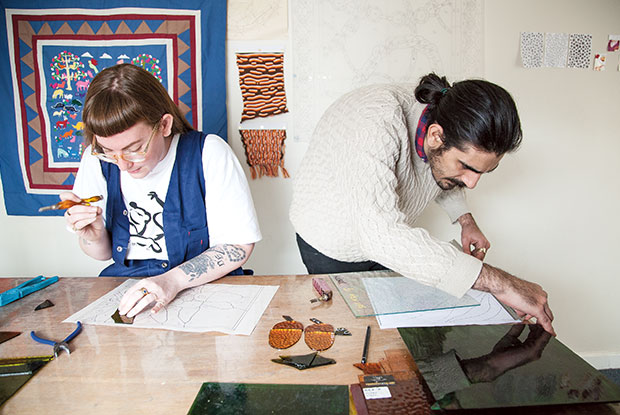 Nick and I come from very different creative backgrounds, and he's a great collaborator. Not to get too deep, but once you find that person that you want to be around, it's all very easy. Even though we spend so much time together, we don't bicker.
Building the business together has definitely been a labour of love. Each piece takes days. But the response has been incredible. Just through Instagram and word of mouth we've taken on a lot of commissions. Lately, it's been a little tough finding the time to keep designing. I study five days a week, work a side job, and Nick and I are about to get married. Are we getting married somewhere with big stained-glass windows? I don't think so.
This is an edited extract from Look What We Made. If you're curious to learn about more local makers, pop by the frankie shop to pick up a copy.