long lists: getting knitty with it
Tattoos, gift wrap, works of art – we've searched the 'net for knitting stuff on your behalf so you don't have to worry about dropping a stitch.
Winter and knitting go together like apple pie with a sprinkling of cinnamon on top, or fluffy marshmallows in a steaming cup o' hot chocolate. Not only is the yarn-filled pastime a nifty way to keep your digits nice and warm, you wind up with an extra layer of insulation at the end of all the fun. The moral of the story: keep on weaving, frankie chums!
And if you're a full-blown fan, you might want to surround yourself with this assortment of knitting paraphernalia while you're at it. Tattoos, gift wrap, works of art – we've searched the 'net on your behalf so you don't have to worry about dropping a stitch.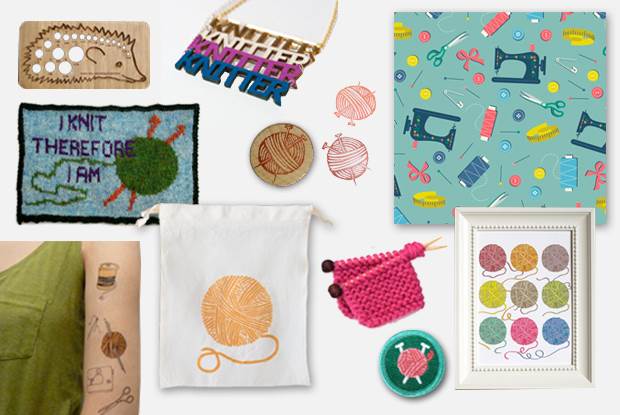 (clockwise from top left)

1. If you're going to have to spend your days ensuring your knitting needles are the perfect size, you may as well do it with the help of a cute-as-pie bamboo hedgehog, don't you think?
2. No one will ever have to ask how your fingers got so nimble when the answer is splashed in bright felt bling across your chest.
3. Just because you're a little clumsy at knitting and purling, doesn't mean your life must remain stitch-free. This wrapping paper from our pals at Lark should hit the crafty spot.
4. Perhaps all it takes is a little woolly artwork to inspire you to pick up some needles and get clickety-clacking. Either way, this beauty from stitch-ink will brighten up your abode quite nicely.

5. Congratulations! For knitting one, purling two and nailing the tricky (and delicious sounding) waffle stitch, you've earned yourself this needlecraft merit badge from The Scout Project. Woohoo!

6. Proudly display your love of weaving with a woolly brooch smack-bang on your lapel. Ask Nanna Coral nicely and she'll even let you choose from a rainbow of hues, the grand ol' dame.

7. An organic linen drawstring bag for toting all sorts of bitty things about, like scissors, crochet hooks and mountains of fancy yarn, for instance.

8. It doesn't take a needle in the arm to prove your devotion to the clicky-clacky kind – these illustrated temporary tatts will also do just fine.

9. A greeting card doesn't get much more warm and fuzzy than when it's wrapped up in a little woollen coat. This one comes with the bonus gift of craft enlightenment, too.

10. Try to resist stamping this cute as ball of yarn on every papery surface you pass. Or don't, we won't judge you for it.