long lists: embracing the sloth
Consider the sloth: a hairy critter fond of lengthy naps and even lengthier hugs.
Consider the sloth: a hairy critter fond of lengthy naps and even lengthier hugs, friend to the human, its fellow animals and even the insects and algae that make its fur their home. Yet, despite it's awesomeness, it's not often you'll find the sloth on a 'my favourite animals' kind of list. It might have something to do with the fact that they're rarely seen, spending most of their lives slumped over a tree branch in South and Central America, but we reckon it's time to show this underrated species some love. We've done some digging through the interwebs and come up with a list of slothy bits and bobs, from brooches to rings and artwork worthy of your mantel.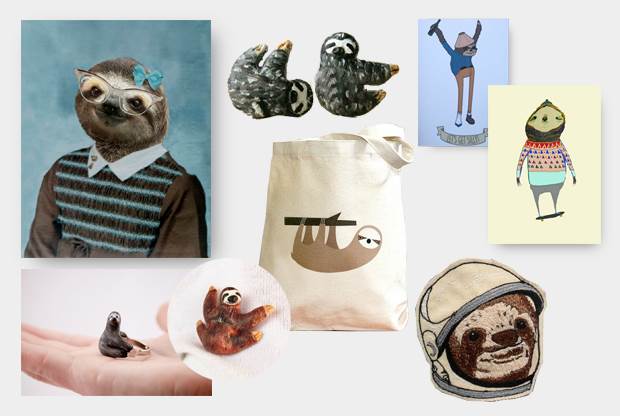 [clockwise from top left]

1. If we had to choose a tree-dwelling mammalian best friend, Sylvia would be it. Those glasses! That bow! The sweet little grin! Something tells us this lady sloth has got it going on.

2. Sloths have an important message to spread about slowing down, finding calm and getting a good night (day and afternoon's) rest. Forget string around your finger; the best way to remember their words of wisdom is by popping a pair slap-bang on your earlobes.

3. Because nothing says 'party!' like a bespectacled sloth with a lampshade on his noggin.

4. Why not express your sloth-loving ways with a skateboard-riding, beanie-toting print for your wall?

5. Space Sloth: boldly going where no sloth has gone before. Sew this hand-embroidered patch on your jacket or bag in a nod of respect to the brave little fella.

6. Hanging about is what our sloth pals do best, so it seems quite fitting that this graphic creature should spend its day dangling lazily from your arm.

7. There's nothing that'll turn your heart into a ball of mush quite like a cuddle from a sleepy sloth. In the absence of the real McCoy, this hug-happy brooch should do the trick.

8. Fact: sloths only leave their treetop homes about once a week. That's one day more often than these rings should leave your fingers.