long lists: all doodads great and small
You know what's just as good as normal-sized things shrunk down to miniature? Really, really big things.
They say that good things come in small packages, and these teeny tiny tidbits below sure are testament to that. But you know what's just as good as normal-sized things shrunk down to miniature? Really, really big things. Paintbrushes that are taller than we are, rug-size doilies and massive doughnuts, for instance. So much goodness comes in gigantic packages! Here are some bits big and small that we've dug up from the depths of the interwebs.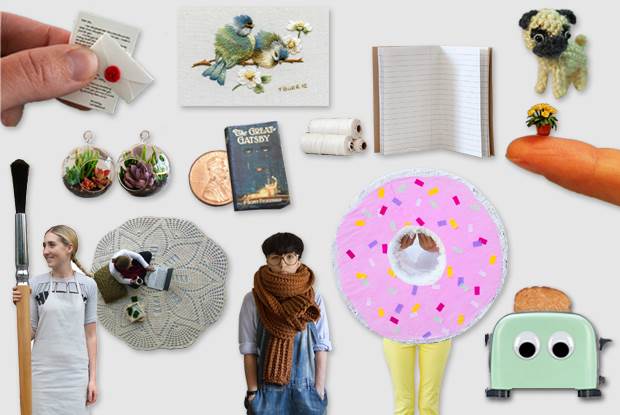 [clockwise from top left]
1. Packages don't get much smaller than these itty bitty letters from the World's Smallest Postal Service. Just don't forget to include a magnifying glass.
2. If you consider yourself to be rather nifty with a needle and thread, perhaps give one of these pint-sized embroidery patterns a go. They sit at a measly 6cm long, and are really quite pretty indeed.
3. Everyone needs one of these: a miniature notebook to jot down all your biggest brainwaves.
4. If The Borrowers were pretty nifty with a crochet hook and owned a zoo, these tiny crochet animals by Su Ami would be the result.
5. These teensy flowerpots will fit on the end of your finger and never wilt, giving them top marks when it comes to houseplant expertise.
6. Fact: it's far less weird to talk to your home appliances when they're sporting a pair of gigantic googly eyes.
7. A giant doughnut piñata that comes apart to reveal bucketloads of lollies. Enough said, really.
8. Like a cosy bear hug around your neck and chest, this 7-foot scarf from Yokoo Gibraan is the perfect snuggle buddy in the cooler months.
9. These enormous doily rugs from Portuguese design collective Lacadas are both wonderfully charming and wee bit frightening.
10. It's worth picking up one of these larger-than-life paintbrushes from Third Drawer Down, because you never know when you'll be hit with an Art Attack urge.
11. For people with indoor garden dreams and minimal ledge space, how about giving one of these super small terrariums a home?
12. Tough to read but cute as to look at, these dollhouse-sized paperbacks cover all the classics. Barbie needs a literary schooling too, you know.