i love my shop: arepa days
Arepa Days introduces Melbourne to a South American staple.
For issue 88, we stopped by Carolina Talero and Santiago Villamizar's cafe Arepa Days to learn more about a South American staple.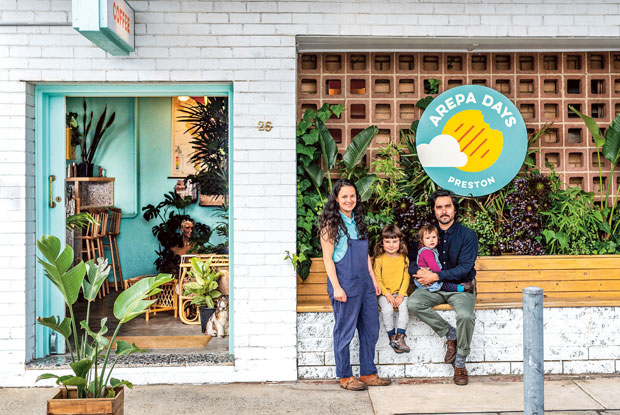 Photos by Phoebe Powell.

Where is it? 25 Preston Street, Preston, Melbourne.
Describe Arepa Days in a sentence. Carolina Talero: A piece of who we are. Santiago Villamizar: Our fifth child, made out of corn, coffee and love.
Tell us a bit about your backgrounds. CT: We came to Australia 13 years ago from Colombia. Our plan was to study master's degrees in communication design and IT, and after finishing them we worked in those fields for a couple of years. But then we fell in love with the café concept – and Santiago was determined to find a place to sell South American arepas and coffee. Our first café, SONIDO!, came to life in Fitzroy in 2010. It was our baby before Sol (4), Coco (stillborn) and Mar (1) came into our lives.
How did Arepa Days begin? SV: We were looking for somewhere to produce the arepas we use at SONIDO!, as space was getting very tight. We found an abandoned printing shop in Preston and knew right away that with a lot of work, we could pull it off. It was in very bad condition, with the ceiling falling apart, rotten floors and walls, and a horror movie toilet. We had to start from scratch, designing and building everything ourselves. After eight hard months, we finally opened to the public.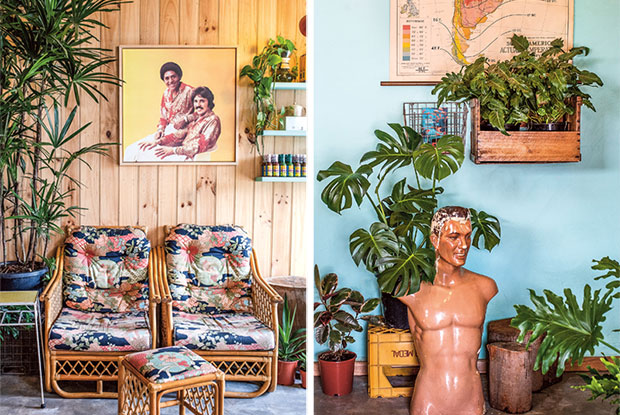 What exactly are arepas? SV: Arepas are the most typical food item in northern South America (Colombia and Venezuela). They're basically used like bread – you can have them alone, with toppings, just butter, or as a side. We make ours the traditional way: we start with whole Australian corn, which we cook, grind and mix. We then flatten the dough into round shapes using an arepa machine, and lightly pre-cook it on hot plates.
What are some of the popular items on your menu? CT: Beans with chorizo or queso arepas with beef are good combos! Also, if you like morcilla (Spanish blood sausage), we have a very good one.
Describe the space for us. SV: Arepa Days is basically the blend of two spaces: the 'arepa lab' and the café. Behind the big house window frames, we have all the space and equipment to produce the arepas. The front part has a small kitchen and coffee section. We wanted the vibe to be very Caribbean and not too saturated, as the natural light is great. We used lots of terrazzo and timber all over – there's a bit of a Miami vibe mixed in just for fun. CT: We love Caribbean colours. The aqua is a lighter blue than the one at SONIDO!, and the yellow represents the corn. Corn is our main ingredient, and we wanted to have it present at all times.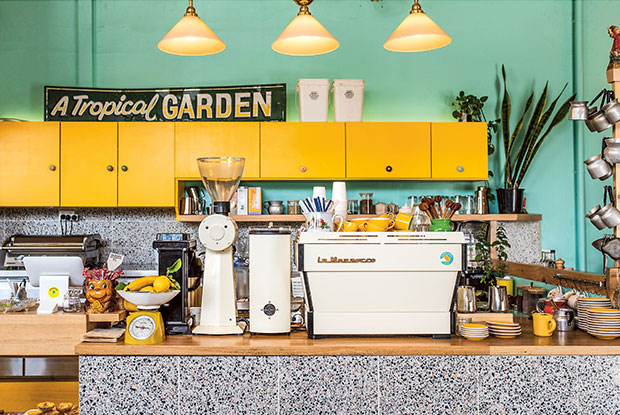 Working with your spouse: yay or nay? CT: Yes! We are a very good team. We complement each other very well. SV: It's a big yay for me. My parents have had their own engineering business in Colombia for about 40 years now, so it feels kind of natural. Seeing Carolina in action is very inspiring. I don't have to imagine her work dilemmas, accomplishments, dramas and triumphs based on what she's able to tell me after work – I actually see it all live and become part of that.
Any dreams for the future? SV: I dream of the day when every single person in Melbourne knows what an arepa is.
How can we contact you? On Instagram at @arepadays.

You'll find plenty more deliciousness in frankie issue 88, on sale now. Nab a copy here, or subscribe from $10.50.