how to publish a diy rock n' roll magazine
We asked the publishers of Gusher (a rock n' roll mag by and about female and non-binary artists) how they brought their paper baby to life.
Isabella Trimboli and Juliette Younger are the ladies behind Gusher, a glossy DIY magazine all about female and non-binary folks who make rocking tunes. You may have spied the debut issue of Gusher in the pages of frankie, or perhaps on a rad person's coffee table (it's rather lovely to look at, you see, in addition to being a quality read). They're currently raising moolah to print their second issue (featuring interviews with the likes of Angel Olsen and Shonen Knife, along with a healthy dose of original longform writing, photography and art), so we thought we'd ask them for the lowdown on how Gusher came to be.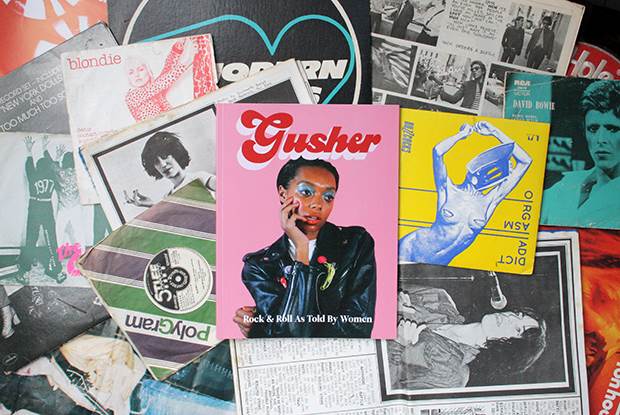 What inspired you to create Gusher? Isabella: Gusher emerged out of the need for smart, incisive rock writing with a female and gender diverse perspective. Male-centric rock magazines languish in nostalgia and we wanted to created a contemporary publication that propelled the conversation forward.
Why create a magazine, as opposed to a podcast, blog or any other creative medium? Juliette: When we started I think we were just so enraged with the state of print music magazines, going to the newsagency and seeing a sea of white dudes and stale headlines staring back at us. We thought we could do better! The permanence and physicality of print is also just so integral to our message – it feels important to take up a literal, physical space for women and non-binary people in the hegemonic world of rock music and publishing. And when it comes down to it, there's just nothing better than sitting down with a beautifully designed and thoughtfully curated magazine.
What did you need to get Gusher up and running? Juliette: Hard work, commitment and an unwavering belief in the importance of this project. Plus the support of the women and non-binary people in our community that have contributed to the magazines or shown their support through buying our publication or attending the gigs we host. Isabella: We also needed a lot of money to pay writers and artists, and to print the magazine (which we are fundraising for again here).
Did either of you have any training or work experience in publishing, or was it more a case of learning as you went along? Juliette: We both study media and communications at uni, which has laid the groundwork for things like our journalistic skills, ethical publishing, and just our general understanding of how the media works. When it came to publishing a magazine though, we completely learned as we went along! From teaching ourselves how to be good editors, to boring things like managing finances and admin, to mastering unfamiliar graphic design programs – it was all new, and we're still learning!
How do you guys decide what to include in the mag? Isabella: We choose to cover contemporary artists we think are exciting, important and pushing the genres of punk and rock into new terrains. For instance, in this issue we have a profile of American duo Ho99o9 whose music is this innovative mixture of punk, hip-hop and industrial noise. They sound like nothing else out there! In terms of writers, we just reach out to those whose work we love and admire and ask them to contribute to the publication. We feel super lucky this time around to cover some of our dream artists with writers we think are the best in the biz!
Where do you find inspiration? Isabella: From other magazines! We're both huge readers and mag collectors, and it's enriching to see how other publications make editorial decisions that either uphold traditional conventions or subvert them completely. I especially think that within the indie mag circuit that so much great innovative work in journalism and design is being produced. We love publications like The Fader, The Gentlewoman, N+1, Dazed and Nylon.
Best part of DIY publishing? Juliette: That we have absolute freedom to publish whatever we think is important.
Worst part of DIY publishing? Juliette: Having to work within a very small budget! Finding time around work and study commitments is also very tricky.
Anything else you'd like to share? Isabella: You can help us cover the printing costs of our second issue by heading to our Pozible campaign and pre-ordering your very own copy!