holding out for a hero
Lee Francis runs an all-Indigenous publishing house and comic book store.
You mightn't know it from the endless Marvel and DC superhero reboots, but there's a thriving indie comic scene out there – one where writers, artists and publishers dream up entirely different kinds of superheroes. Lee Francis is one of those people. The Albuquerque-based writer, educator and owner of book and comic store Red Planet also runs Native Realities, a publishing house for stories by and about First Nations peoples from around the world.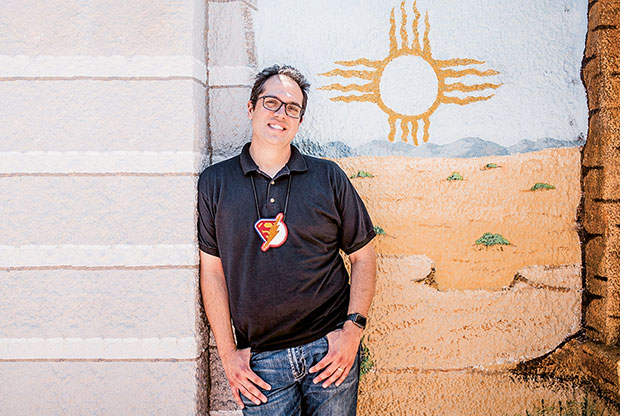 image by Alicia Padilla Photography
With roots in the Native American Laguna Pueblo tribe, Lee spent his childhood between Washington DC and his grandma's place on an Indian reservation in New Mexico. His science fiction and fantasy-obsessed dad encouraged him to pick up comics from a young age. "I remember getting really excited when I saw a Native character," he says. "But when I was older, I recognised there was something off about the way they were represented – always on a horse or with a headdress." Lee became increasingly frustrated by the wider perception that Native people weren't urban. "Just like in Australia, Indigenous people aren't all living in the bush or on reservations here," he says. "I wanted to show the realities of Native people in city centres."
After teaching Laguna Pueblo history and culture to young people in his home community, Lee took Indigenous representation into his own hands, launching Native Realities in 2015. He wanted students to see themselves in pop culture; but more than that, he wanted to spark readers' imaginations. "The power of comics is that you can tell fantastical stories with elements like time and space travel," he explains. "That's really critical, because there's this pervasive understanding of Indigenous peoples as part of the past – that we are all dead or dying. With comics, you can begin to portray a future."
One of Lee's favourite Native Realities titles is Deer Woman, an anthology about the way Native women can heal from sexual and domestic assault. "If Native people are sorely underrepresented in comics, then Native women are even more so," Lee says. "It's a powerful story where we see the women creating or finding a superhero within themselves." There's also Six Killer – "an Alice in Wonderland meets Kill Bill story" about a woman seeking revenge for the murder of her sister. "I'm fond of stories where Native women are a bit more choppy, or like, 'I'm going to hit you with stuff,'" Lee laughs.
While Native Realities is an outlet for Indigenous artists and writers, IndigiPop X is where they can link up with like-minded folks. Lee started the pop culture conference in 2016, and it's since expanded to two locations in the US. There's a similar 'Indigenous Comic-Con' slated for Melbourne this November. "People are doing amazing work in Australia, like Brenton E. McKenna, Magabala Books and Cleverman – but, like in the States, they're scattered," Lee says. "What we're trying to do is compile enough material globally on our end, so when the industry talks about diversity we can say, 'It's here!'"
Despite the success of films like Black Panther and Avengers: Endgame, parts of the comic industry are still up in arms when it comes to the subject of diversity. In 2017, Marvel's vice president of sales suggested the company's flagging comic book sales were due to the new set of 'diverse' characters (a female Thor, Muslim Ms. Marvel, biracial Spider-Man).
Over at Red Planet, however, Lee sees customers who are raring to pick up something different. "There's room for all these stories!" he says. "There are only so many times you can retell Batman – it's been around for 80 years." Does he see an Indigenous superhero on the silver screen any time soon? "I think it's on the horizon," he says. "There are so many great folks doing this work, we just have to get them out there."

This profile comes from frankie issue 91, out now. For more stories on ace people, track down your closest stockist, or subscribe from $10.50.