grandma's house
Rebecca Varcoe reflects on Christmases spent between Grandma and Fun Grandma's place.
Growing up, I was lucky enough to know two sets of grandparents. My dad's parents, both still alive and both still married to each other, lived in the rural Victorian town of Benalla. Mum's mum, a widower and mother to two humans and two cats, lived in Shepparton, a town about 40 minutes drive from Benalla. Not everyone gets to meet all of their grandparents, live within driving distance or visit them every holiday season. But do you think I felt lucky? No! I was a bratty baby who always found a way to complain, a charming trait I've carried into adulthood.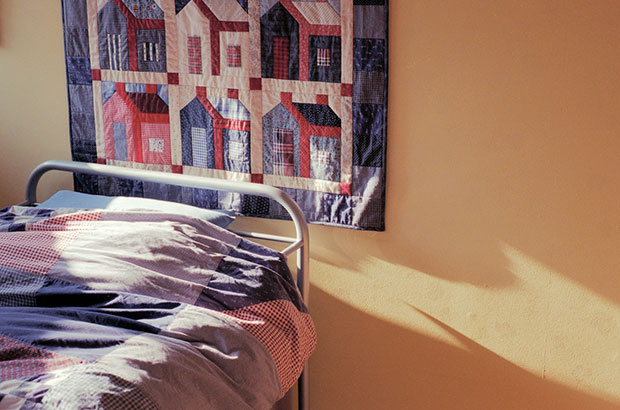 snap by dee goo
While my brothers and I loved our grandmas equally, the biggest thorn in child-me's side was that one definitely had the upper hand when it came to holiday accommodations. Dad's mum – Fun Grandma – had a cubby house. Mum's mum – Grandma – had rooms full of furniture we weren't allowed to put our feet on. Fun Grandma's house had my aunties and uncles playing card games and laughing about jokes they would "explain to me when I was older". Grandma's house had a manicured garden we couldn't touch. Fun Grandma's house had all six of my cousins, and sometimes people from town who would drop in for cornflake biscuits. Grandma's house had her two cats who didn't like to be touched, approached, looked at, or even talked about.
Each year, we'd make the drive up the Hume to Grandma's house, Gameboys in hand, already counting down the hours until we could go to Benalla. We'd spend a couple of days eating Grandma's sausage casserole and arguing about who had to sleep on the fold-out bed before we'd gleefully pile back into the car and head to Fun Grandma's. Before long, we'd spill out of the back seat and race into the loving arms of our shrieking cousins, eager to hear Grandad's jokes and eat Fun Grandma's non-casserole dishes.
After gorging ourselves on a second Christmas Day meal, approximately five hundred chocolate rum balls, and every item in our chocolate Christmas stocking, we'd collapse into bed, falling asleep to the sound of each other's snores and whispers, content to finally be at Fun Grandma's.
When Grandma passed away and I was suddenly all grown up, her house became something different to us. Walking into her home without her in it made the days we had spent there suddenly feel much warmer. I remembered the Christmas Eves, huddled around her TV watching the carols, the sound of Mum tinkering on her piano, sitting on the floor with my brothers – not just to protect the furniture – but because it was fun down there. Even the sausage casserole didn't seem so bad.
I often wonder whether I'll one day be the Fun Grandma. Given that I plan my (sausage-free) meals days in advance and am pedantic about the arrangement of throw cushions, I suspect it's not my house the kids will be flocking to. I hope to meet them halfway, though, mastering my own cornflake biscuit recipe and trying my hardest not to walk around with a sign on my head that says, "I'm the Fun Grandma".