frankie's guide to books guaranteed to start a conversation
How to make a new pal, or just get everyone on the same page.
When I went to my friend Suzannah's birthday drinks the other night, I was sitting next to Chad, a very nice chap I'd never met before. I asked him how he knew Suzannah, and he said that they met at the gym. I was shocked. Personally, I have never met anyone at the gym. I have never even made eye contact with anyone at the gym. Now that you mention it, I haven't been to the gym for almost a year. I hope I cancelled my membership.
But to get back to this gymnasium friend-romance, it began because Suzannah was carrying a copy of Hanya Yanagihara's A Little Life. Chad noticed the book in her hands as she was leaving and, as it happens, he had also read it. If you've read A Little Life, you might have noticed that it gets strong reactions from almost everyone. Some people love it (like the woman at a mutual friend's wedding who said it was the best thing she'd read all year) and some thought it was over the top (like my cousin, whose copy I borrowed months ago and still have not read). Chad asked Suzannah whether she was enjoying the book, and months later, he was toasting the anniversary of her birth with her nearest and dearest.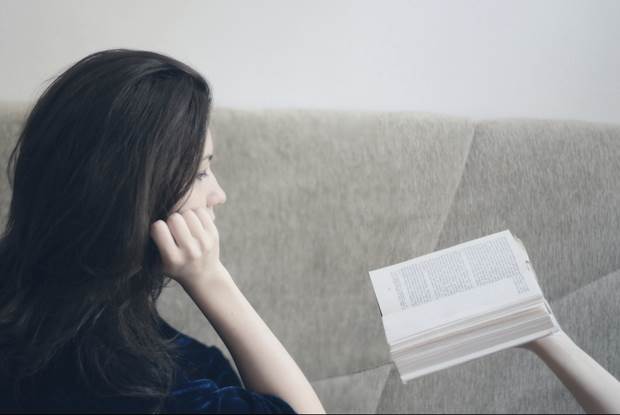 Those kinds of books are pretty special—the ones that provoke a feeling so compelling that you want to talk about it, even to someone you don't know. My friends' story was strangely timely, too, because on my way to the bar, I'd seen a striking woman wearing a cocoon coat that I coveted. But, more importantly, tucked into the right-hand pocket of said coat was a copy of Maggie Nelson's Bluets. Slim, bright blue in colour, and unmistakeable to anyone who's read a physical copy, it drew my gaze immediately. Bluets is like A Little Life in that everyone falls into one of two camps on the subject. In this case, they either haven't read it, or they revere and cherish it. (Obviously, I have set up in the latter camp.)
After Chad told me his story, I regretted not having gone up to Bluets woman to talk about it. At the time, I'd felt a small pull towards her, but I quashed it. After all, I hate it when strangers approach me on the train. Why would I do that to someone else? Yet now I think I may have missed an opportunity. Not to have an extra person at my next birthday celebration, but even just to connect simply and briefly with another human being about a shared love of something. Wouldn't that be nice for a change, instead of just getting out your phone and playing Farm Heroes again? Plus, I really want to know where she got that coat.
What are some of the books you've talked about lately? Books that have extended their reach into pop culture in some way are the likeliest candidates. If you've watched Beyoncé's Lemonade, which featured writing by Warsan Shire, then maybe you've excitedly bought seven copies of her poetry collection Teaching My Mother How to Give Birth just so you can give it to all your friends. I heard about a woman who named her daughter Mari, after the The Life-Changing Magic of Tidying Up author Marie Kondo—that kid is going to have to talk about that little volume for the rest of her life. One book guaranteed to get a chat going is Gone Girl on the Train. Hang on, sorry—I think that's actually two different books. Both of which everyone, including your mum, has read. Or they will have, especially after the movie version of Girl on the Train comes out.
Anyway, let's get onto something a bit more practical. If you're at a party and conversation has slowed significantly after some smarty pants decided it would be a good idea to talk about how long it took them to clean the fridge last night (to be fair, it is an unpleasant task that deserves some recognition), try asking someone what their favourite book was when they were children. You can almost play bingo with this one. Bridge to Terabithia, check. Tomorrow, When the War Began, check. The Enchanted Wood, check. Enid Blyton! Moonface! Pop Biscuits! Forever by Judy Blume, check. Hee hee. Bingo! Oh, and Harry Potter, definitely. I can still have an extremely involved conversation about The Boy Who Lived, and actually, now I think I know why so many folks have been bringing up their kitchen cleaning habits lately when I try to talk to them.
The moral of the story is that, even if you're not at your Aunty Cheryl's book club, books can be excellent conversation fodder. Even if reading is mostly a solitary activity, that can sometimes mean people are even more keen to chat about their literary experiences. Don't believe me? Next time, just ask your friends whether they Lean In.
Lovely snap from Andrada Radu.