frankie's guide to books about musicians
If you've safely put your rock 'n' roll dreams to bed, you might prefer to live the musician's lifestyle through books, instead.
My friend Maura's band played their last show recently, and while it was bittersweet, it also reminded me of the time I used to stand in front of my bedroom mirror (okay, I didn't actually have a bedroom mirror, so I was really kind of just standing in front of a wall) singing into a hairbrush (okay, I didn't have a hairbrush either, it was actually a water bottle) pretending I was the very famous and talented frontperson of my own band. Apart from revealing that when I was young I apparently didn't care very much about grooming, this anecdote shows that I wanted to be a rock star. Eventually I moved on from my "water bottle and wall" set-up to real equipment like an electric guitar and a shitty amp that made all my strumming sound like Japanese noise music (but not on purpose). It felt excellent, but unfortunately for all of my future fans and collaborators everywhere I preferred lying down and eating ice cream to learning chords and any sort of playing, really, so I'll never know what it's like to be Nick Cave or Chrissie Hynde or whichever of the sisters in S2S was the more famous one.
Now that I have safely put my rock 'n' roll dreams to bed, tucked them in, and read them a nice bedtime story, I prefer to live the musician's lifestyle through books. In a way, this was lucky because I found out quicksmart that being in a band isn't always the most salubrious of enterprises.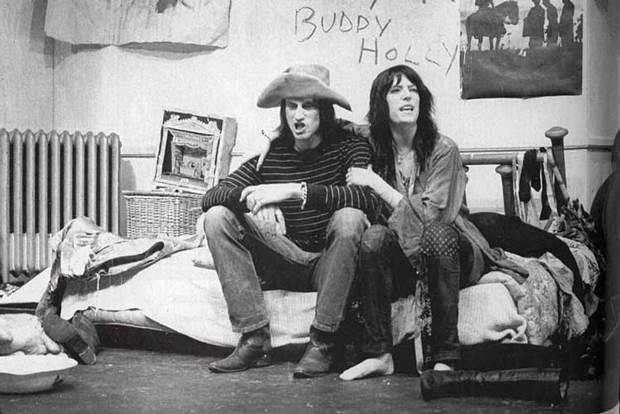 For example, in Carrie Brownstein's memoir Hunger Makes Me a Modern Girl, she gives a warts-and-all account of what it's like to go on tour. No kidding on that warts thing, either – while they don't technically come up in the book, early on in her band Sleater-Kinney's career they used to bring a foam mattress with them in the tour van. Their nickname for this treasured piece of bedding was "P.M", which stands for "pube magnet". So it's probably not all single-malt whisky backstage, being hand-fed sushi and throwing televisions out the window.
All the stuff about logistics, personnel and gear sounds undesirably over-complex and stressful. But my impression of being a musician is that it's essentially a struggle no matter how many peeps you have around to help. Take, for example, the protagonist of Kazuo Ishiguro's The Unconsoled, a concert pianist named Ryder. At the beginning of the novel, he's on his way to one of his shows that evening. Straightforward, right? Nope. For some reason he can't seem to get to the venue no matter how hard he tries, and before he knows it he doesn't really care about it anymore, and also the whole world seems to have turned into some kind of hellish Escher painting that doesn't lead anywhere. Being a concert pianist sounds bad. Being a concert pianist who is a metaphor for the futility of life sounds even worse.
If, like me, you feel a bit bereft of the musical stardom you should've had, then you could take a gander at Thomas Bernhard's The Loser. It's about a couple of pianists who feel pretty good about themselves until piano virtuoso Glenn Gould comes along and eclipses them both in both skill and renown. Rather grim yet witty, The Loser is a freeform account of disappointment and failure. It's also all one paragraph so perhaps keep a couple of bottles of wine if you're going to get stuck into it.
Another novel about pianists and failures is Peter Goldsworthy's Maestro. I studied it at school so naturally I hated teenager Paul Crabbe and his crotchety piano teacher Eduard Keller, whose every move I had essentially memorised thanks to countless enforced read-throughs. Over a decade later, though, I still think of it from time to time, because of the warmth of the relationship between the two – and the novel's reflective passages on not reaching the lofty heights in life that you've expected. So thanks to the Victorian Curriculum for that one.
There's also Bel Canto by Ann Patchett, which is a stirring tale of how music can Bring Us All Together, Even In The Very Worst Circumstances. Roxane Coss, a renowned opera singer, is all set to perform at a fancy gathering of politicians and businesspeople. Everyone is super excited until a group of terrorists holds them hostage. Based on real-life events (eek), this novel is amazing even if you don't like or care about opera. While all the captives are freaking out and trying to think of ways to escape or communicate with the outside world, Roxane gives everyone a bit of a morale boost by singing to them every morning. I am a bit in love with her, to be honest.
Patti Smith is the ultimate rock star, really, so it's hard to go past her memoir Just Kids if you want to know what it's like to be one. The title comes from something a tourist said about Smith and her partner-in-crime/art/life Robert Mapplethorpe, before deciding not to take a photo of them hanging around in Washington Square Park. Bet that person feels dumb now. Even though it's hard to imagine The Patti Smith as a "kid", all wide-eyed and just trying to get by, she does a magical job of opening our eyes to 1960s and 1970s New York as it must have seemed to a New Jersey girl trying to make something of herself. As she absorbs new experiences and references, spitting it all out as her vital and strong songs, we get swept up in her inexorable path to brilliance. This legend also has a new book out, called M Train, and it's probably as amazing as Just Kids.
Finally, you can't go past Clothes, Clothes, Clothes. Music, Music, Music. Boys, Boys, Boys. Written by Viv Albertine, formerly of British band The Slits, this memoir has the best title of any book ever in history – one which also sums up nicely what it's about. From the moment I started the chapter Albertine devotes to poo and periods ("The English love to talk about shitting, so other nationalities can skip this bit"), I knew I would adore this book.
There you have it – a "band" (ho ho) of books that will suitably fill any music-shaped holes in your life. For those of you who remain unsatisfied, there were a couple of keytars on eBay the other day that were pretty cheap. Go for your life.