frankie stocking stuffers – sophie kalagas
Our resident Christmas (and pooch) enthusiast recommends some sweet stuff to pop under a tinsel-topped tree.
Every Christmas, I face a dilemma: start the festive cheer extra-early by splashing my house with tinsel and lights before December has even started, thus risking a year of bad luck; or hold off on the festivities, just in case. If I weren't such a superstitious chump, I'd probably deck the halls with boughs of holly all year round, but instead, I'll be ready to launch a Christmas offensive on December 1st. (And if anyone fancies gifting me a little something-something, these rad bits wouldn't go astray…)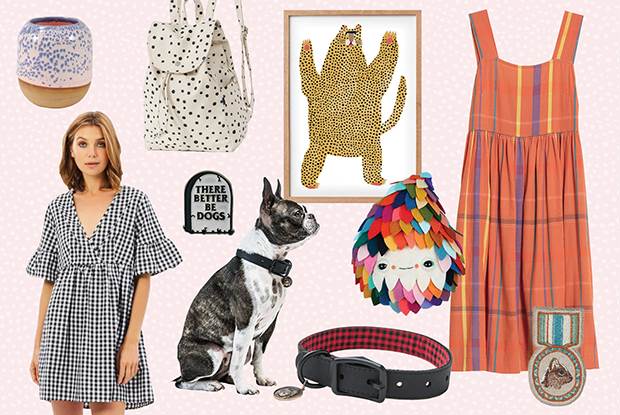 Clockwise from top-left:
1. Imagine storing the stationery on your desk in a vessel as goddamn lovely as this. I'm pretty sure it would fill me with endless inspiration and motivation to keep working away.
2. As it turns out, once you go backpack you never go back. This dotty Baggu drawstring bag earns points for cuteness and spinal health, as well. (Give your shoulders a break, people!)
3. In my opinion, Penny Min Ferguson of Min Pin can do no wrong. This cheetah print would be an excellent addition to my growing collection of her quirky goodies.
4. Truthfully, I wouldn't object to any of the pieces from Nancybird's latest range appearing under the tree on Christmas morning, but this pinafore is particularly floating my boat. Thick, comfy straps; loose, boxy shape; and fun, summery colours? Oh yeah.
5. I'm not quite sure what this merit badge is supposed to be telling us. Good job on all that efficient food storage? Excellent cheek capacity? Top-notch tail? Either way, it makes me smile, and I'd quite like to pin it to my chest with pride.
6. This feathery felt friend from Melbourne lady Cat Rabbit comes in brooch form, which is pretty darn great. But then I discovered this GIANT WALL HANGING version and, well, how could I say no?
7. I've recently become the proud mum to a rescue pup named Woody, and I daresay he'd look rather dashing in this lumberjack-style collar.
8. Because if there's no furry pal to snuggle up with and play fetch, what's even the point?
9. Hmm… it seems I have a soft spot for voluminous chequered dresses. This little number is easy on the eye AND the hip pocket. Tick, tick.