frankie stocking stuffers – mia timpano
Christmas isn't just a time to eat. It's also a time to rock – as our assistant editor reminds us with these jolly gift ideas.
Do you know what I'm looking forward to this Christmas break? Shutting out all my relatives with a big pair of headphones and listening to year-end lists of the best extreme metal releases. I'm not festive, summer annoys me, and, like Scrooge, I think it's actually a great time to get ahead on work for next year. Short of three ghosts turning up and scaring the shit out of me about how I'm going to die alone, then spend eternity in hell dragging the chains I forged in life (which wouldn't be so bad, assuming they're playing Slayer), you can expect me to keep on being anti-social till New Year's. But that doesn't mean I wouldn't like to receive some nice stuff from Santa. Here's what you can buy me, or the me-equivalent in your life.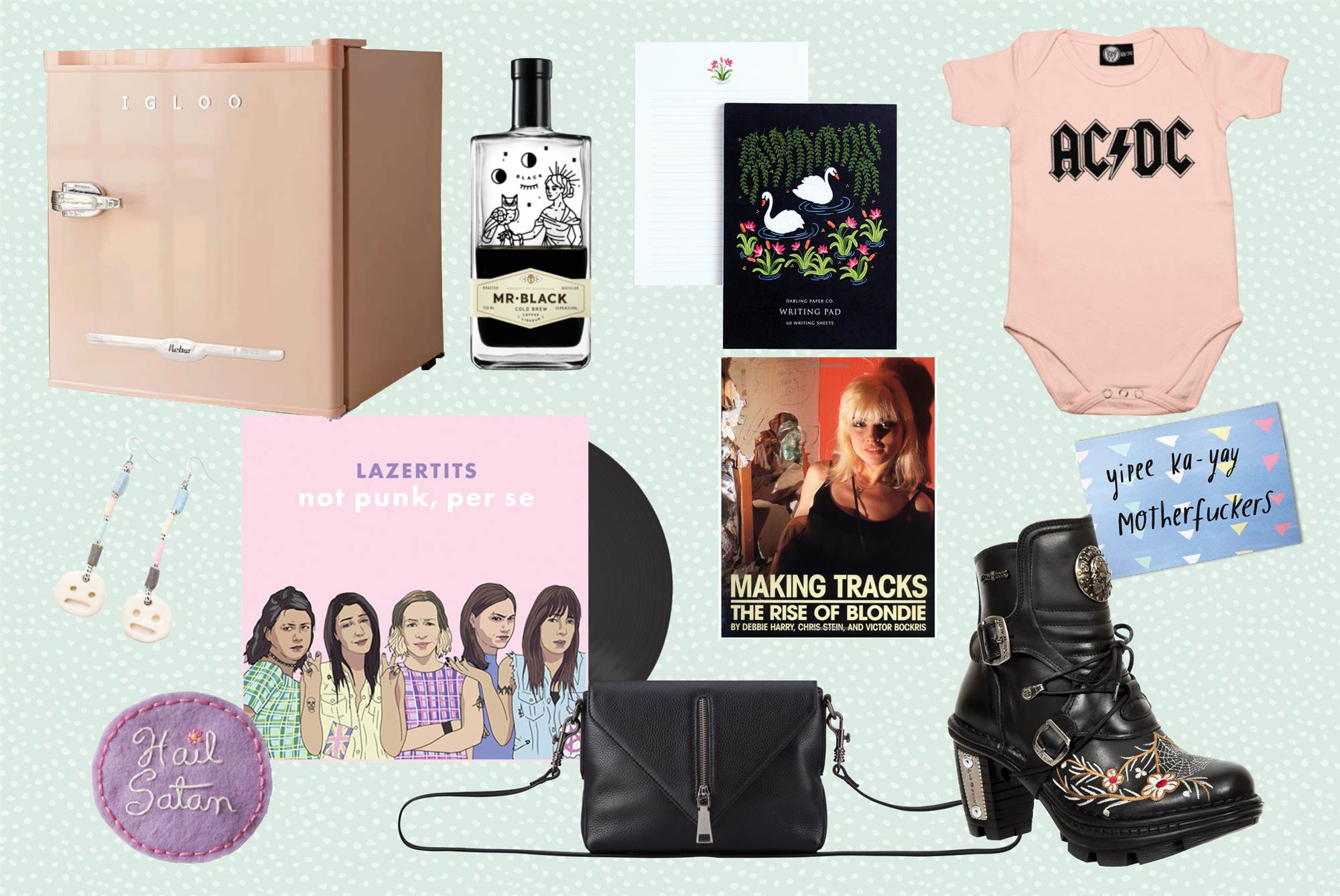 1. I'm thinking of downsizing my living quarters in order to not die penniless. Here's a great fridge that's teeny and looks cute, too.
2. Apparently I'm not the biggest spender at my local liquor store. I know because I asked the owner. He said, "There are actually guys who come in here twice a day." Comforting. For someone who enjoys their grog and the finest cold-pressed brew, you could do much worse that slinging them a bottle Mr Black coffee liqueur. (It's what I would buy to spoil myself, FYI.)
3. I have a problem with Darling Paper Co stationery in the sense that when I'm around it, I lose control of my wallet. Here's a writing pad of theirs adorned with pretty swans. They use green printing facilities in Adelaide, which is also good.
4. Nearly a year ago, I became a proud aunty. The fact that I have no plans to reproduce means I intend to indoctrinate my niece into everything I love, starting with hard rock. This AC/DC baby suit would help me in my quest.
5. When's the last time you made Bruce Willis proud? If you haven't even bothered, make a start with this card inspired by his immortal dialogue from the greatest Christmas movie ever made (with the possible exception of Scrooged).
6. When it comes to kick-ass footwear, you cannot go past New Rock. They cost a fortune, but that's because they're awesome. I have a very similar pair of boots, but these ones have embroidery on them! So, need.
7. I interviewed Debbie Harry in a Sydney hotel several months back for issue 78. Blondie guitarist Chris Stein noticed we were dressed the same. So just to make this clear, folks: I had a twinsie moment with the sexiest woman on the planet. Please buy me this book so I can continue channelling Debbie's style and obsessing over her music.
8. Status Anxiety make nice bags and if someone gets me this one I promise I'll use it every day and make them cups of tea till I get arthritis.
9. I've met these bitches and would gladly be all of them, should we experience a Freaky Friday scenario. Should we not experience such a scenario, I'll content myself with listening to their debut album on vinyl.
10. Proof that just because you hail Satan, doesn't mean you can't appreciate pastels.
11. Among my top memories of 2017 was interviewing Shuh Lee in her home studio. Of all the goodies in there, these were the ones I wanted to fondle the most.