frankie spends a winter weekend in orange
Nestle down in this cosy town with us, in preparation for the Winter Fire Weekend in August.
As an optimistic British expat, I didn't expect 'winter' to remain in my vocabulary when I relocated to Australia. But once I came to terms with sacrificing my June birthday to the snow angels, the idea of seeing the icy white stuff in New South Wales sounded pretty neat. Fast forward a few years and I find myself Orange-bound in my rather unequipped small car. Just one week after the town recorded its highest snowfall in 30 years. Let's go!
As a serial over-packer, I find comfort in being able to stuff my car full of unnecessary items. Three polaroid cameras, check. Large crochet blanket, check. A framed photo of my dogs, check. But if you don't fancy road-tripping your way there, you can fly direct into Orange Regional Airport – only a 15-minute drive from the town's CBD.

Setting up home at The Arch House
There's something charming about staying in a family home when you travel. Instead of pillow mints and a dodgy mini bar, The Arch House's full-sized fridge is stocked with a locally sourced cheese board and wine from the region. There are two delightful rooms to sleep in, a bathtub as deep as my knees and the namesake, brick-built archway connecting the living room to the kitchen. It's cosy, peaceful and just begging for a spot on your Instagram grid.

Feasting at Charred Restaurant
If you're fortunate enough to score a table at Charred Kitchen & Bar, expect to hear lots of oohs and ahhs when you tell people you've eaten there. It's a local delight and even on a chilly weeknight, it's buzzing with families, friends and some successful-looking first dates. The relaxed bar offers a set tasting menu at $95 per person – which usually rules out awkward diners like me. Hello, hopeful vegan with a high intolerance to anything delicious here! But they've covered all bases and cater for awkward dietary needs like it's no big deal. We devour the degustation menu that serves up some seriously fancy potatoes, mushrooms more delicious than I thought possible and some glazed eggplant that I'd happily eat for every meal until the end of time.
Pastry goodness at Racine Bakery
Expectations are high when you hear that Racine Bakery's founder started sleeping overnight at the bakery just to ensure their bread was made fresh each morning. The instant whiff of buttery pastry suggests it's been well worthwhile. There's a constant rotation of local folks starting their day with a coffee and pastry combo, each taking their time to choose between organic sourdoughs, sausage rolls, sandwiches and the shop's famous butter-pastry pies. They even have gluten-free options – take my money!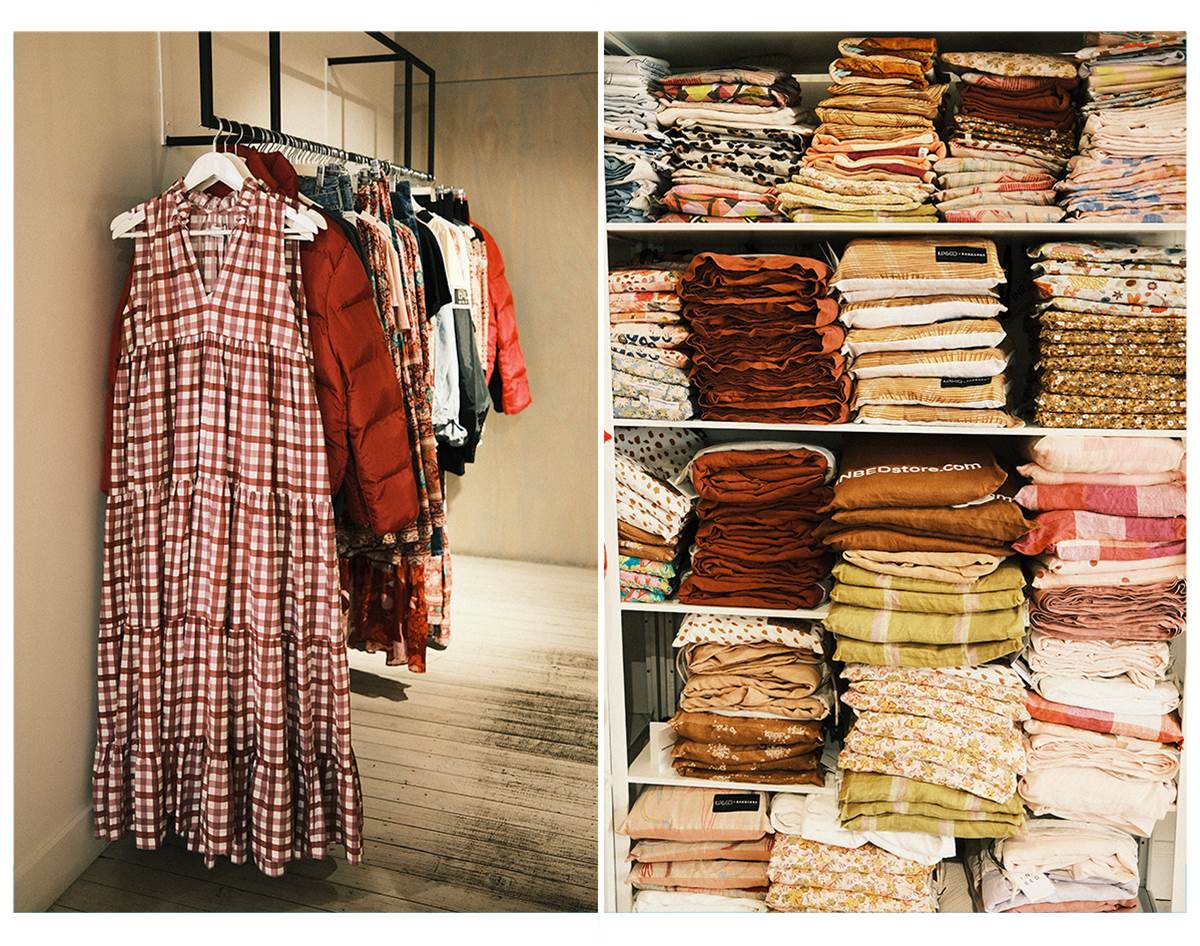 Shopping at The White Place, Hawkes General Store, Jumbled
Orange's finest shops all sit in and around Summer Street, which stretches through the middle of the town's CBD. Whether you're in the market for lovely homewares, great vintage garms or gifts for literally any reason, you'll find many a gem among these locally run stores. There's loads to see and even more bits to buy, so prepare to leave some luggage space for all the non-essential essentials you inevitably take home. Be sure to pop into The White Place, Hawkes General Store and Jumbled. If you're anything like me, Jumbled may require two visits because, as it turns out, seeing every item on your Instagram saved list in real life can be a little overwhelming.
A moment of calm at Corner Store Gallery
Located further down Summer Street, the Corner Store Gallery is another must-see for artsy visitors. The outside world almost falls away as you step inside the converted milk bar run by Gallery Director and Orange-born artist Madeline Young. With exhibitions changing weekly, Madeline helps to bring emerging and established artists, designers and makers to the town.
Stuffed at Birdie Noshery & Drinking Est.
The clever team behind Lolli Redini (one of Orange's shmanciest restaurants and holder of a Good Food Guide's Chef's Hat for 16 consecutive years) have gone and created a more casual, community-focused hang out named Birdie. Located, you guessed it, on Summer Street, it's a super-friendly spot serving breakfast, brunch and dinner. If you're wanting to transition from a remote Zoom call through to afternoon cocktails, consider this spot tried and tested by yours truly.
Good eggs at Byng Street Café
In the spirit of fairness, we also fill our bellies at Byng Street Café (just up the hill from Summer Street). There's a constant flow of local brunchers either dining in or grabbing takeaway here. And even though it's raining outside and it's packed in the cafe, there's no need to shout across tables or wait ages for our order. Byng Street also serves up my favourite coffee of the trip, and so I order a second just to be sure.
Getting stuck into nature
The recent snowfall in Orange means that some of the nature spots are closed for a few days. Still, a simple drive through the town feels fresh, green and connected with nature. Every house has a neatly organised front yard and a flowerbed ready to bloom. If you're visiting from the city, then the presence of personal space alone is a sight to behold. Not to mention the friendly animals (horses, cows, sheep, dogs!) we spot along our drive.
Wine tasting at Printhie Wines
Last but not least, we venture out to The Packing Shed for the ultimate winery experience. Home to the award-winning folks at Printhie Wines, we learn some genuinely impressive things about their heritage estate and why the altitude of their vineyards makes all the difference. Taking our picnic inside, we sample some delicious vino and feast on possibly the scrummiest salad to ever exist before it's time to drive home.
With our stomachs and car suitably stocked up for a few winters, we return to the city with dreamy tales of Orange: a friendly town that's bursting with life and lovely people. If you can, I highly recommend getting yourself down to the Winter Fire Weekend, an annual August event where you can experience fireside picnics, mulled wine by a bonfire and warming Sunday lunches.
This cosy little guide was brought to you by Orange360. The Winter Fire Weekend takes place from August 27-29, 2021. Take a peek at all the details and plan your winter escape at orange360.com.au