frankie fangirl jotters: reasons to crush on molly ringwald
Those eyes.
There are certain women we feel very strongly about – like '80s screen legend Molly Ringwald. The star of The Breakfast Club, Sixteen Candles and oh-so much more is but one of the ladies gracing the covers of our fangirl jotters. They come in a set of three (the others feature Debbie Harry, aka Blondie, and thespian extraordinaire Susan Sarandon), and they're just the right size to pop in your bag, so you can scribble down thoughts and ideas, wherever you happen to be. With the launch of the fangirl jotters – part of our pretty userful paper by frankie range – we figured it'd be a fine idea to revisit all the reasons we fell in love with Ms Molly in the first place. So here, for your reading pleasure, is our interview with the lady herself from our issue 51, penned by frankie's Editor-in-Chief Jo Walker. (Oh, and don't forget to pop past our online store to nab a set of jotters. But you'd best get your skates on – something this cute won't hang around for long.)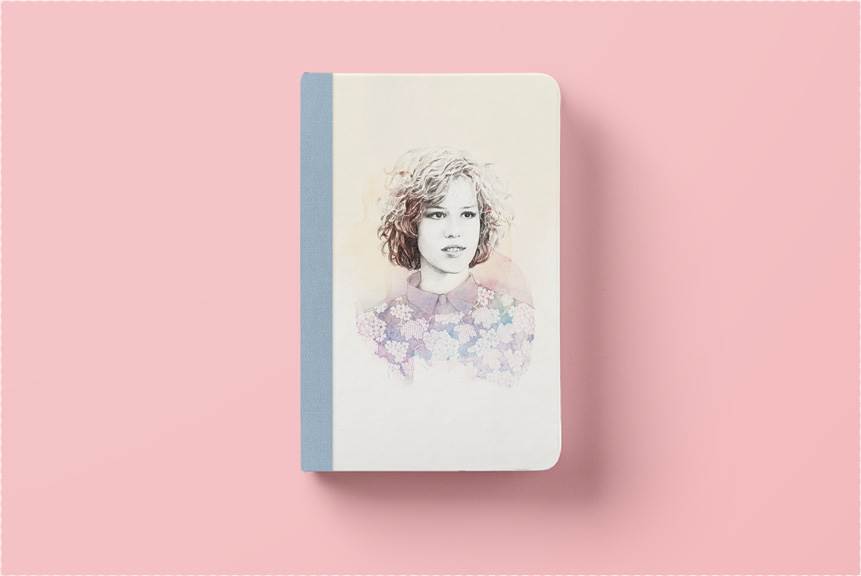 A little while ago, the school where Molly Ringwald sends her daughter held a fundraising night – a dress-up party, and the theme was the '80s. The whole scenario raised an awkward kind of question. If you're an icon of a decade, and that decade's back in fashion, and you're called upon to spritz some gel in your hair and dance ironically to A-ha with all the other parents on the PTA knowing that – inevitably – someone else is bound to rock in dressed as you, is it weirder to turn up or stay at home? In the end, Molly's husband forced her hand and decided to go as Jake Ryan, her character's hunky crush from teen classic Sixteen Candles. Clearly things were getting a little meta.
 "I decided I would be a very bad sport if I didn't go," Molly says. "Plus my husband actually happens to resemble Jake Ryan." And who did she dress up as? "Me."
Molly Ringwald's teenage self – red curls, gawky charm, vintage threads, life-isn't-fair pout and all – lives on in VHS cassettes and Saturday night re-runs the world over. Especially her beloved trilogy with writer/director John Hughes: Sixteen Candles, The Breakfast Club and Pretty in Pink. Now 44, Molly is well beyond prom and school detention and stuffing her bra with tissues, but the image remains. The every-teen, girl next door, '80s sweetheart thing. Does it ever get her down?
"It can get a little heavy, to be sure," she admits. "To feel that there's the whole weight of an era that's resting on your shoulders. I mean, those movies were just something that I did when I was younger. I never really expected them to become the iconic pieces of cinematic history that they eventually became. I just feel like they were something that I did when I was in high school." Not that she's writing them off, mind. "I think they're fantastic movies – it's just that I've moved on and I'm more interested in what I'm doing now. But because they play all the time, they're very much in people's consciousness." And so is the lady herself.
It's not just nostalgia keeping Molly on people's minds. These
 days, alongside mothering duties, she guest stars on TV series
 The Secret Life of the American Teenager, spends time playing
 with her band in Los Angeles (they're about to release an album of jazz standards as a "fun side project", she says) and has just released her second book and first novel: When It Happens to You. It's a kind of Robert-Altman-in-print affair, with separate characters following their own dramas and intersecting in ways big and small. Needless to say, it's not your average Hollywood actress ghost-written chick-lit affair, and it took Molly far out of her comfort zone. Rather than performing with a cast or jamming with a band, it was just her and her keyboard. (And, occasionally, her husband.)
"For me that's always been one of the most difficult aspects of writing," she says. "I've been acting and playing and just generally performing in front of an audience since I was three years old.
 Which is a very long time. So I have this automatic need for a call
 and response. To sort of know that I'm going in the right direction. Obviously you can't rely on that for writing – writing's a very solitary act. But the older I get, the more I tend to gravitate towards the solitary. And when I would have that feeling of, 'Where am I going? What am 
I doing? Is this going to resonate with anyone?' I'm very lucky to have a writer/editor husband, so he sort of became my audience of one."
And can you rely on your spouse for honest feedback? "Yes!" Molly laughs. "He's very loving, very honest, but he's a very good editor, too... I told him, you know, it's very scary for me to put my fiction out there. This is not the moment to tell me, 'oh honey, you don't look fat in those jeans.' If I look fat in the jeans you have to tell me. So he was very, very honest and always told me when he thought I was going in the right direction or if I needed to stop or expand. Very, very helpful."
Reading the book, or watching her perform, you get the feeling Molly is a bit of a student of the human condition. Tiny details matter. Her life has been about telling stories, in one way or another. All of which may have started with her dad, who passed on his love of music – he's a professional jazz pianist – and, being blind, relied on her to fill him in on the details around them.
"It definitely made me very observant," she says, pondering the ways her father's disability influenced her as a youngster. "I think probably more than the average kid, because I spent a lot of time explaining things visually to him. I was always the person he wanted to go see films with because I was always very good at describing things and good at describing details that most people wouldn't think mattered. I kind of took it upon myself to imagine, well, what would I want to know? I think that really helped my writing a lot."
Being the kid of a blind dad affected Molly in other ways, too. "He was always so incredibly, overly capable in every way, so it's hard to imagine how my upbringing could be different. But I think it might have made me a bit more sensitive to other people who are disabled. I can remember going places with my dad and having people address me instead of him. like he wasn't there. saying, 'Can he do this, can he do that?' I just found that so annoying and de-humanising."
Now a parent herself, Molly says motherhood has changed her priorities in life. Not just in terms of putting her kids first, but in the sense of getting things done. like, now. Turning 40 helped, too. "There's something about turning 40 where you really feel that up until then your life's lived you, and then you live your life. You make choices. You feel like, 'Well, if I'm not going to do this now then
it's never going to get done.' It kicks you into high gear."
As a TV mum, too, Molly's purpose has changed. While her secret life character has had her share of tribulations – pregnant daughter, divorce, possible lesbian awakenings – she's content playing a supporting role to the show's younger cast: "I like being the adult in the teen drama. I think it feels a little bit full circle." Plus, it's one more sign – along with the kids and the husband and the occasional laughter line – that she's no longer the '80s It Girl, painted in John Hughes colours for life. "You know, it really doesn't bother me," she says of her decidedly grown-up role. "I feel like I was a teenager for soooo long, or at least that's the way people saw me, that firmly becoming an adult actually feels really good. I'm so, so ready! I'm really happy not to be a teenager! Maybe I might be unique in that regard – really embracing my adultness."
One thing that can't be denied is that her teenage self continues to inspire whole generations – pretty much everyone can at least recite the "Dear Mr Vernon" letter from The Breakfast Club and get a little misty-eyed when simple minds' "Don't You Forget about me" comes on the radio. So if we spent our teens looking up to Molly, who did Molly look up to? After naming Susan Sarandon and Ella Fitzgerald as personal heroines, she falters and laughs a bit, knowing how odd her next response is going to sound.
"I can't really say that I had anyone that was like... me. That sounds really strange to say. But because those were the only movies,
 and I was in them, I didn't really have someone that I grew up with and wanted to be like, because I was that. There was nobody else. Nobody else at the time I could look up to."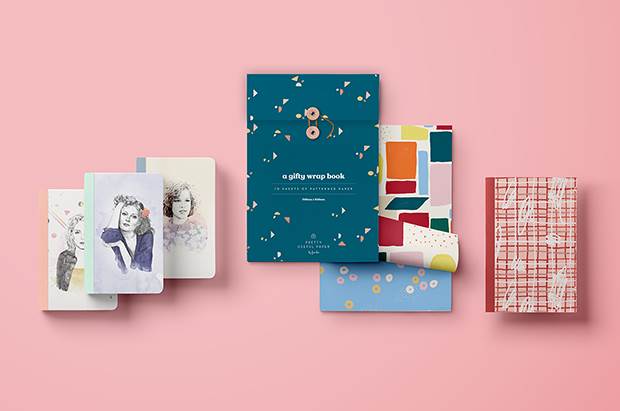 Pop past our online store to nab a set of frankie fangirl jotters.