frankie exclusive diy: hanging christmas tree
No room for a Christmas tree? This super-cute alternative might help you out.


Whether you're short on floor space (hello, indoor plant addiction) or simply want to make your workspace feel festive, this hanging Christmas tree is a super-cute option. You can be as minimal or maximal as you desire, and it won't take you more than an arvo to whip one up.

MATERIALS
sticks (or timber dowels from the hardware store)
yarn scraps
craft glue
twine or thin rope
Fiskars Precision Hand Drill w/4 Bits
Fiskars Metal Ruler - 18"
Fiskars Hand Saw - 7"

METHOD
1. Gather some sticks from your backyard or the dog park around the corner (make sure they're found on the ground – no stealing!). Give them a nice clean and check for bugs. If you don't have access to any sticks, you can pop down to the hardware store and find some dowel rods. The thickness you decide on is purely up to you, but you need them to be thick enough to drill holes into.


2. Once you've got your sticks, find the space on your wall where you want your tree to hang and take the measurement of the widest length – this will be the bottom rung of the tree. Using a hand saw, cut a stick to this length. Using the bottom rung, you'll be able to work out what size you want the rest of your sticks to be (and also how many rows you actually want – I decided to do four).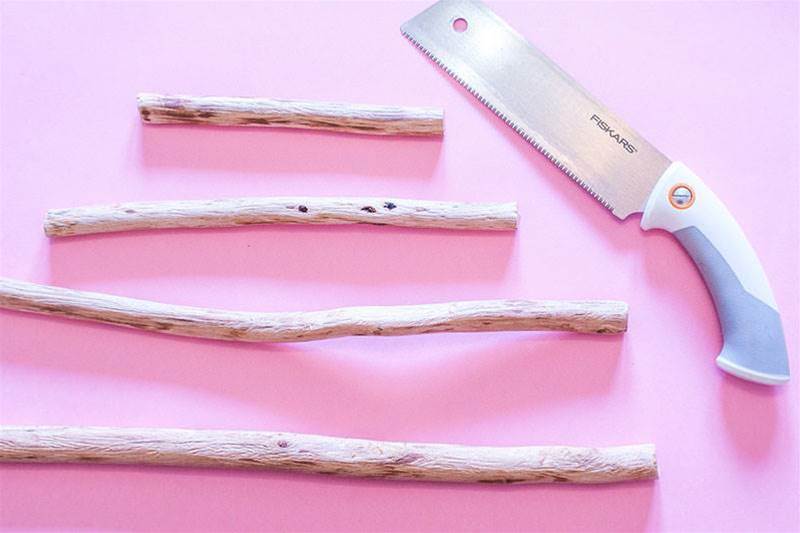 3. Once they've all been cut to size, lay them out and get your twine or rope to lay across the top of them. Leave a generous amount for the top of the tree (where it will hang on the hook on your wall), then double the amount of twine before cutting it as one piece. I spaced my sticks about 10 cm apart and ended up cutting 2m of twine, which was just the right amount.
4. Mark the sticks 3cm in from each edge and use the Precision Hand Drill to create the holes needed to thread the twine through.
5. Rummage through your yarn stash. This is the perfect time to use all the leftover bits you've been holding onto. You can even use bits of tinsel or ribbon to wrap the sticks with for some extra festive cheer. Glue the beginning and ends of the yarn down when wrapping (choose a side of the stick to be the back so all the 'ends' can be hidden).
6. Starting with your smallest stick, thread the twine through making sure you leave enough at the top for it to be hung. If you're using rope, you should be fine to tie knots underneath each stick so they stay in place, but for anything thinner (like the twine I used), wrap it around the sticks a few times. Keep going until all the sticks are threaded together. 

7. Now remember, it's not a proper Christmas tree unless it has a star. I used a couple of smaller sticks to create a God's Eye by weaving yarn around it (you probably remember making these in primary school with Paddle Pop sticks). Hang the star, step back and admire your handiwork, and be merry!
To see more awesomeness from Phebe Rendulic, head right here.