frankie christmas wishlist – sophie kalagas
You asked for a list of super-cute, unique gifts and our editor Sophie Kalagas delivered.
Someone needs to model a search engine on our editor Sophie Kalagas' brain. Ask her where to find a super-cute, unique product and she'll spit out at least nine different suggestions for you. In many ways, she's the prime person for a Christmas gift guide. So, without further ado…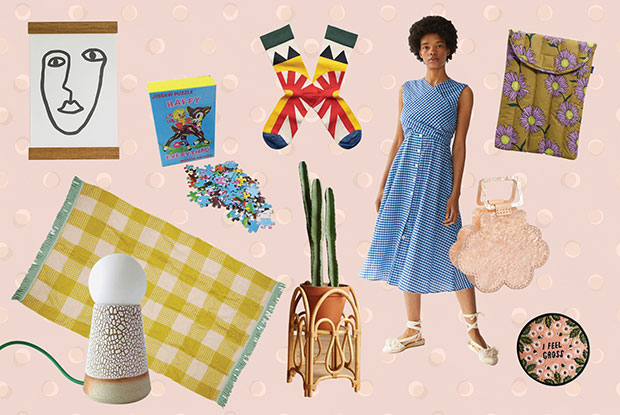 Clockwise from left to right:
1. I'm one of those people who buys art prints and other fun bits with the intention of hanging them on the wall, then leaves them sitting in a corner for the next two years because I "haven't gotten round to it yet". With some simple timber frames from Corner Block Studio, all those feeble excuses will go straight out the window.  
 
2. Confession: I've become a puzzle person. What's better than a Friday night with a box of cookies and a colourful jigsaw? Not much, to be honest, which is why I've added this sweet Magda Archer puzzle to my Christmas list.
 
3. The best thing about giving and receiving socks as gifts is that our feet will always get chilly and need adequate padding within a shoe, so the pressie will never go to waste. French brand Bonne Maison always nails the 'fun sock' brief, and this pair is particularly floating my boat.  
 
4. Oh, Heinui. I can never resist your beauty, and frankly, I don't want to. This gingham frock would be handy for anything from a summer wedding to a frolic in the park. 

5. Truthfully, my laptop is by my side most days and nights, so I love the idea of making it look a bit swish in a puffy, floral jacket, like this one from Baggu.
 
6. Dear Santa, if I promise to be a very good girl next year, can we arrange some kind of present advance that leads to this pearly Valet Studio bag appearing in my stocking? I'd be ever so grateful (and stylish, too). Much love, Sophie.
 
7. As someone with a perpetually tender tum, this patch will save me a lot of explaining and complaining when I'm out with pals. Instead of going into detail about why I've suddenly gone quiet and slunk into a corner, I can silently point to this embroidered piece and get on with feeling like crap.
 
8. Pop some secondhand cane homewares under my Christmas tree and I'd be a very happy lass indeed.
 
9. Cute décor needn't stop at the bathroom door – especially when there are towels as lovely as this. Perfect for wrapping myself up in post-shower and staring into space until I'm late for whatever I'm meant to be doing.
 
10. I've long been a fan of Takeawei's ceramic goodies, so I let out a little squeal of excitement when I came across their new range of hand-thrown, artfully glazed lamps. Just look at this beauty! Talk about lighting up a room.