frankie christmas wishlist – emma do
Need a little help picking out a gift? Here's what our assistant editor is hankering after this year.
Greetings, dearest frankie friends (and close relatives who I've sent this to). Welcome to the first of this year's many Christmas wishlists, which you'll see rolling out in the weeks to come.
If I'm being honest, my true Christmas wish is for world peace (sorry, sorry, feel free to boo me off the stage now). Failing that, a few of the lovely items below would do just fine.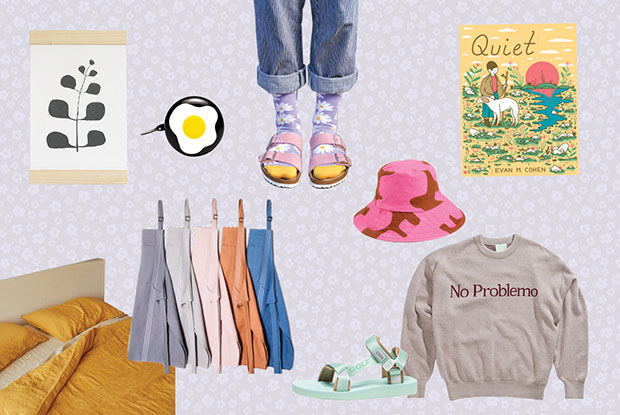 Clockwise, from left to right:
1. I've managed to collect about a dozen art posters in the last year without hanging up any. That's going to change once someone gets me this simple-as frame from Corner Block Studio. Apparently, all you have to do is sandwich the artwork between the timber bars and fling it on your wall. Easy peasy!
2. Ding! Ding! Ding! Get the frick out of my way, entitled male cyclists! I'm gonna get myself a Fried Egg bicycle bell from Beep and let you know exactly how I feel.
3. Buy me socks at any point in the year and I'm happy as Larry. Buy me this super-cute daisy pair from Emily Green and I'll be tap dancing with joy.  
4. It is unexpectedly difficult to find a hat with a wide brim and interesting colour. So when I stumbled upon this Obus style, I let out a tiny, office-appropriate shriek of excitement.
5. There's no dialogue in Evan M Cohen's comics because his magical images say it all. This comic looks like it'd be particularly soothing for my brain.
6. I'm more of a "No worries," kind of gal but this swanky No Problemo jumper from Aries Arise makes me reconsider my catchphrase. It's made from super-fine Merino wool and will probably stay nice enough to pass onto my future children, which is pretty good if you ask me.

7. It's sandal weather, and I'm ready to step into something practical and lightweight, like this minty-fresh pair from Golf Wang x Suicoke.
8. Here I was thinking all aprons are made equal. The Ultimate Apron from Food52 is here to prove me wrong, promising not only to keep my duds splatter-free, but my hands safe with its built-in pot holders. It also has a handy conversion chart tucked into the pocket!
9. How many sets of bed sheets should a sensible person have in their linen cupboard? I ask because I have a grand total of two in mine and I'm thinking it's about time I invested in something as lush as this linen set from Deiji Studios.