frankie christmas wishlist – emma do
You're not the only one stuck for gift ideas. Our assistant editor has combed the internet to gather up some cute stuff so you don't have to. 
I am not a presents person, and by that I mean I am bad at both giving gifts and asking for them. (It has something to do with my chosen love language not prioritising gifts – take the quiz if pseudo-psychology is also your thing). This tendency makes Chrissie slightly stressful, especially when people come at me with, "What would you like this year?", to which I will give extremely boring, practical suggestions such as, "I need someone to deep clean my oven. Or a nice laundry basket."
This year, I have tried very hard to think of some bits and bobs that would make my daily life a little more pleasing. Hopefully these suggestions can do the same for a lovely person in your life.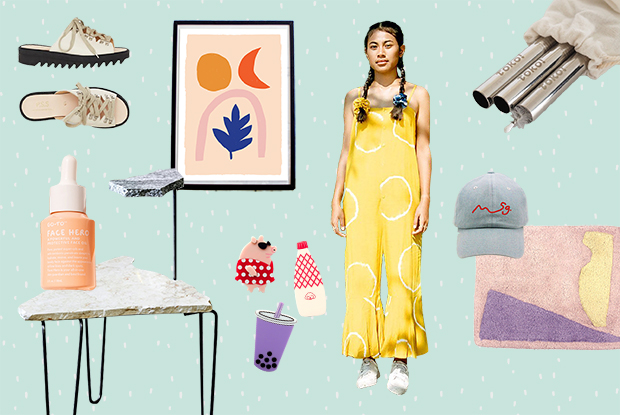 Clockwise from top-left:
1. How good are shoes that don't maim your feet? If you're blessed with duck feet like me, you'll appreciate attractive and vaguely orthopaedic-looking options like these Post Sole Studio platforms.
2. I think I'm finally at the stage where having some adult art on the walls would be nice. I mean, as much as it pains me to tear down posters I've had since I was 16, Claire Ritchie's work is pretty ace.
3. This SUKU jumpsuit bodes well with my attempts to wear more colour this year. It's also soft enough to wear to bed, which makes it the perfect outfit (hells yeah to more sleep and fewer wardrobe decisions).
4. As someone who both loves bubble tea and is trying to be more environmentally responsible, I often feel pangs of guilt watching my sugary beverage get wrapped in plastic. The good thing is, these metal straws exist! And they're big enough for sipping pearls. Now I just need to find a reusable bubble tea-sized cup (please tell me if you find one). 
5. I need this super-cute cap to start conversations with people about how msg is unfairly demonised. Yes, it is in fact a safe and tasty additive, naturally present in foods like tomato and cheese.
6. This Cold Picnic bath mat would make stepping out of the shower the highlight of my day. OK maybe I'm exaggerating a little but it's pretty sweet, don't you think?
7. Kewpie mayo, a spotted pig, and taro milk tea – these are a few brooches I wouldn't mind pinning to my jacket.
8. I've been using a stool as a bedside table for the last three years so it's safe to say that this Dust Merchants marble table would truly be one hell of an upgrade. Also, they're made from marble offcuts which is a win for the environment.
9. Sorry to be the TMI person but dry skin is literally falling from my face like human snowflakes as I write this. Basically, I need a super-strength moisteriser, and Zoe Foster Blake's glowing persona has convinced me that the Go-To Face Hero is the one.