frankie christmas wishlist – caitlin wynne
A big bunch of colourful art, homewares and accessories sure to please any creative soul.
Sun, surf and sausage dogs are a few of our senior designer Caitlin Wynne's favourite things. It was somewhat surprising then, when she turned in a wishlist that contained nary a wetsuit or dog collar. Instead, Caitlin's picked out a big bunch of colourful art, homewares and accessories sure to please any creative soul.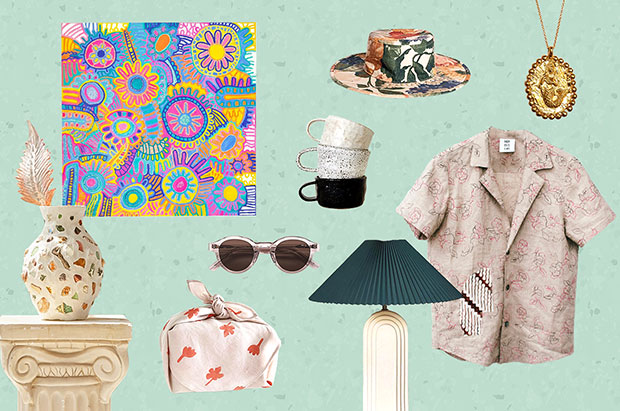 Clockwise from left to right:
1. The colours and stories behind the artwork at Arkie blows my mind. This is a brand bringing Indigenous culture and design together in the best way.
2. Those around me understand how much I love ceramics. It goes without saying that these cute handmade mugs from Rara Studio would make me happy this Christmas.
3. I'm in love with all the summer hats from the Brim Label's new range. Each are handmade with beautiful vintage fabrics (why would anyone want to get rid of these fabrics in the first place?).
4. This Mermaid Song pendant sings all the beach holiday tunes I dream of. Handmade by Raymond de Zwart and Davina Adamson from Blackfinch, I'd count myself lucky to receive anything from the brand.
5. I want all the one-off pieces the girls at HER CLO. LAB. create. Each piece is made using existing textiles and upcycled fabrics – amazing!
6. This particular lamp makes my heart sing, but then again, any kind of vintage lamp with these kinds of lines and textures would.
7. I know what you're thinking...another pair of sunnies. BUT these aren't just normal sunnies – they're 100% biodegradable, handmade by James Ay using Italian bio acetate.
8. Not only does the lovely Georgia Dorey from In Praise Of The Fold make stunning Japanese furoshiki, she also supplies you with easy-to-follow instructions on how to wrap a pressie with them. I'd be pretty stoked to get a pressie wrapped in another pressie.
9. Exclaiming "holy hell!" is the only reasonable reaction to this beautiful vase from Memor. Maxine, the creator, collects objects from around Sicily to decorate her ceramics and the results just make me melt.