frankie and friends garage sale
Melbourne pals: join us this Saturday for a shedload of shenanigans.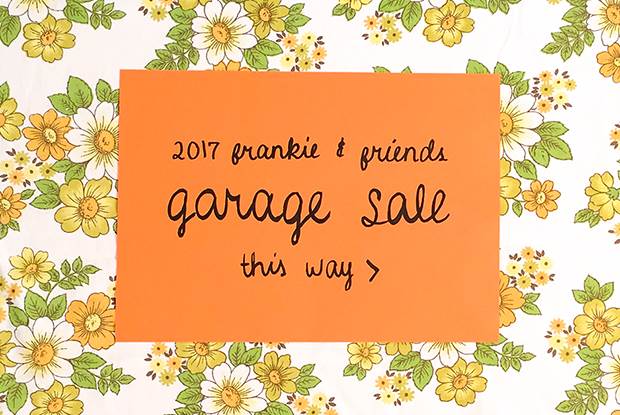 Hooray, we're having garage sale as part of Garage Sale Trail – and everyone's invited! Yep, this Saturday in Melbourne town, we're getting together with a big bunch of frankie friends to flog our collective bits and bobs. Said friends include Ashley Ronning, Abbey Rich, RARA Studio, Cool Cactus, Retro Print Revival, Sass Cocker, Rosaleen Ryan, Hilary Green, Jade Elford, You, Me and Bones, Min Pin, Togetherness Design, and Natalie Jeffcott – phew!
Alternative Women's Fitness will also be there running BOGA (that's bogan yoga) from 9am till 9.30am, then a Mixtape Fitness session from 11am till 11.30am, then another round of BOGA from 1pm till 1.30pm.
To satisfy your appetite, you might wish to scoff on All Day Donuts' brand-new, first-ever vegan donut. It'll have a caramel filling, chocolate glaze and a bit of banana, too – yummo! Otherwise, you can nibble on Dr Marty crumpets with homemade jam and spreads, courtesy of Juanita Peaches. Either way, be sure to arrive with an empty belly!
As for us, we'll be selling a whole bunch of odds and ends, including a box of ever-so slightly damaged copies of SPACES volume one, which we dug up from the depths of our store room. They're pretty hard to come by these days, so you might want to nab one to complete you collection.
So grab your pals (and a fistful of couch coins) and make your way to 12 Edward Street, Brunswick, this Saturday October 21st to partake in our thrifty merriment; we'll be there from 9am till 2pm. Pop over to our Facebook event page to stay in the know. Oh, and if you don't happen to be in Melbourne, fear not – chances are there'll be a garage sale happening in your neighbourhood, too. Pop over to the Garage Sale Trail website to find out more.