frankie and friends garage sale 2016
Grab your couch coins – we're having a garage sale! And it's going to be a bit of a doozy.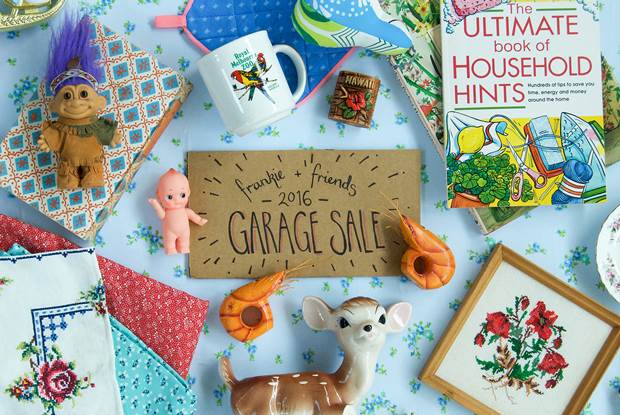 Well, here's some rather lovely news: the annual epic bargain-hunting event, Garage Sale Trail, is right around the corner. This coming Saturday, folks will be laying out their wares on front yards across the country, and feeding you with scrumptious food, as well. Oh, and did we mention that said folks includes us?
Yes, indeed – our very own editor-in-chief Jo Walker is back as ambassador, and members of the frankie family (aka the bunch of nerds who help make the mag) will once again be selling our odds and ends, along with a bunch of our crafty mates, at the frankie and friends garage sale. There'll be a mix of studio samples, seconds and personal treasures from the likes of Caitlin Shearer, Ashley Ronning, Laura Blythman & Pete Cromer (the clever duo behind Enemies Yay), Hi Petal!, RARA Studio, Pilgrim Lee, Rosaleen Ryan (maker of Mamoru jewellery), Abbey Rich, Kelly Thompson, vintage purveyors Retro Print Revival, Sass Cocker and Beci Orpin.
To keep you fuelled, we'll have drool-inducing fried chicken and burros from Juanita Peaches, plus our very own donut collaboration with All Day Donuts. The flavour? Chocolate crackle. (We aim to feed both you and your inner child with that one.)
So grab your pals (and a fistful of couch coins) and make your way to 12 Edward Street, Brunswick this Saturday October 22nd to partake in our thrifty merriment; we'll be there from 9am till 2pm. And if you don't happen to be in our part of Melbourne town, fear not – chances are there'll be a garage sale happening in your neighbourhood, too. Pop over to the Garage Sale Trail website to find out more.