found by laura
We had a little chat with Laura Sullivan, who's exhibiting her collection of over 400 handwritten found notes in Sydney.
There's something rather intriguing about coming across a handwritten note. Contained within those few words is a life, a culture, and a voyeuristic glimpse into what mattered to that particular person at that particular time. The intrigue isn't lost on Laura Sullivan. Over the past 12 years, the Adelaide-born lady has amassed over 400 handwritten notes from around the globe, and is exhibiting part of her collection in Sydney (at Sun Studios, 42 Maddox Street, Alexandria, from Thursday February 16th to Sunday March 5th). Scroll down to take a peek at some of Laura's most treasured finds, and to read our little chinwag with the good lady herself.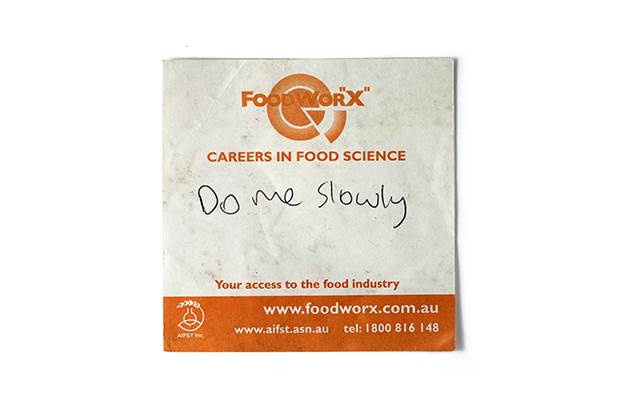 Tell us a bit about yourself. My name is Laura and I'm a collector. I grew up in suburbs of Adelaide, South Australia. Ever since I can remember, I'd pick junk up off the ground. Shiny things, odd objects and even a good amount of money! I guess I've always looked down. Over the years, I've lived in New York, Toronto, Melbourne and Sydney. The journey of my travels can be seen through my found notes.
What inspired you to start collecting notes? I didn't start out deliberately collecting notes. In 2005, I found an interesting shopping list on the floor of my local Woolworths. The bright orange sticky note with handwritten scribble on it grabbed my attention. One side had the usual shopping list of BBQ Chicken, mango, chestnuts, muffins, rice… and the other had a much more personal list. It said, Andrew – appt drugs and alcohol counsellor 1st Feb. I felt a rush of adrenaline as I stood near the fruit and veg section, holding this personal list in my hands. I wondered if the writer was still in the store. Had I walked past them? This personal and important part of their life was just lying there on the ground being trodden on and run over by trolleys. It was too interesting of a note for me to just throw in the bin. So I put it in my pocket. After that moment, I seemed to find so many great notes everywhere I went. It wasn't until a few years later that it dawned on me that this note finding was becoming a thing. It started out as just a personal collection. They would sit on my shelf and occasionally I'd read over them again. A love note, a funny shopping list – they all entertained me. Now I can't seem to not find notes everywhere I go.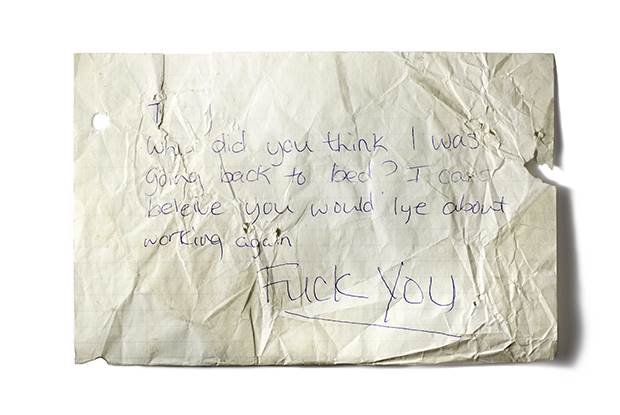 You've been collecting notes for 12 years. How many have you amassed in total, and how do you store them? At last count, 409 – but I know I've found a few more since then. I keep them in zip lock bags! They've been a life saver for me. I don't what I'd do without zip lock bags and hand sanitizer. In each bag, I have the note along with a small piece of paper on which I write the details of where and when I found it, plus anything interesting about the moment I found it. I think the context is as interesting as the content.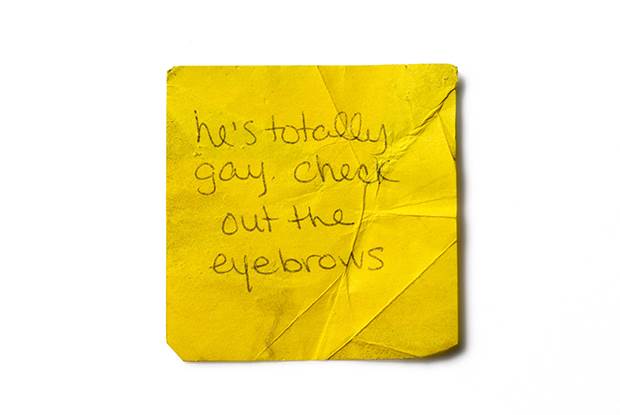 You've collected notes in Melbourne, Adelaide, Sydney, New York and Toronto. How do the notes vary, from place to place? Well, they say Canadians are "nice", but I've seen quite a different side to them. I've found some of my juiciest notes in Toronto. I also found a fabulous note in New York. It's a conversation between two girls, bitching about their classmate Faton. They say things like, She's such a sore winner! She wants to become a writer. She writes musicals. She is crazy. I found this in midtown Manhattan in 2007. Sometimes I fantasise that Faton is now writing hit musicals on Broadway.
Which one is your favourite? My absolute favourite note is one I found 10 years ago in Christopher Street Station in New York. I spotted a page from a notepad, just lying there on the ground, at the foot of the stairs before you enter the turnstiles. I can still remember to this day, the very moment I picked it up. In beautiful script handwriting is a name underlined and smudged by the rain, a phone number and then this beautiful and heartbreaking letter to follow:
Jealousy
Denial of pleasure
Denial of happiness
Satisfaction
Development
Aware of others resentment
I often refuse to admit how I am feeling because it is so painful.
There are so many reasons why I love this letter: its vulnerability and honesty, the exquisite handwriting, and the juxtaposition of finding something so beautiful down in a New York City subway.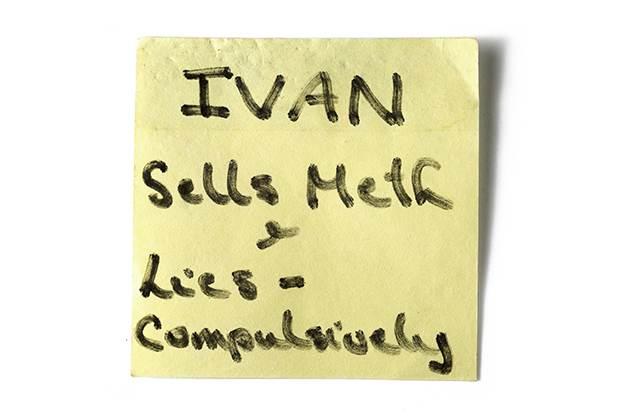 Have you met any fellow note collectors? I have met a lot of "finders" online since starting my Instagram account over a year ago. There's a wonderful crazy community of likeminded finders and collectors out there! Most are from overseas, but there is one girl named @missedfound from Brisbane. She is coming all the way down to Sydney for the opening night of my exhibition. So we will meet for the first time that night. I'm very excited to meet a fellow Aussie note collector.
What's next? I'd love to take the exhibition on the road. Next stop Melbourne! Every Melbournian I ever speak to about this project lights up. I also have a book that will be launching on the opening night of the exhibition. It's a collection of some of my best finds, intertwined with stories of the last 12 years of my life. It's a tapestry of people, time and places captured through the found notes of strangers.