five minutes with miranda tapsell
The triple-threat actor who co-wrote, produced and starred in the new flick Top End Wedding, tells us about her five-year project, and what it means to see Tiwi elders on the silver screen.
In case you haven't noticed, Aussie actor Miranda Tapsell is a total ray of sunshine (see supporting image below), and a ferociously talented one at that. In this little chinwag, we discuss Miranda's new movie, Top End Wedding, which she co-wrote, produced and starred in. Shot in gorgeous locations across the Northern Territory and the Tiwi Islands, the film is just as much a love letter to Miranda's hometown as it is a ripper of a rom-com.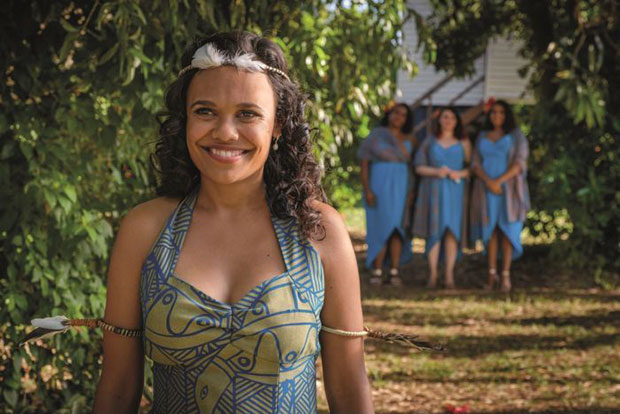 Why was it important for you to write Top End Wedding, and do it in a rom-com format? I feel like you can speak to a lot of deeper conversations within a rom-com, even though people don't consider it to be a genre with much weight. It's a genre that heavily relies on a very charming and empathetic cast. And so, because of that, people just root for the characters all the way. I thought that was the best way to show how beautiful my hometown is and to show Australia why we need to be more invested in, and care more about this community I love so much.
 
You first started writing the film in 2014. Do you think you could have made this movie five years ago? I'm not entirely sure I could. Just last year, we had The Big Sick, Crazy Rich Asians, and The Incredible Jessica James for Netflix. It was an incredible climate to write the film in, because before that, it had just been the Meg Ryans, Reese Witherspoons and Katherine Heigls - who I love, don't get me wrong. But it was really nice to trust in what my gaze was because of the previous films I mentioned. It felt like the right time.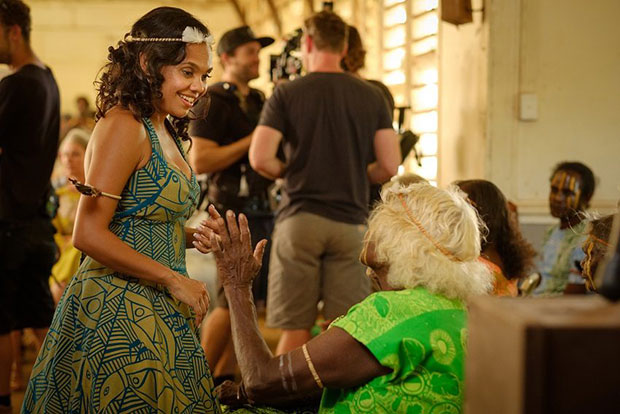 What was your favourite moment from filming Top End Wedding? There's so many! I loved speaking to the couple that played my grandparents in the film. I adore them and they were just so touched by the film. They were so thrilled that it was so positive and affirming, particularly for the younger people living on Tiwi. It meant a lot to me that they believed in that. I'll never forget the first time they auditioned – hearing him speak in old, formalised Tiwi made me so emotional because I know it's a language that's not being passed on to the younger generation.
It must mean so much for you and other people of Tiwi heritage to hear the language spoken on screen. It will mean so much for the young Tiwi people who have to maintain English for employment. I think it's important to sit down with the old people to reaffirm who you are – in my experience, they can validate your identity. I understand it's not easy to maintain language, so hopefully the film can keep a lot of young people across the board on track and tell them that everything's going to be OK.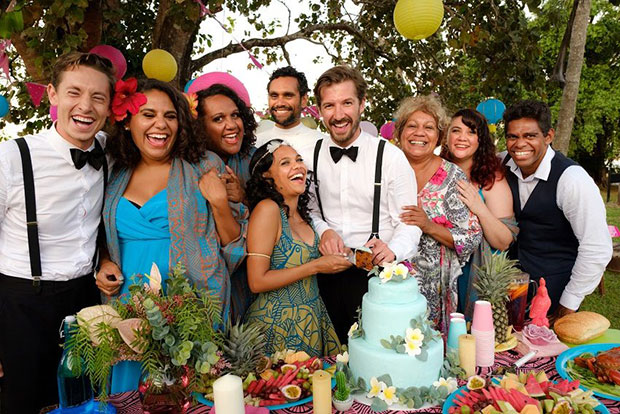 If you could have a superpower, what would it be? I would like to fly. That would be nice.
And if you could spend a month anywhere, where would it be? New York. I love that there's Spanish spoken in the street; I love the terrible coffee; I love the steam coming out of the streets. I feel like I'm in a movie every time I walk around there. And it's also such an invigorating city to be in. If I feel like I'm losing my way as an artist, going, "What am I doing? What do I want to say again?" I go there and remember, "Oh yes, that's it."
Favourite rom-com of all time? P.J. Hogan's My Best Friend's Wedding.

You can catch Top End Wedding in cinemas now.