five films to watch when you're hunting for a housemate
There are really only two kinds of housemates: the good, or the very bad.

We've teamed up with the folks at UNiDays to bring you stories about all the stuff you go through when you're studying. Did you know UNiDAYS members can nab a 25 per cent discount on their frankie magazine subscriptions? Well, now you do. Check the bottom of the story for more deets.

There are really only two kinds of housemates: the good, or the very bad. I don't know of anyone, really, who says, "Oh, my housemate is OK. They are fine." Anyone who has lived with another human being knows that an OK housemate, or a fine housemate is a good housemate. Because an OK housemate or a fine housemate is not a controlling housemate, a hostile housemate, or a needlessly passive-aggressive housemate. These housemates are the worst.

If you're in the process of looking for a new housie, or if you want to remind yourself of how good or how bad they can be, we recommend the following: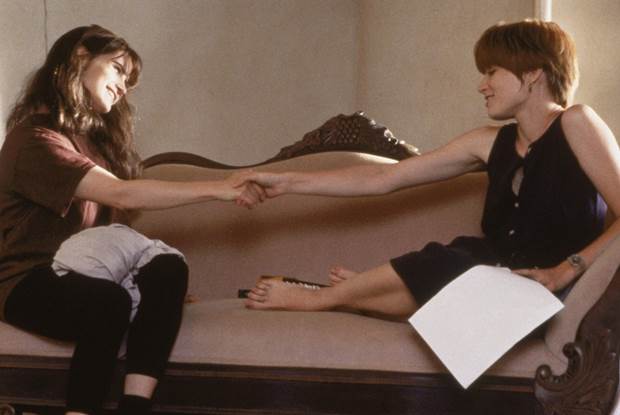 SINGLE WHITE FEMALE
I sort of feel that if Single White Female were to be made today, it would be called Gumtree. Or realestate.com.au. These are the new sites of horror when looking for housemates. Single White Female is basically your average story of a possessive, troubled lady who wants to mirror everything about her housemate's identity. On the creepy scale, it's a solid five creep effort.


NOTTING HILL
Oh, Spike. I have no idea how you can afford to live in a very nice flat in Notting Hill (v. fashionable, v. expensive), but I am pleased that you do. You might have very little respect for other people's privacy and you clearly have terrible taste in t-shirts and underpants, but at least you know when to give your housemate a good talking to (after he turns down the woman he loves, for not a very good reason at all).


BRIDESMAIDS
The housemate situation in Bridesmaids is not ideal. Our protagonist Annie (in a bad place already) agreed to live with one person: Gil. But then Gil's sister Brynn turns up, doesn't pay rent, doesn't work, and sometimes sneaks into Annie's room to read her diary and touch her things. When Annie asks both Gil and Brynn to please not do this, Gil tells her: "Well, hello, I think before you make those sort of demands you need to maybe think about putting a note on your door saying, 'Don't come into my room, read my diary, and wear my clothes." I HAVE LIVED WITH PEOPLE EXACTLY LIKE THIS.


SUNSET BOULEVARD
If you're a struggling screenwriter – washed up and burnt out – let me give you some advice: don't agree to live with an ageing silent film star, who wants you to write the script that will resurrect their career. It will only go very, very badly. Nothing good will come of it. Please trust me on this. One of the best things about Sunset Boulevard is that it's narrated by a dead man – don't let this be you.

TOY STORY
If you want a film to convince you of the best things roommates are capable of, look no further than Toy Story. All the toys in Toy Story live in close proximity and everyone is respectful and kind and cooperative and seems to get along very well. That is, until the new guy moves in: Buzz. Never trust a roommate named Buzz (although he turns out to be all right in the end).


Thanks to the kind types at UNiDAYS, uni students can nab 25 per cent off their frankie subscriptions. Just click here, then register or log in using your UNiDAYS member details. Easy as!