easy diy squiggly wiggly table set
We teamed up with our pals at Annie Sloan to treat some slightly neglected tables and chairs to a little perky pick-me-up.
Created in collaboration with Chalk Paint by Annie Sloan.
Snaps by Graham Alderton.
Got some furniture that's slightly knackered but still in good nick? It's probably in reach right now, holding a cup of tea, or your housemate's butt. Well, with a bit of paint (and love and affection) it can take on a whole new squiggly wiggly personality with this clever DIY. We asked designer, crafter and all-round handywoman Sass Cocker to help us treat our slightly neglected tables and chairs to a little perky pick-me-up. Inspired by Memphis Group design and the humble slice of fairy bread, it'll have your busted-up furniture looking sweet as can be.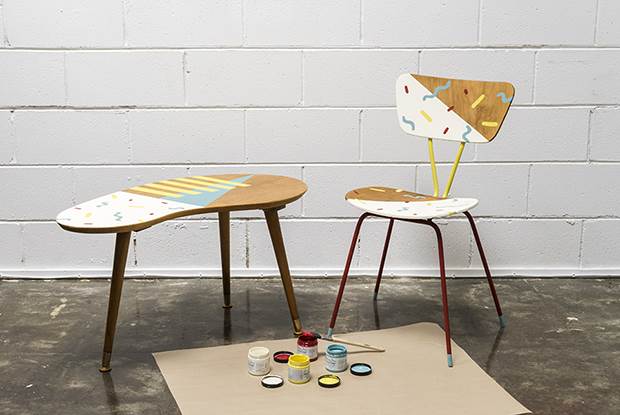 MATERIALS:
For painting:
good quality 18mm-wide painters masking tape
25mm flat paintbrush if you're painting a small piece of furniture like a coffee table or a 50mm flat paintbrush and small painter roller (optional) if you're painting a large piece like a dining table
6mm flat paintbrush – be sure to pick a good quality one with nice smooth soft bristles
118ml pot of Chalk Paint by Annie Sloan in Old White
118ml pot of Chalk Paint by Annie Sloan in Provence
118ml pot of Chalk Paint by Annie Sloan in Emperor's Silk
118ml pot of Chalk Paint by Annie Sloan in English Yellow
Clear Chalk Paint Wax by Annie Sloan
scissors
lead pencil
a ruler if you like to be super-precise
a couple sheets of A4 paper
For restoration:
(if your timber furniture needs some love before you paint)
a pack of Annie Sloan Sanding Pads
damp towel
oil to finish your timber surface – we used Osmo Polyx-Oil (Danish oil is also good)
flat paintbrush to apply the oil – approx 25mm for small furniture or 50mm for larger furniture
Handy extras:
an old hand towel with a damp corner for wiping away paint (even the tidiest of painters will need this occasionally)
some good tunes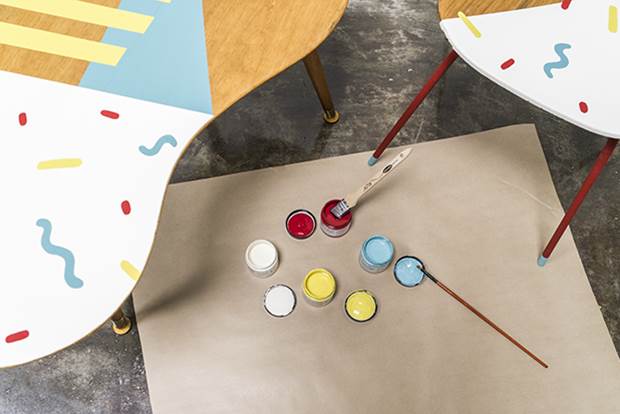 INSTRUCTIONS:
PREPARE YOUR FURNITURE FOR PAINTING
We chose a timber table, but we also saw some rad little retro tables in the op shops made from various materials like plastics and Laminex. Annie Sloan Chalk Paint goes nicely onto most surfaces, so pick whatever table you like. Keep in mind that it's easy to restore timber pieces, but not so easy to restore plastics. Finding a piece that is in reasonably good nick is recommended.
For furniture in good condition:
Give your piece a good clean with a damp towel, let it dry, and you're done. Easy!
For worn-out timber needing some love:
1. Take a coarse sanding pad and give your piece a little sand if you feel it really needs it.
2. Wipe all the sawdust away with a slightly damp towel. Let dry.
3. Paint on your oil and the timber will come to life! One coat will do. Let it dry overnight.
NOW IT'S PAINTING TIME
The pattern we chose can be applied to any table you fancy (not just the groovy bean one pictured above). It works for other furniture too, if you want to freestyle it and plop the patterns wherever your mood takes you.
1. The first colour to paint will be the white. Take your masking tape and casually mask off approximately half of your table top on a slight diagonal. Relax and tape wherever it feels good. You can't go wrong! Seal the tape onto the surface by pressing firmly with your fingers.
2. Mask the edges of your table to stop blobs of paint going off-course. We are only painting the top!
3. Take your brush and paint your masked-off area white. Let it dry, then give one more coat. Once semi-dry or dry, remove your tape.
4. When your white bit is completely dry, mask off the triangle shape. The tape gives you an opportunity to visualise your triangle before you paint. Peel it off and re-tape it as many times as you need to find a triangle you like.
5. Take your brush and paint the masked-off area blue. Let it dry, then give one more coat. Once semi-dry or dry, remove your tape.
6. Now it's time to mask off the yellow lines. We did this by eye, but if you like to be exact you could use a ruler. Make sure your lines are parallel with the diagonal line you created with your white paint. We put an equal gap between each yellow line. Like your triangle, you can use the tape to help you design your lines. Play around until you like what you see. Don't forget to tape the edge of your table and ensure the tape is firmly applied.
7. Take your brush and paint your masked off area yellow. Let it dry, then give one more coat. Once semi-dry or dry, remove your tape.
8. Pattern time! This part is extra fun. We chose a curvy lined pattern and carefully painted them with a steady hand, but if that sounds tricky to you, try a straight lined pattern from our handy downloadable template that you can mask off with tape.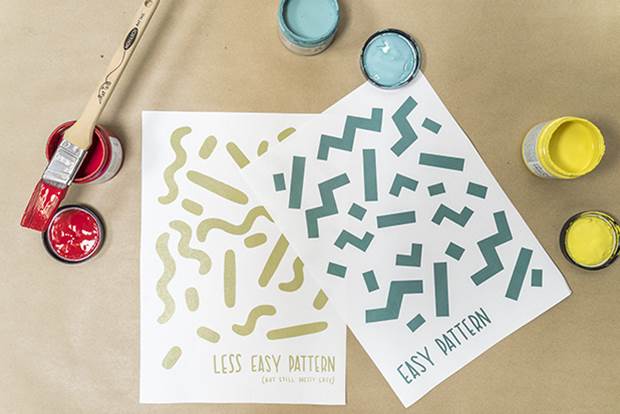 9. You can either download and print our pre-drawn shapes (here are the curvy ones; here are the straight ones), or draw your own. Cut the shapes out and arrange them on the white area of your table. Move them around until you like how they look. If you chose curvy lines, faintly trace around them with a sharp pencil. If you chose straight lines, use your masking tape instead of a pencil to mask off each shape. You'll need some scissors to assist you with this.
10.Take your tiny brush dipped in paint and colour in your shapes. You'll need two coats here.
11. Leave to dry overnight. Protect your pattern with a coating of Clear Chalk Paint Wax by Annie Sloan. Apply a single coat with your large paintbrush. You can watch a tutorial on how to apply the wax here.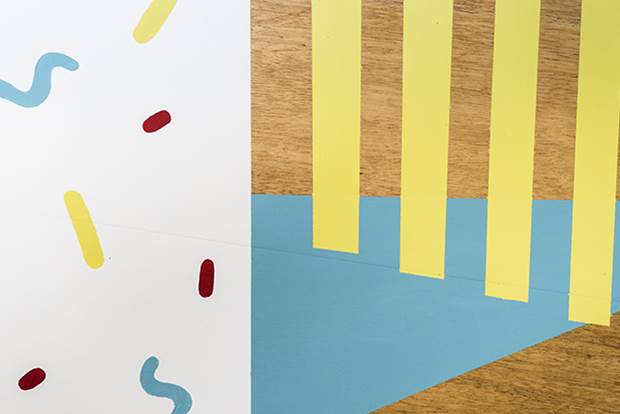 SOME TIPS
If you decide to let your pattern stray outside of the white (as we did on the chair), you'll need to apply two coats of white under your red, yellow and blue lines so that they are nice and bright.
An alternative to masking off the edges of your table is to let your pattern wrap around the edges as we did on the chair.
Take your time and you'll find the process quite therapeutic. Soon you'll want to paint every piece of furniture you own.
This excellent DIY was brought to you by our friends at Annie Sloan. They love getting creative with Chalk Paint and prettifying all manner of furniture, fabrics, walls and doodads.
And you can see more of Sass's champion work at Ask Alice Stationery.