e tū turns festival waste into swish accessories
For designer Rachel Kelly, the surge of festival tent trash felt personal.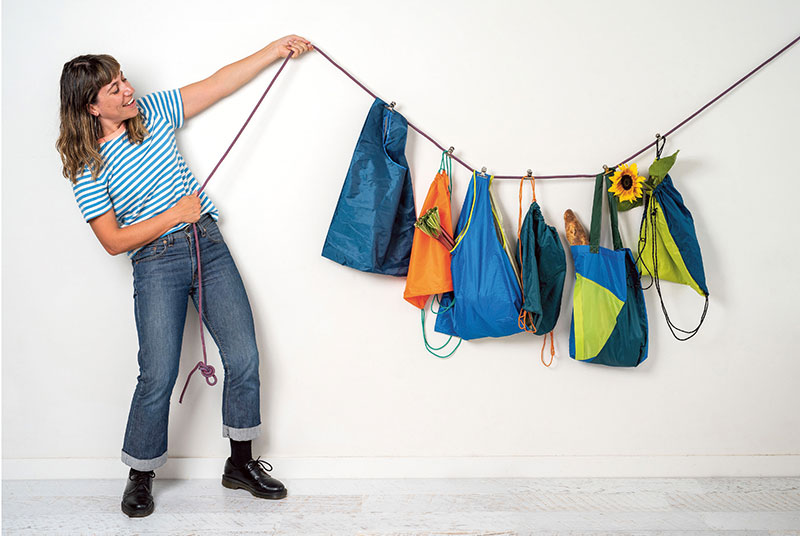 There's something unsettling about leaving a music festival and gazing across the graveyard of discarded and half-broken tents that the party has left in its wake. It's not just an aesthetic concern, either: abandoned tents are a persistent issue for music festivals. According to Green Music Australia, a not-for-profit dedicated to sustainability in the music industry, 20 per cent of the almost one million people who attended a multi-day camping festival in 2017 admitted to leaving their tent behind when they left. To put it another way, that means more than 100,000 synthetic tents are being sent to landfill every year, emitting potent greenhouse gases as they struggle to break down.
For Melbourne-based textile designer Rachel Kelly, this surge of tent trash felt personal. "I've been going to these music festivals for more than 10 years," she says. "They were framed as these beautiful lifestyle events where you spend three days communing with nature, but every time I'd leave, it felt like there was more and more trash being left behind. Eventually, I started asking the festivals where the tents went, and the answer was, 'Landfill, because we don't know what else to do with them.' And I thought, well, maybe I do."
And so, E tū – Māori for 'stand up', and a nod to Rachel's family heritage – was born. Hanging around after last year's Pitch Festival in Victoria's south-west, Rachel picked through the wreckage – "It actually made me cry, it looked like a tornado had whipped through" – and packed her hatchback full of tents. "My goal was simply to see whether we could use the discarded fabric to make 50 bags by the end of the year."
Working with a crew of local designers and makers, each chosen for their interest in zero-waste fashion, Rachel began cutting, splicing and sewing together a pilot line of bags – totes, bucket bags and drawstring backpacks. She quickly discovered that the process was far more intensive and complex than she'd imagined. "First up, I had to hand-wash every tent, inside and out, twice," she explains. "It's only then that you see whether or not the fabric is actually usable."
Then there are the awkward shapes, flaps and attachments that make up the modern tent. "Each E tū bag is going to be 100 per cent unique, because that's the nature of the fabric we're working with," Rachel says. "So, rather than avoid the imperfections, we decided we should celebrate the entirety of the tents, from the zippers to the internal pockets to the hooks that keep the poles in place."
Most important (and challenging) of all was ensuring that each finished product surpassed its origins. "We have this impression that a product's second life has to be a step down from its initial form," Rachel says. "But I wanted these bags to be elevated. I wanted everything to be considered – every finish to look exceptional. It takes time, but it's worth it."
E tū wound up producing 60 bags in their first year, and now, their online store is up and running. But Rachel isn't one to rest on her laurels: "Now we've proven the concept, we need to work out how it can scale." Key to this is closing the loop even further. Rachel is currently researching how these bags might be repurposed again when or if her customers ever want to part with them.
"I've been talking to a research and development centre that takes the plastic from hay bales and turns it into furniture and garden beds," Rachel says. "It's important to me that I give my customers a solution. That, to me, is responsible design. It might sound extreme, but right now more than 85 per cent of all textiles end up in landfill. We can't keep up this current system of making more, making new. We just can't."

This chinwag comes straight from the pages of frankie 95. Head here to find your closest stockist, pick up a copy from our online store or subscribe from $59.50.